Home Update Ideas to Make Before Putting Your Home on the Market
If you want to sell your home for the best price, it's often a good idea to make a few updates to your property before you put a for sale sign on the lawn. In real estate, however, not all updates are created equal. In this case, you'll want to focus on making affordable updates that have a good return on investment.
Here are four updates worth making before you put your home on the market. For each one, we've listed high-price and low-price alternatives to ensure that there's an option to fit every budget.
Freshen up with new paint colors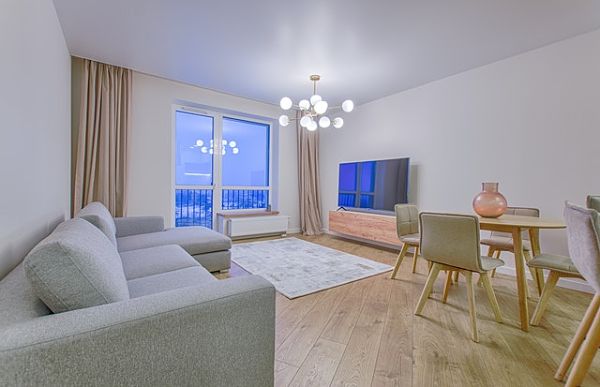 Believe it or not, when it's time to sell your home, paint can be your secret weapon. In truth, paint costs pennies on the dollar compared to other home improvements, but it still drastically changes the look of a room. Consider painting a few of the rooms in your home on your pre-sale to-do list along with packing up and hiring movers.
Prices to paint the interior and exterior of your home vary depending on many factors: the paint you choose, the size of the rooms you paint, and even where you live. You can also paint the doors, baseboards, crown molding, and door trim. Overall, you can expect to pay a couple thousand dollars to entirely repaint a home.
However, if you don't have that kind of money to spend, you can save by picking and choosing which rooms to make over. Alternatively, you could also think about skipping the trim work and focusing solely on the walls or even just covering existing scuffs or marks with your current shade.
Still, if you want your new paint job to have the most impact, color choice matters. A 2017 study by Zillow found that picking the right paint colors for your home can help it sell for thousands more. In particular, blue kitchens and bathrooms and "greige" (gray-ish beige) home exteriors were the colors that brought in the biggest sale price.
Invest in new landscaping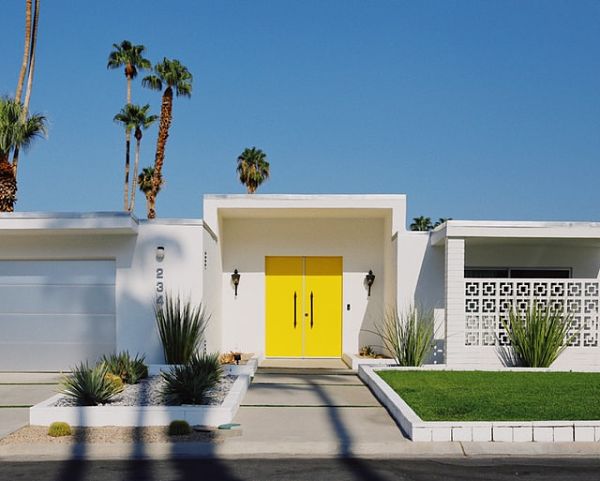 Beyond just picking paint colors, another thing that you can do to add value to your home is to concentrate on curb appeal and invest in some new landscaping. According to a 2018 study from a National Association of Realtors (NAR), 99% of real estate agents surveyed believed that a home's curb appeal was an important ingredient in attracting potential buyers.
As far as which curb appeal projects to tackle, landscaping topped the list in terms of return on investment (ROI). Committing to regular landscape maintenance — things like mowing the lawn, pruning shrubs, caring for any existing flowers should be your top priority. The agents estimated that keeping on top of these tasks has a 100% return on investment and can add up to $3,000 worth of value to your home.
If you're willing to spend a little bit more, you could also think about doing a landscape upgrade. In the same report, NAR asked landscapers to estimate how much it will cost to put in new flowering shrubs, a tree, and a mulched flower bed. The landscapers estimated that a project of that size would cost around $6,000 and give you an 83% return on investment.
Read more: Land survey cost
Put in new flooring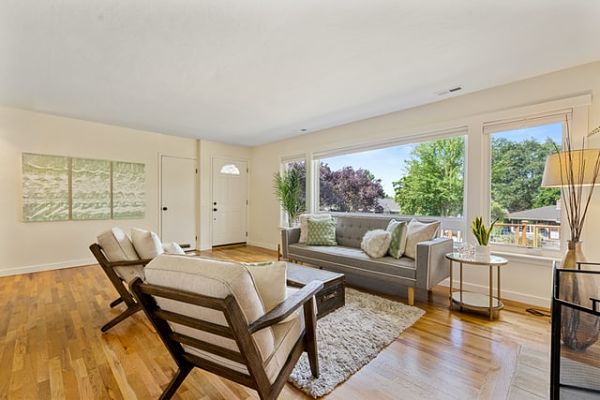 If you've lived in your home for years, odds are that your flooring could use an upgrade. Though it may sound harsh, old, stained carpet or scratched hardwood floors can be a turn-off for buyers. In order to appeal to buyers and their wallets instead, the data suggests that you should replace your current flooring with hardwood floors or refinish your existing hardwoods.
According to a 2019 NAR survey on the home renovations that hold the most value in the eyes of today's buyers, installing new hardwood flooring was the fourth-most-likely project to add value to your home. Overall, it was estimated that this project would cost $4,700 and should add $5,000 to your selling price, which means that the project has a 106% return on investment.
Swap out old fixtures and appliances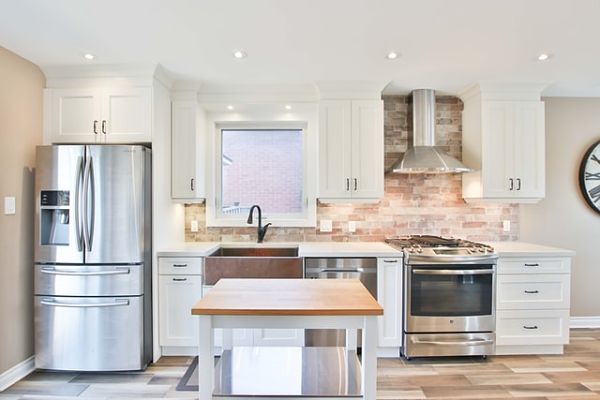 If you're looking for upgrades that add value without breaking the bank, consider swapping out old appliances in your kitchen for newer models and old fixtures in your bathroom for more on-trend models. In this case, both form and function play a role in how much money will we receive overall.
In 2019, the National Association of Home Builders (NAHB) conducted a survey of nearly 4,000 home buyers in order to get a feel for their preferences. The study found that 67% of buyers said that they would prefer to buy a home that features stainless steel appliances. Notably, the NAHB survey notes that energy-efficient appliances were also of importance to buyers who participated in the survey.
It seems that the stainless steel trend continues in the bathroom, as well. In this case, buyers are more likely to prefer stainless steel or chrome shower, bath, and sink fixtures over those that feature another type of finish such as oil-rubbed bronze or gold.
Obviously, if you don't have a lot of money to invest in these projects, it's best to go with replacing your bathroom fixtures over investing in new appliances. However, if you can spare the cash, doing both is likely to have the biggest impact on your sale price overall.
Sell Your Home for Higher
If you are unsure about where your money should go when updating your home, consider asking your real estate agent for their opinion before investing in any home improvement projects. And don't forget to not only budget for home renovations but also for other things such as transfer taxes and closing costs.
Updates cost money upfront, but the increase in your home's selling price as a result could more than make up for what you pay.
Read more: Remodeling Projects that Hurt Your ROI
Home Update Ideas to Make Before Putting Your Home on the Market
was last modified:
June 2nd, 2021
by
Recommended