Without a doubt,  a hot tub is one of the most relaxing additions to your house. Many homeowners shy away from a hot tub installation, thinking that the process is tricky with complex systems. But, that's not completely true. Today, modern hot tubs are usually self-contained — involving almost no plumbing during the setup.
That being said, installing a hot tub requires proper planning, budget allocation, preparation in terms of construction on the site, electrical panel upgrading, and compliance with city codes.
Let's look at some of the most important facts that you need to know for perfect hot tub installation. First, we'll begin with the pricing.
How much does it cost to install a hot tub?
A standard hot tub for two people costs around $4,000. A mid-range hot tub — for three to four persons — would cost you approximately $3,500 to $8,000, while a six-person tub will set you back by $8,000, or even more.
The amount would depend upon the total size and features such as the number of jets, automatic shut-off, locking cover, etc.
The ideal size we feel is mid-range, i.e, 5'x6′ and 30′ deep. If you want to opt for a bigger hot tub, be aware that when full with water, it will weigh more than two tons. That, without anyone seated in it!
Whichever model you choose, we strongly recommend professional hot tub installation. Generally, dealers provide installation service at 5 or 10% of the product cost.
Pixabay
The total hot tub installation cost includes:
Product cost
Site preparation cost (you must hire a qualified contractor or structural engineer to make certain that the support structure is sufficient to carry the spa's load size)
Installation cost — Generally, the hourly costs is around $85, with extra for materials.
Cost of maintenance — If supplying the correct amount of chlorine/bromide, or treating the water to maintain the right pH level is not too difficult for you, you can choose to do it yourself. Do read up on the difference between salt water and chlorine water for a DIY project.
Hot tub installation has the following requirements:
Installation of a special patio, deck, cement slab, or a gazebo. You may even consider prefabricated spa pads as a base.
A refurbished electrical system. SHOULD NOT BE A DIY PROJECT! This has to be done according to local building codes. The equipment may include a breaker to your electrical control box, an extra hard-wired circuit that's entirely dedicated to the electrical on the tub.
A portable pump. The good news is that latest hot tubs have a built-in drain system that uses gravity to empty the tub. Combine a small and portable sump pump with it to hurry the process.
A set of sturdy, waterproof stairs for easy access into the tub. The popular choice is the durable cedar boards that are supported by a concrete pad.
A cover helper that lifts and manages the tub cover. This feature, we feel, is the most important yet underrated one — operating the massive, insulated covers can be a daunting affair. And why risk damaging tub or the cover? Any repair will cost you at least $200.
Proper water access for filling the tub – you can use a garden hose. Ensure that you have an outdoor faucet near the tub if it's more than seventy feet from the house.
Other additions include a continuous bond wire from the tub to the service panel, a DC converter for the tub motor, trenching and wiring, etc.
Pixabay
Important technicalities to keep in mind before a hot tub installation
Check if you need a building permit if you stay in a condominium.
Hire a licensed electrical contractor — some warranties might be voided if the electrical circuit isn't installed by a professional.
Sometimes, you need additional approval from the local building/electrical inspector. Check.
As far as the location of your hot tub goes, it should be at least 10 feet (3 m) away from any overhead power lines and 5 feet (1.5 m) away from the spa panel.
Keep the power on a single dedicated circuit. No other appliances or electrical demands should share that power.
Check your wiring specs. If there's any doubt on how to wire the circuit for the hot tub, stop and call a licensed electrician.
The size of the wire must be approved by the National Electrical Code (NEC) and be as per local codes.
We recommend copper wire with thermoplastic nylon insulation. Avoid aluminum wires.
When in doubt, contact a professional. 
Photo by Dave Stone on Flicker is licensed under CC BY 2.0
Choosing the location for your hot tub
Many hot tub purchasers opt to install one in their backyard. More convenient. More private. Do check your city's building code. It generally requires at least 5 feet (1.5 m) of clearance between your home and your property line.
Always remember: WATER AND ELECTRICITY SHOULD NOT MIX. Keep the tub at least 10 feet away from any overhead power lines and 5 feet away from the spa panel.
Make sure the spot you choose is large enough for the hot tub — plus, has some extra space for getting in and out. Allot approximately 10 feet by 10 feet for a mid-range one.
If you want to place your tub on a deck, check first with a general contractor. He will tell you whether your deck will be able to support the additional weight. A large hot tub can easily weigh it down. You don't want to damage your deck or tub, do you?
Wherever you decide to place your tub, create a direct route for the power to reach it.
Getting electric paneling done
As mentioned earlier, you need to follow your city's codes — even when it comes to using certain types of conduits. Talk to your local building department. They will help you decide if it's better that the conduit runs under or above ground.
You must have an extra hard-wired circuit dedicated to the electrical on the tub. A 240V, 50-Amp GFCI is a popular choice.
Since the voltage of a hot tub ( 240 volts) is much more than regular home outlets, you will need to install a breaker for your electric control box. We repeat, it's best to call an electrician.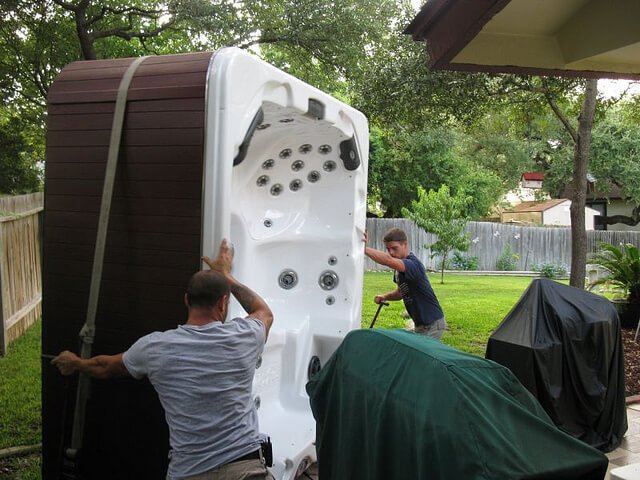 Photo by Dave Stone on Flickr is licensed under CC BY 2.0
The final installation steps
Read and follow the manufacturer's instructions carefully.
Switch off the electricity.
Clean the tub thoroughly.
Check to see if jets and knobs are properly attached.
Open the air valves.
Fill water in the hot tub.
Turn back the electricity.
Start heating the tub.
Mix in the required chemicals — in the correct amount — for ideal sanitation.
Enjoy your home spa.
Conclusion
Hydrotherapy is not a new phenomenon; it goes back thousands of years. Research supports the study that a good hot tub spa relieves joint pain relief, increases blood flow, and helps you sleep better. And, it's the most relaxing activity.
So, if you're contemplating a home improvement anytime soon, do go for a hot tub. It will make a world of difference to your health and mood.
Hot Tub Installation: Important Things You Need To Know
was last modified:
March 17th, 2020
by