Pre-sale prep: House clean out tips
Staging a house is one of the most important processes in the long journey that is selling a home. A well-staged home creates that enduring the first impression which goes a long way in helping potential home buyers visualize themselves living in that property.
However, as a precursor to staging, most experienced realtors will advise homeowners to first empty their homes of unnecessary clutter. Broadly speaking, that is what is called a house cleanout in real estate parlance. We're going to help you understand the different circumstances for house clean outs as well as give you some essential tips on how to plan and execute a clean-out yourself.
What is a house clean-out?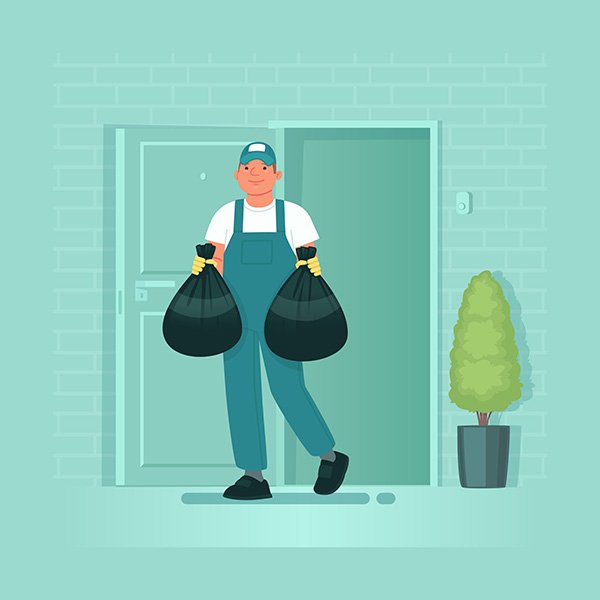 A clean-out refers to removing unusable, old, damaged, and unwanted items from a house before it is staged for sale. However, it is not always instigated by the homeowner.
For example, when banks foreclose on homes, the homes aren't always left behind in a state fit for open houses as-is. A lot of homeowners leave behind old furniture, trash, and unwanted property which have to be hauled off before the home can be staged. So these banks and their team of realtors employ professional house clean-out services to empty the house for them. These services often include minor landscaping and home renovation work as well. This kind of house clean-out is called a foreclosure cleanout.
Similarly, property managers also employ similar quick and efficient services when they are forced to evict tenants from rental properties. This is called an eviction cleanout.
An estate cleanout is another property cleanout situation that sees professionals being called in. This usually happens when a homeowner is forced to downsize their lifestyle when the main decision-maker of a family passes away when there are overwhelming debts or due to a divorce settlement.
Estate cleanouts often involve estate liquidators who organize the person's assets, sell off or donate things that may not have any sentimental value to heirs or family members, including getting antiques appraised, and once the dust settles, hiring a professional house clean out service to handle the heavy lifting.
DIY tips
Hiring professionals to clean out your home may be an expensive prospect. The average per hour cost for labor is between $35 and $60. This means while a small apartment of around 600 square feet could cost as much as $180, family homes between 2000 and 3500 square feet could cost you upwards of $600.
Here are some handy tips to help you execute your own cleanout, saving you both time and money.
Always have a plan
A plan is essential to help you efficiently handle the process. Here's what your plan ought to include.
Define why you're cleaning out. For example, if you're selling the house, then staging is the goal. This will help you know what needs to be kept and what absolutely has to go.
Spend some time going through the rooms of the house taking inventory. This will give you an idea of what each room has, what can be kept, the size of the things that need to go, the amount of effort it will take, and more.
Plan how you're going to get rid of the junk. Be it selling, donating, recycling, or straight up throwing away stuff, knowing how you're going to dispose of what is always helpful.
For example, if you have a lot of old furniture and other heavy items that need to be disposed of, first find out if your local curbside service is allowed to offer bulk trash pick up. Otherwise, you may need to resort to renting a dumpster, filling it up, and driving it to the yard yourself, or hiring a junk removal service.
Plan the clean out using an organized, room-by-room approach, and set a practical timeline for yourself. You can wear yourself out if you try to achieve too much in one day, and that will only burn you out faster.
Read more: Staging a bathroom like a pro
Clear the trash
Throw out whatever you don't need: unnecessary papers, broken things, duplicates, and outdated things that are unusable all fall into this category.
It may be advisable to hire the dumpster and keep it ready so you can just start loading it with junk.
Sort your stuff out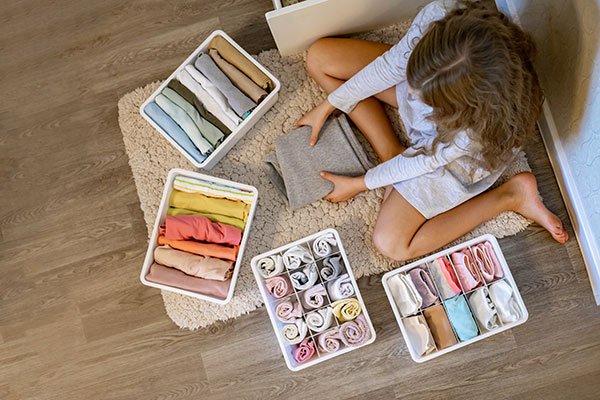 Now that the junk is out of the way, it will be easier to sort through the remaining stuff and decide what you want to keep, what you can sell, and if at all, what you can donate.
Make sure you take breaks, so you don't feel overwhelmed.
Divide each room into sections and work from one section to the net. This will help you focus and get the cleanout done in a more organized way.
Have a practical approach to what you need to keep, as opposed to an emotional approach. While a lot of things may have emotional value, not all of them have a purpose in our current lives.
Move stuff out
Your real estate agent would have explained to you what you need to leave behind for the staging and what needs to be moved out. Move the things you're keeping into storage and drop whatever you're giving away.
Reorganize
Irrespective of whether you're staging the home yourself or hiring professional stagers, tidying up and decluttering the rooms are a great place to begin that process of getting the property cleaned up.
Pro tips
While there may be a lot of local professional cleanout services, always call their customer service numbers and ask for free estimates before you decide on a service.
Never hire a contractor without getting their background checked, verifying customer testimonies, and signing an iron-clad contract.
Read more: All about appraisal fees
Pre-sale prep: House clean out tips
was last modified:
October 14th, 2022
by
Recommended