How to Avoid Foreclosure Bid Rigging
Rigging bids at foreclosure auctions has long been a crime that has attracted the attention of authorities. Federal prosecutors back in 1998 announced the shutdown of a decade-long bid rigging ring in New York that manipulated the closing prices on about $50 million dollars in property. The U.S. Department of Justice has indicted and sentenced several people over the last several months for involvement in bid-rigging schemes.
Bid rigging is especially prominent in foreclosure auctions because there is a lot of competition between bidders, bargain hunters, and investors looking to score cheap property. The idea behind a foreclosure auction is to make sure the lender gets the most amount of money possible and potentially give some equity to the homeowner who had to default.
What Does Bid Rigging Look Like?
Foreclosure bid rigging usually results in a number of different schemes designed to help keep foreclosure prices low. They can include arrangements made between buyers to not compete with each other, or plans for a group of people to take turns bidding in subsequent sales.
A group of California bidders were busted after they conspired from 2008-2011 to buy up foreclosed properties after appointing a designated bidder for each offering, and then conducted secret underground auctions to dole out the properties to those who were involved in the arrangement.
Some red flags that could signify the presence of bid rigging include
Very few (or always the same) bidders who are interested in buying
Multiple proposals that have similarities in handwriting or typographical errors
Bids from competitors that are always received together
One bidder that always seems to win no matter the competition
Read more: Alienation clause in your mortgage contract
How Can Foreclosure Bid Rigging Be Avoided?
There are a number of ways that foreclosure bid rigging can be avoided. One of the biggest protections is to ensure the elimination of restrictions that might stifle the number of qualified bidders. A lot of foreclosure auctions have unnecessary rules that otherwise block out people who are interested in bidding. The US Department of Justice says the vast majority of bid rigging happens when there are five or less people looking to bid in an auction.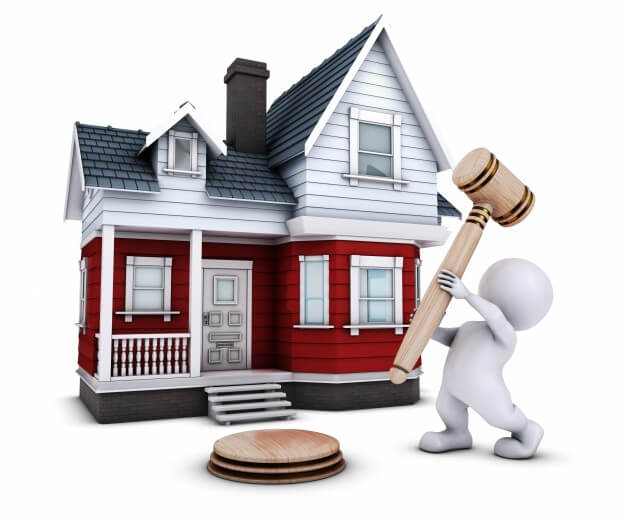 Sale photo created by kjpargeter – www.freepik.com
Another way to cut down on foreclosure bid rigging is to streamline the entire process so more bids can be submitted. This could include taking steps to make sure the same application forms are always used for an auction, or to keep official lists of approved bidders. The use of an electronic bidding system is also a good way to counter bid rigging, along with taking steps to prevent interaction between bidders.
Giving prospective bidders lots of face time during an auction could help them finalize plans to bid rig or to at least communicate their intentions to each other.
Other key strategies to prevent bid rigging are to have potential bidders sign non-collusion agreements and to keep careful notes about who is bidding on what, and the prices realized. Having a clear record of activity is helpful because it can make it easier to detect suspicious bidding patterns or bidding rotations.
Giving a strong warning to interested bidders that you have no problem turning to higher authorities in instances of suspected rigging will often deter those looking to bid rig, as the US government has an acute interest in cracking down on bid rigging.
The US Department of Justice also encourages the training of staff involved in auctions so they understand the basic ideas behind bid rigging and how to detect it, so they can ask the right questions if needed. The DOJ says auction leaders should ask questions to bidders if things do not add up.
Read more: Can I sell my home if it is in foreclosure
How to Avoid Foreclosure Bid Rigging
was last modified:
May 16th, 2022
by
Recommended