How to Install Ceiling Fan Wiring
Ceiling fans are a great addition to any home. They help keep homes cool during the warm summer months and can even keep you cozy in the winter by circulating the warm air that comes from your heater. They can reduce the strain on your HVAC system and help you save money on your monthly utility bills. What's more, with so many different styles and options to choose from, ceiling fans are about more than just function these days. In fact, more and more homeowners are using ceiling fans as statement pieces or focal points in their home. Selecting a new ceiling fan for your home is a fun and exciting experience. On the other hand, ceiling fan wiring installation is another experience entirely, and can be a real test for anyone new with this type of projects.
Do You Have What It Takes?
The process of installing a ceiling fan isn't too difficult itself, but it does require a few necessary skills. Obviously, you need to have experience with electrical wiring and safety. You'll also need to know how to cut holes in drywall and use an electric drill among other tools. If you'll be working on this project by yourself, you should also be able to stand on a ladder safely while supporting the weight of the fan.
If you're comfortable and feel confident in your ability to perform all the steps required to install a ceiling fan, then we recommend this as the best way to go, as it could save you a ton of money in the end. However, if you're unsure or have any doubts at all, then it's best to leave a project like this to a professional. Remember that some installations will be more difficult than others. For example, a lack of access to the attic and vaulted ceilings are just some of the factors that can make installing a ceiling fan a much bigger challenge.
What You'll Need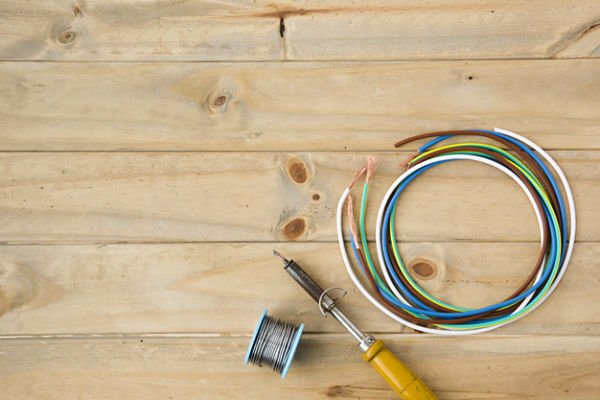 Background photo created by freepik – www.freepik.com
Now that you've determined you feel comfortable enough to install a ceiling fan on your own, it's time to gather the supplies. First, turn off the circuit breakers that are supplying power to any of the fixtures or outlets you'll be working with to avoid accidental electrocution. Then, unpack your ceiling fan kit and read the installation guide. Make sure all the parts and pieces listed in the installation guide are included and gather any other tools you'll need. We recommend you have at least the following: an electric drill; pliers; an adjustable wrench; wire cutters; a screwdriver; a ladder; drywall saw; and safety goggles.
Starting the Process
Before we cover the wiring part of ceiling fan installation, there are a few things you need to do. First, you need to decide where you want to install your ceiling fan and how you plan to supply power to that location. Once you've decided on a location, you'll need to install an electrical box to power your new ceiling fan. Make sure that the installation of the electrical box is direct to a ceiling joist. If you have access to your attic from the chosen installation location, then you can route new wiring from any electrical access point. However, if attic access isn't available to you, then route the wiring from the nearest outlet or wall switch. You'll likely have to cut a few small holes in the drywall in order to route the wiring around corners.
Once your electrical box is installed and you have electrical access, you'll need to assemble the rest of the ceiling fan. This includes securing the mounting bracket to the electrical box, installing the ceiling plate over the box and assembling the motor and canopy. Now, it's time to connect your ceiling fan's wiring.
Read more: Ceiling fan direction switch do it yourself
Connecting the Wiring
First, pull the wires through the cowling and downrod and then attach the downrod to the top of the motor. If you can, attach the fan to the mounting bracket before connecting the wires. To connect the ceiling fan wires, hold the bare metal leads together and place plastic wiring connectors over them. Twist the wires clockwise until you're sure the connection is secure.
Most ceiling fans come with four wires: black (for hot or load), blue (for hot), white (for neutral) and green (for ground). Insert both the blue and black wires into a wire connect and twist together. Check to make sure the white, blue and black wires are firmly in place. The green wire is ground, which connects with the bare grounding wire. Once all the connections are set, gently push the wires into the electrical box to keep them safe.
Read more: How To Install A Ceiling Fan
Assembling the Rest of Your Ceiling Fan
Now that the wiring is fine, it's time to assemble the rest of your ceiling fan. Secure the fan to the mounting bracket and then install the fan blades. If your ceiling fan comes with lights, then connect the light fixture wires to the fan using plastic modular connectors and secure it in place with mounting screws. Then, attach the bulbs and glass light shades.
Read more: Time to replace your ceiling fan
Testing Your Ceiling Fan
Once you've finished wiring and putting together your ceiling fan, it's time to test it to make sure it works. At this point, you can turn the power back on at the circuit breaker and wall switch and then sync the ceiling fan. Make sure your fan turns on and off as it should and is working properly on all speed settings. Check to make sure the light fixture works as well and turns on and off independently from the fan.
Read more: Why is my ceiling fan making noise
Final Thoughts
As you can see, installing a ceiling fan doesn't have to be difficult. Remember: If you don't feel comfortable with cutting holes in your walls or handling electrical wiring, then the best thing you can do is hire a professional to install your ceiling fan for you. You don't want to risk improperly installing your ceiling fan and getting hurt just because you wanted to save a little money by doing it yourself.
Read more: 12 Ways to Use Ceiling Fans in Modern Design
How to Install Ceiling Fan Wiring
was last modified:
December 5th, 2022
by
Recommended