Over time, many homeowners come to a stage where they have to choose whether to buy a larger house for their growing family or simply add a room to their existing home. If you're contemplating the latter, the question that's probably on your mind is how much does it cost to add a bedroom?
This is one question whose answer may depend on a lot of considerations and factors — most of which we will address in this article. But, having said that, a standard-sized bedroom addition cost may set you back by anything between $11,000 to as high as $70,000.
Needless to say, this is a huge investment in terms of money, effort, and time. But, the good news is that this addition, if done properly, will enhance the value of your home.
Before you begin the actual work, know that adding a room requires a lot of financial planning and deliberation. You have to hire certified contractors, make important decisions, and not to forget, bear a lot of inconveniences. Your home will be filled with dust, nails, plaster, and other construction materials.
What should a homeowner keep in mind before beginning the bedroom addition?
This is not a DIY kind of project.
Try to consult an architect and a structural engineer before beginning your construction.
Remember to check your local housing department to see if a permit is required for your planned construction. Once, you've made up your mind, adding a bedroom will be smoother than you think.
Make sure that the design looks cohesive with the rest of your home (which will help enhance your house's resale value in the future).
It's better to hire a general contractor or a remodeling company.
When you calculate the cost to add a bedroom, there are several factors that need to be addressed. Let's explore some of them.
Take a look at these bedroom accessories ideas to get under $150
Is the bedroom addition going to be a build-out or build up?
Does the construction project you have in mind involve creating an additional building and integrating it with the rest of the home ( build out) or adding to the basic structure of your home (build-up)? Obviously, it is less expensive to build up than out.
Build out: Typically, building out involves adding a room at ground level, which is one of the most common and popular types of additions. It increases the footprint of your home by extending the house's perimeter.
The best part is that this construction causes minimal disruption to the rest of the home. The most pertinent drawback of building out is that you have to bear the expense of a new foundation.
Secondly, there is a loss of yard or property space and you may need special remodeling permissions as per local regulations.
Build up: If you want to expand your living space without increasing the footprint of your home, building up is the most practical option.
Generally, you may want to add a room to the second story, or sometimes add an entire second story to your existing one-story home.
In case, it's the second option, your total home remodeling cost will have to include a staircase installation as well which would mean using up at least 80 to 120 square feet of living space.
Your contractor might not be creating a new foundation, but he may need to strengthen the existing foundation to support the extra weight. If you are increasing the height of your home, do check your town's rules and regulations.
No matter whether you build out or up, according to your requirements, the average cost of adding a bedroom amounts to anywhere between $80 to $200 per square foot.
What is the square footage of the required bedroom?
The larger you go, the more will be the total square footage cost, and the more expensive the project. Typically, material and labor cost an average of $80 and $220 per square foot in the United States. For a 10×12 room (120 square feet), be ready to shell out anything upward of $11,500.
Remember that this cost might cover just the basics — for instance, framed rooms with drywall, standard windows, finished shell with roofing, and basic electrical work.
It will NOT include fancy entry doors or windows, tiling, decks, balconies, decorative light fixtures, or hardwood floors. Be prepared to spend extra on these.
What is the labor and material cost of your area?
The cost of an additional structure also varies according to your location. Before beginning the construction, find the cost estimate and ROI using the zip code of your area. It will also tell you the value that your home improvement project will add to your property.
On average, adding a bedroom in an up-market area could cost you around $25,000 to $50,000. A large room, for instance, a master suite, could start from $100,000 in a high-cost urban market. We will elaborate upon this fact in the next point.
This varying cost as mentioned before is due to the difference in the material and labor costs. Here's an average: labor cost is $50-60 an hour per person for labor-only jobs. A certified carpenter may cost between $17-30 an hour, and a helper is $10-15.
As a homeowner, you may choose to buy your own material instead of going through a contractor, but labor cost is something you will still need to pay. However, if you are the DIY kind with tools and skills and decide to go ahead with doing the labor yourself, your total cost might get reduced to half! But, we strongly advise you to leave this intricate work to professionals.
Read more: How to estimate a remodeling job
What is the kind of bedroom addition you have in mind?
Master suite
If you are contemplating adding a 14-by-16-foot master suite with a bathroom, you will spend a minimum of $100,000. The good news is that this kind of construction will get you nearly 75 percent return on investment. As explained earlier, costs depend on region and materials used. If you choose special finishes and more space — the new bedroom cost will skyrocket. Think as high as $224,000 for an upscale master suite addition.
Basic bedroom
If you need a simple extra bedroom for your children, one without any fancy closet or an ensuite bedroom bathroom — it will be at $115 to $200 per square foot on average. A basic 10-by-10-foot bedroom will set you back by $11,500 to $20,000. An extra 6-by-8 bathroom will mean a minimum extra expenditure of $18,000.
Bedroom over the garage
Did you know, you can save 20 to 60 percent by building your new bedroom over your porch or garage instead of adding on to your home? Since there is no major earthwork or building a foundation involved, you will save a significant amount. The cost of a master suite over the garage will be $50,000 to $80,000, which is much less than the average cost of a master suite over a crawl space.
Combining and converting unused spaces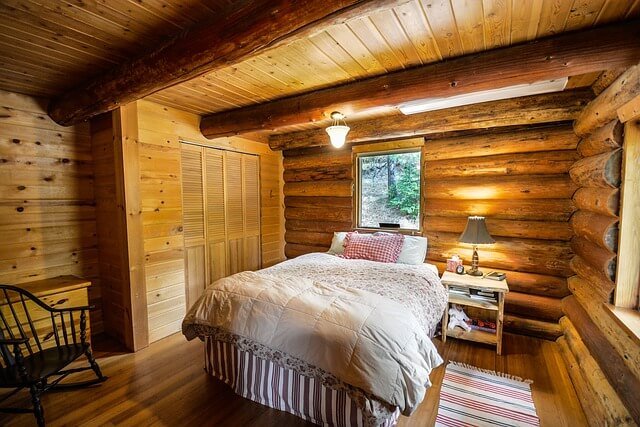 Converting unfinished spaces can save you 50 to 60 percent over the cost of adding on to your home because you eliminate the need for new foundations, roofing, and exterior walls. The renovation, in this case, is generally minor — while easily combining underutilized spaces to make them more functional. For instance, you can combine a closet with a small guest room to create a full-fledged bedroom.
Converting an attic to a bedroom
Converting an attic to a 15-by-15-foot bedroom with a small bath may cost you $50,000 on average. This home improvement, though not major, will get you an almost 85 percent return on investment. In high-cost-living areas, this cost may be 30 percent higher.
What are the other expenditures?
There are extra expenditures that will add to the total cost of a bedroom. The price mentioned underneath are calculated averages:
Services such as that of an architect or designer, a general contractor, and others. This typically accounts for 10% to 17% of the total project cost.
Any kind of demolition and site-preparation that you require. Just removing a wall will cost $300–$500. A full-blown excavation may cost you around $3,000.
Concrete footings and slab foundation may cost $75 per cubic yard.
Add an extra $15–$30 per square foot for support beams and roof trusses. This cost depends on the kind of lumber used and labor costs.
Roofing — $80–$100 per square foot (asphalt shingles and galvanized metal flashing).
Vinyl siding and trim finishes ($7 per square foot).
Drywalling the ceiling and walls ($9.80 for each 4-foot by 8-foot sheet of drywall).
Insulation ($2 cost per square foot).
Door installation ($175 or more). It depends on the material and the style.
Window installation ($300–$700 per window).
Molding for ceilings ($3 per foot).
Electrical wiring with the help of a licensed electrician ($50–$100 per hour).
Flooring options — ceramic tile ($1,640), carpeting ($1,490), laminate ($2,748), vinyl/linoleum ($1,185), natural stone tile ($1,826) or wood flooring ($4,396).
Ducts and vents ($1,050).
These estimates are based on simple construction costs and don't include any frills and fancy accessories.
Read more: Considerations and cost of adding a half bathroom
Takeaway
Adding a bedroom can bring much-needed space and comfort for your family. You can choose from a state-of-the-art master suite to a simple no-frills bedroom, from one above your garage to a grand one. Just understand that the room addition cost should meet your needs and budget.
This kind of home improvement will definitely enhance the value of your property. However, the trick is to plan and execute it well — financially as well as architecturally. Get your cost estimates and budgets in place before you drive in the first nail.
Read more: Things To Consider When You Plan Bedroom Additions
How Much Does it Cost to Add a Bedroom & Bathroom?
was last modified:
October 7th, 2022
by
Recommended