Painting a room breathes new life into it. It can enhance the appearance and even the vibe of a space. It is the easiest and a sure-shot way to upgrade your house. And, it does not require a lot of time, money or effort if you plan the renovation well. So, how much does it cost to paint a room?
This is one question that homeowners want to seek an answer to. Many choose to pick up the painting brush and gear themselves for a DIY project while others prefer hiring a professional painter.
Hiring an expert who has years of experience to paint your room has its advantages. They have the right technique and tools to complete the work efficiently. The result is picture-perfect, the quality of the paint job is good, and the homeowner is spared the hassles. They can also take care of the prep work and also after-job clean-up.
To come back to the question: how much does it cost to paint a room, the average estimate is $450-$800 for an average room (10×12 square feet) when you hire a professional contractor.
There are various factors to consider when it comes to a painting project and its total cost. In this article, we will try to understand all of them. So, let's begin.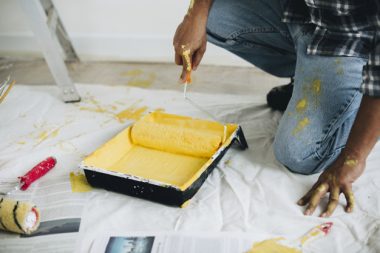 House photo created by rawpixel.com – www.freepik.com
Cost factors
The total cost of painting a room will depend on the following:
Location
Size of the room
Prep work
Complexity of the work entailed
Labor cost and time spent on the work
Materials
Clean up
Extra enhancement and improvement costs
Let's briefly look at these.
Location
The city you belong to has a considerable influence on the total cost of painting a room. In large cities, where the standard of living is higher, painting contractors will charge significantly more than in less affluent areas.
For a 200 sq.ft. room, it can be as high as $600, or more, in New York, or as low as $350 in Denver and Seattle. Before you begin the work, it's a good idea to get a home improvement cost estimate according to your zip code.
Size of the room
If you see the average, you will spend around $300-$420 for a 10×12 room. This translates to $2.5-3.5 per square foot. However, this amount does not include ceilings, window and door trims, baseboards, or wall repair.
Needless to say, painting a large living room may set you back by a few hundred dollars. When it comes to the wall surface (room perimeter X wall height), a homeowner will spend around $1 per sq. ft.
Interestingly, painting just one room costs more than painting the entire house in terms of per square foot cost. This is because painters include the cost of set up, time spent, and other overheads — no matter what size they are working on.
Take a look at these 9 Important Reasons To Hire Painting Contractors
Ceiling height also has a huge impact. If your ceilings are higher than 8 ft, you should add about 9% more to the total cost, for every extra foot.
If you want to paint an area of say 1,700 sq.ft. — your price per sq.ft. will go down to about $2.25 – $2.40. It will go further down to $1.85 for a 3,000 sq.ft. area.
Take a look at our guide for Pro Tips For Painting Over Dark Colors
Prep work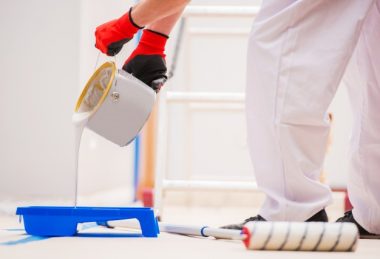 Paint photo created by welcomia – www.freepik.com
A paint job involves a lot of prep work. It could be moving furniture out of the room or covering those that cannot be shifted. DIY furniture removal may generally reduce the total expenditure by almost $100 per room.
Even the floor needs to be covered with large drop cloths (or newspaper) to avoid paint stains and doorknobs and window trims have to be tapped off. In addition, holes or cracks in the walls need to be filled with spackling.
The walls have to be cleaned in order to remove dust and grease. This step is important or else the paint will not stick properly to the walls.
The most important part of a painting prep work is the priming. This almost indispensable process seals the wall and ensures that they are a good base for the paint. If you have a newly installed drywall, DO NOT skip this step.
Complexity of the work entailed
The more complex the work, the higher the cost. For instance, textured walls and decorative finishes tend to be more expensive and may cost around $2-$4 per sq.ft. This includes the cost of labor and materials.
When it comes to ceilings, painting a room that has vaulted or cathedral ceilings will cost extra dollars. The reason is that this kind of labor-intensive work will take longer to set up the staging.
Labor cost and time
The total price for a room painting can be $650 or as high as $1,000+, depending on the amount of additional time and labor required.
Of course, labor costs can vary greatly from region to region. On average, a homeowner has to pay $25-50 per hour as labor cost when hiring a professional painter. Any kind of special work, for instance, creating murals may cost $50 per hour, or even more.
Materials
The kind of materials you use obviously affect the total painting cost. Let's talk about some basic items of usage.
Types of primer and their cost per gallon:
Oil-based primers:

$17-$35

Latex-based primers:

$10-$32

Shellac primers:

$36-$50
Types of paint and their cost per gallon of paint:
Oil-based paint:

$29

Latex-based paint:

$10-$50
Types of paint finishes and their cost per gallon:
Flat:

$10-$45

Eggshell:

$17-$50
Satin: $17-$50
Semi-gloss: $30-$33

High gloss:

$30-$33
Cleanup
After a painting job is complete, a contractor might charge extra to clean up and dispose of debris — unless explicitly stated in the contract that the total cost is inclusive of it. The additional charges for using the landfill could be around $20 to $50 per ton.
Extra enhancement and improvement costs
A homeowner needs to be prepared for additional costs that could incur due to various reasons:
Your

home renovation cost

will increase if you require the services of specialists such as an interior designer.

If you have wall damage, be sure to include repair costs in your home renovation cost.

Drywall ($110-$400 per room)

Replastering ($40-$90 per hour)

Getting rid of mold and mildew ($500-$30,000)

Filling holes ($10 per sq. ft.)

Sanding wooden surfaces ($1.80 per sq. ft.)

Painting of trims will be $75-$200 per room.

Premium paint colors may cost

$99 per gallon

Removing aged wallpapers will be $150-$300 per room.

Painting interior 7'x3' doors may cost $20-$35 per door.
Conclusion
Whether you're enhancing the appearance of your home or preparing it for resale, a fresh coat of paint, whether for interior painting or exterior, is an easy and quick way to make it look brighter and trendier.
FYI: A freshly painted house is a magnet for home buyers. So, plan your remodeling well and have a clear idea of how much it costs to paint a room, before beginning the process. We strongly recommend that a homeowner must hire trained professionals for stress-free, quality work.
Read more: How To Pick A Perfect Paint Color For A Dark Room
How Much Does It Cost to Paint a Room?
was last modified:
May 24th, 2022
by
Recommended