Planning is one of the most important parts of any home building or home renovation project. And no project planning is complete without near-accurate estimates to help arrive at a budget. If you're planning to repave your driveway or lay a new garage floor, knowing how much you'll need to spend on concrete is essential. All ready mix suppliers sell concrete by the yard. So how much concrete do you need for your project, and how much is a yard of concrete? Read on to learn how to arrive at estimates and more.
Calculating how much concrete you need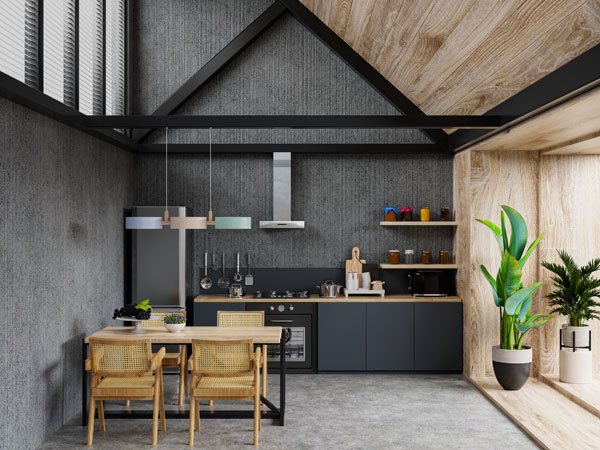 There is a simple formula used to calculate the amount of concrete your project requires. For the sake of convenience, let's assume that we need to pour a 20×30 foot slab of concrete.
The formula to arrive at how much concrete you need is to multiply the length, which is 20 feet and width, which is 30 feet, as well as the depth, which we will assume is 4 inches or .35ft, and divide it by 27, which is the number of cubic feet in a cubic yard. You get 7.7 cubic yards. Adding ten percent to make up for spillage and slab depth variations will bring you to 8.47 cubic yards of concrete.
How many bags of concrete does it take to make a yard?
Home Renovation Cost Estimator
Sorry, we currently don't have that project at our disposal.
---
You can take a look at our most popular ones:
Water Heater Installation
Exterior Door Replacement
Install Recessed Lighting
Exterior Door Installation
Interior Door Installation
Interior Door Replacement
A bag of concrete mix weighs around 80 pounds and yields approximately around 0.60 cubic feet. A cubic yard of concrete is 27 cubic feet. To know how many bags of concrete mix you need for a cubic yard, divide 27 by 0.60. The answer is 45 bags of concrete.
A 10×20 slab will need around 116.6 bags of concrete mix, considering the slab thickness is the average 4 inches.
Average concrete costs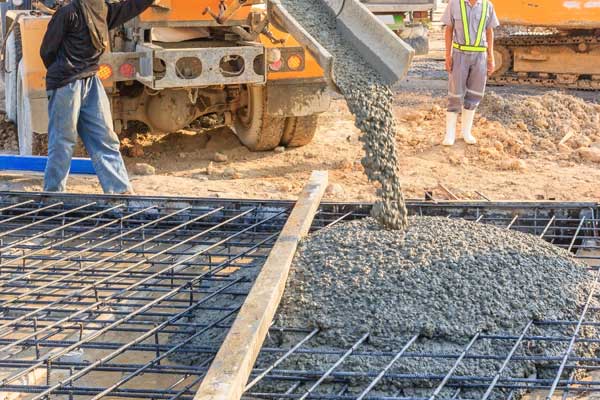 On average, concrete costs around $125 per yard. Of course, actual concrete prices vary depending on the region you live in. You will also need to add the cost of getting the pre mix delivered as well as labor and contractor fees.
If you're paying for concrete by square feet, expect to pay between $4.25 and $6.25 per square foot of plain concrete slab poured.
Of course, the best way to get accurate cost estimates is to talk to contractors who will visit the site and then give you a quote. Always talk to multiple contractors and get as many estimates as possible before choosing who to work with.
Factors that will affect the cost of your project
Let's take a quick look at all the factors that will affect the overall cost of your concrete pouring project.
As we established earlier, the average cost of ready mixed concrete is approximately $125 per cubic yard.
Grading will cost you between $50 to $70 per hour, in addition to hourly tractor and operator fees.
Sub-base, such as gravel or sand, will cost between $12 to $18 per cubic yard including delivery to the site.
Setting up and finishing concrete forms is labor-intensive and requires a lot of elbow grease. This will cost you between $1.50 to $2 per square foot.
You will want to make sure any damage to your freshly laid concrete, such as cracks, is minor. Therefore, reinforcements such as wire mesh, re-bar, plastic mesh, or fiber are necessary and will cost between $0.15 and $0.30 per square foot.
The above indicative costs should help you arrive at an estimate for pouring plain concrete for your project. On average, expect to spend between $4.15 and $6.25 depending on the square footage of your project.
Decorative concrete costs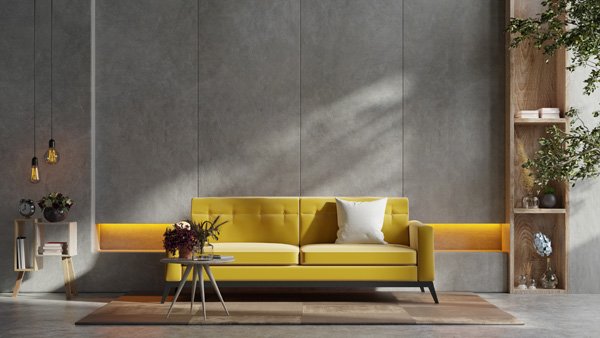 Concrete has gone way beyond the drab basement floor or driveway that we're used to. Decorative concrete can be made to look like slate, marble, flagstone, and other expensive materials at a fraction of the cost.
In fact, concrete is now a popular option for kitchen cabinets, indoor floors, and more.
Be it outdoors or indoors, concrete is at an in-between price. While gravel and asphalt may be cheaper than concrete for the outdoors, it is still more affordable than natural stone and pavers.\
Similarly, decorative concrete is more expensive for indoor application when compared to ceramic tiles and laminates, but is a lot more affordable than hardwood, granite, or marble.
Let's also take a look at how much you may need to spend if you want decorative concrete options, such as painted or stained concrete.
Outdoor decorative concrete costs
A concrete patio will cost you between $6 to $10 per square foot.
Stamped concrete costs between $8 and $12 a square foot.
A concrete driveway will also put you down between $8 and $12 per square foot.
The cost of a concrete walkway is between $6 and $12 per square foot.
Indoor decorative concrete costs
Stained concrete costs between $4 and $10 per square foot.
A concrete countertop will cost between $65 and $135 a square foot.
An indoor concrete floor could cost anywhere between $2 and $12 per square foot.
Polished concrete costs between $3 and $12 a square foot.
Factors that affect the cost of decorative concrete
Here are the most important factors that affect the cost of decorative concrete.
The number of colors and stamping textures needed for the project.
The amount of work needed on the design.
If the design needs special additions or embeds, such as those used on countertops.
Any unique shapes, forms, or mold work that may be required.
The level of polishing needed.
Pro Tips
While ordering concrete, keep in mind that different purposes require concrete premixes of varying strength and density. A concrete premix is a mix of cement, gravel, and sand.
If your contractor has not specified what strength you need to order, your best bet is to call your local premix company and tell them what you need the concrete for.
For example, a driveway uses around 2,500 psi concrete. Those of you living in places that have harsh winters ought to ask for a 5% air entrainment so the concrete can withstand the freezing and thawing.
2. Make sure to talk to your concrete contractors about unload times per yard and if you will need to pay any overtime. In case the truck doesn't have easy access to the construction site, you will need to have two or three people with wheelbarrows on standby to manually move the concrete.
Read more: Why does my concrete patio sweat?
How much is a yard of concrete
was last modified:
June 7th, 2022
by
Recommended