How often should I clean my bathroom?
If every time you think about how to clean the bathroom you have doubts, this article is for you. you are going to know not just how often but also the keys to effective bathroom cleaning thoroughly so that everything shines.
Every home accumulates dirt, and of all the rooms in a house, there are two particularly important and sensitive: yes, as you imagine the bathroom is one of them and the kitchen got the second place.
We all know that when it comes to cleaning our house. bathrooms are a big topic, and cleanliness can be a bit subjective: some people use it once and feel compelled to wash it, while others use it five times before coming in contact with some type of soap. However, when is about cleaning your home, if it's just for your health or peace of mind, the question arises: "how often you have to clean your bathroom?"
We have some aspects for you to keep in mind the next time you get down to work.
Keep some standards in mind for cleaning your bathroom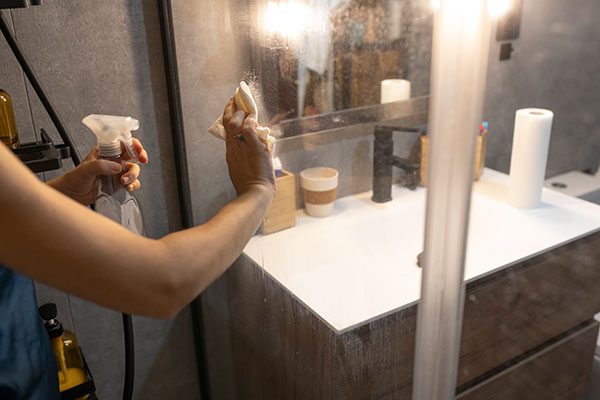 The bathroom is one of the places where cleaning should be more meticulous. Before starting, you should know that you would give your service a review every day, and at least once a week for deep cleaning.
NBC in collaboration with an expert microbiologist and a cleaning expert did a study where both agreed on the period of time it takes for bacteria and dirt to accumulate and pose a threat to health: the conclusion was one or two weeks, depending on the case.
This is how often you should disinfect the bathroom. The specific distribution of all the elements of a bathroom in the study was this.
W.C and sink: once a week
Shower: once every two weeks, the curtains must be disinfected weekly
Towel: It would be fair to change them daily
Sponges: boiling water for two minutes daily
If this isn't enough specific information for you these are the topics one by one.
Toilet
Ideally, the toilet should be cleaned daily with a bathroom cleaner, especially if it is used by several people. If not the case, weekly deep cleaning is necessary to eliminate accumulated bacteria and prevent them from multiplying.
Before you begin, spray toilet bowl cleaner and disinfectant on the inside and outside of the toilet. Wait a few minutes and then clean the cup with a brush.
Don't forget the rims, this is where the dirt collects. Empty the tank and rinse with running water. Finally, clean the seat with a cloth.
Sink
You have to clean it every day. The first thing you should do is get rid of the hair and grit that has accumulated on the edges if you have pets, especially cats probably you will find a lot of hair from them. It's very important cause If you don't remove them, you can damage the sink when cleaning it. Once this step is completed, with the help of a cloth or sponge containing cleaner, rub the entire surface. Once done, remove the remains with plenty of water.
Shower and bathtub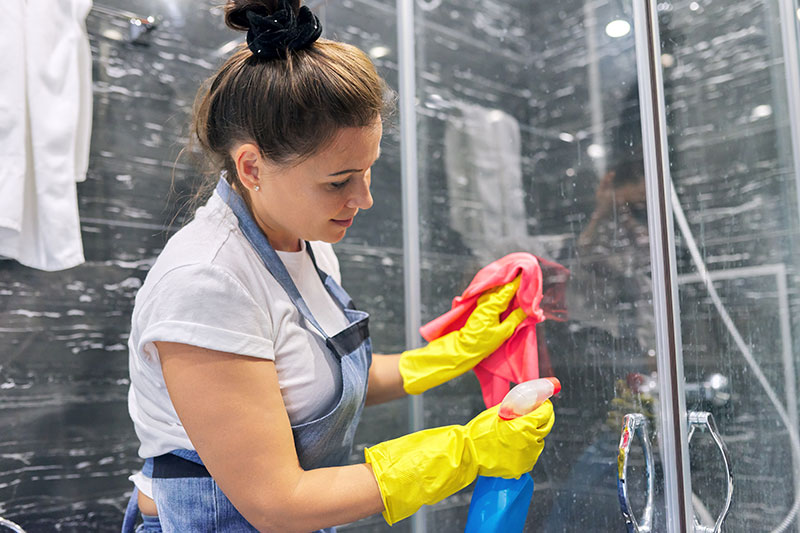 Ideally, we should clean the bathtub or shower after each use, so we don't have to kill ourselves when we finally decide to do it, the more time the dirt accumulates it will take to remove it. Before you start grooming, you must remove everything that is inside (shampoo, soap, sponges…).
It's very easy: you must take a damp sponge. This will take away the hair and soap residue that has accumulated. You have to pass it very well by the edges and by the taps. If there are stains attached to the surface, use a specific cleaner and scrub well. Wait a few minutes and then rinse the bathtub with water.
Towels
The case of towels and sponges is simpler. It is the humidity, which favors the growth of fungi. Even if you store your towel outdoors, the time needed to dry may be enough to favor the presence of these microorganisms
Having your bathrooms always clean
So, with all this information now you know not just how often you should clean your bathroom but also how to do it in a better way.
Obviously, it all depends on how regularly you use it, although it is rare that it is not used daily on many occasions and by more than one person. Even if you live alone.
If you had no idea how often to clean, we hope that the tips we offered will help you learn how to leave your bathroom looking like new. Ideally, you should incorporate this cleaning into your daily life so that dirt does not accumulate. ¡You already have the solution!
We hope this information will help you to keep your bathroom as clean as you want. With these guides and valid information, a dirty bathroom wouldn't be more of a problem for you. if you know any other tips leave them as a comment.
How often should I clean my bathroom?
was last modified:
November 19th, 2022
by
Recommended