Backyards and gardens have always held a special appeal when it comes to entertaining guests outdoors or even just spending some quality alone time. During the summer months, having a shaded area to enjoy the sun is sure to elevate that experience. A pergola is just what the doctor ordered. Not only will the structure offer you much-needed shade, growing flowering creepers and vines are sure to add a touch of class to your outdoor space. And while you could simply buy one, building a pergola by yourself is among the most satisfying DIY projects. So if you have plans to build a pergola this summer, here is a step-by-step description of the process.
How much does it cost to buy a pergola?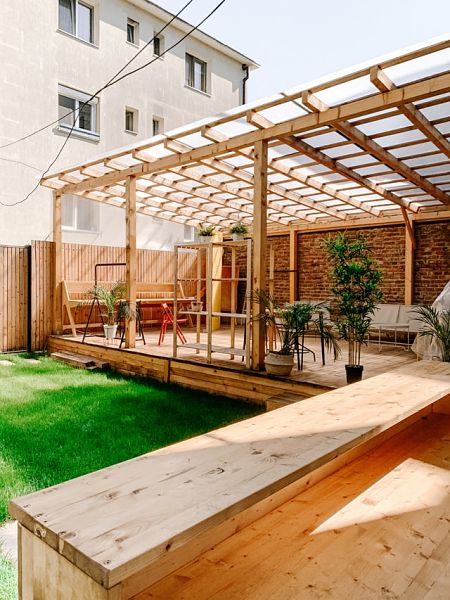 Buying a pergola could cost you anywhere between $3,000 to almost $50,000 for the fancier options. However, these pergolas, generally made from lightweight resin, metal, or plastic, are not very durable. You could build your own pergola for a fraction of that cost, and expect it to last a decade or more.
How much does it cost to build your own pergola?
A simple 10'x10' pergola could cost you as little as $150 in lumber. A larger 16'x16' one could put you down between $350 and $400. Of course, the actual amount you will need to spend will depend on where you live and the cost of lumber in your area.
Choosing the right lumber
The most important element in building a strong and beautiful pergola is choosing the correct lumber. You will want to choose a wood that does not twist or warp, is strong, and looks good when you paint or stain it.
One thing a lot of DIY experts agree on is that 4″x4″ posts are just not sturdy enough. The top of the structure needs wood that is thicker than 1″ as well.
To ensure long-term strength and stability, 2x pressure treated lumber and 6"x6" treated posts are a good choice.
Parts of a pergola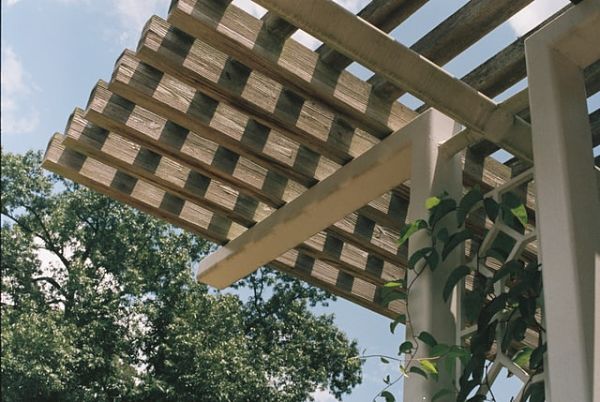 Every pergola has four distinct parts. They are:
Posts
To ensure strength and durability, use 6″x6″ treated posts. While choosing posts at the lumber yard, be sure to choose the straightest posts available. This will make it easier for you to level and assemble the pergola.
Header boards
These are the double set of boards that attach on either side of the posts. They are usually secured to the tops of the posts with two 10″ bolts per post. A basic jigsaw can be used to cut out decorative patterns on the ends of the boards.
A four-post pergola will need four header boards. To give the pergola a sturdy, beefy look, use 2″x8″ or 2″x10″ boards for the headers.
Purlins
The main crossing boards of a pergola are called purlins. We'd suggest 2″x6″ boards to add strength to the pergola.
Use a jigsaw to cut two notches 2″ deep into each purlin. This is to allow the purlins to fit in seamlessly with the header boards without needing to use any deck screws or other hardware.
Stringer boards
Stringer boars are the fourth and final component of the pergola. These are made out of 2″x4″ lumber boards. They are screwed onto the purlins using 3″ screws to create a strong and solid piece that will not warp, curve, or bend.
The process
Let's now take a look at the process of putting it all together.
Remember, while this is a DIY project, it would be a lot more convenient if you had a couple of pairs of extra hands to help you with the process. Also, you are likely to find a lot of pergola designs online. This, however, is the basic template for a DIY pergola build.
Begin by assembling the two posts and header boards on the ground. Drill them together and install the bolts. Each side of the pergola is now complete.
Once the posts are ready, slide on the purlins over the doubleheader boards into the notches you have cut for them. Space them out to your desired location.
Next, you can install the top stringer boards in place, and then drive screws into the purlins to lock the entire structure together.
Securing the pergola
All you need to do now to finish your DIY pergola plan is to secure the posts to the ground.
If you already have a concrete patio, all you will need to do is secure the 6″x6″ posts into the ground with plate anchors. You will only need to clean off any dirt or grime off the patio before attaching the plate anchors.
If you do not have a concrete patio, you will need to dig holes and install your posts in concrete. This also means you will need longer posts.
Before you begin digging, check with your local utility company to find out where their utility lines are. You do not want to damage those lines.
Mark out where you will need to dig holes. Make sure they are aligned properly.
Use a handheld post holes digger or a power auger to dig your holes. Make sure they are at least 24 inches deep. Widen them using a shovel.
Cut forming tubes and insert them into the holes. Trim them until they are flush with the ground level.
Install your posts and pour in the concrete. You will need to mix around five bags of concrete mix per hole.
Home landscaping: How to build a pergola?
was last modified:
May 30th, 2022
by
Recommended