How to choose a range hood for your kitchen? Well, before answering this question, let us first understand what a range hood is. Every kitchen remodeling project requires the addition or replacement of one important component — the range hood aka stove hood or vent hood. If your kitchen has a stove, then the range hood acts as a filtration system to remove any kind of smoke, odor, or particles released during cooking. Apart from this major function, this appliance also has several other benefits. It ensures that your cooking area is adequately lighted and properly ventilated. It also reduces the risk of carbon monoxide poisoning and keeps your kitchen cool by absorbing excess heat.
Now, when you decide to buy a range hood for your home, you might find an overwhelming variety of choices in the market. Therefore, in order to make an informed decision, go through this guide and learn about the factors that you should look into before purchasing one.
What Is the Type of Range Hood You Require?
There are several types of range hoods that you can choose from. Your final choice will depend on your budget, kitchen layout, and function.
Under Cabinet Range Hood
This affordable type of range hood is versatile enough to go with different kitchen styles. It can be easily installed below your kitchen cabinet(s) and over your stove — spanning the total length of the stove. You can find them in various designs — ranging from plain to stylish models.
If your range hood comes with a duct, it will transfer the smoke and particles to the outside of your house. Ductless range hoods will purify and recirculate the air back into your home. The former option is obviously better, but costs more and is comparatively difficult to install.
Wall Mounted Range Hood
If your stove does not have a cabinet above it, you can go for a wall mounted range hood. This type of chimney hoods come with an expanded bottom which stretches across the length of your stove. It narrows down towards the vent and is a bit costlier than under cabinet range hoods.
Insert Range Hood
Insert range hoods — as the name suggests — can be inserted into any space of your choice and design. They are adaptable, flexible, and affordable. However, the total costs may increase with the charges involved in design and installation.
Island Range Hood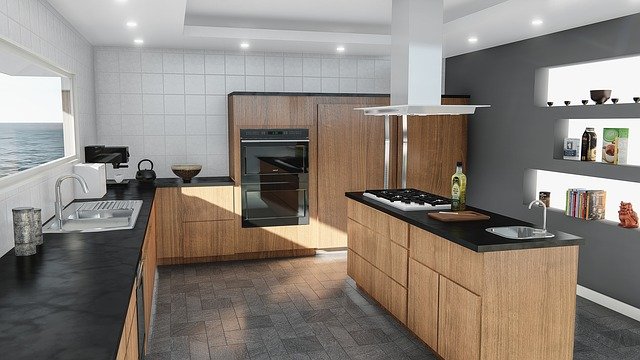 Quite similar to wall mounted range hoods, island hoods are installed in a space where the stove does not have any adjacent walls. The vent is connected to a duct that is fixed to the ceiling — thereby transferring the smoke away.
If you have an island layout for a kitchen, these are the best options. They look good and give your space an aesthetic appeal. However, they come on the costlier side.
Read more: Kitchen island size guidelines
Downdraft Range Hood
The last type is the downdraft range hood — which gives you the option to hide a vent hood from plain view. It connects to ducts located below the floor, which transport smoke away in a downward direction.
What is Your Budget?
The cost of any range hood depends on the size, type, and installation process. If you want a stove hood with additional features and added style, then your cost will obviously increase further. The most expensive range hoods are island and wall mounted hoods while under cabinet hoods come at a cheaper price. Agaiduct-free hoods cost lesser than the ducted ones due to the elaborate installation process of the latter.
What Is the Size that Will Fit in Your Kitchen?
Another factor that you should consider when you answer the question — how to choose a range hood — is the size of your model. It should be properly sized to complement the dimensions of your gas cooktop. Only then, all the smoke and debris released from the stove will be effectively captured by the range hood.
Although larger size means a few more dollars, it is advisable to consider the investment. If you are getting an under cabinet range hood, calculate the dimensions of your kitchen cabinets. If you are going for wall mounted or island vent hoods, calculate the amount of space available.
Read more: Small kitchen remodel ideas
What Are the Required Power Specifications?
The effectiveness of your range hood will depend on its power specifications. If you regularly cook or fry in your kitchen, go for a vent hood with high power ratings in CFMs (cubic feet per minute). Again, ductless range hoods will generate less power as compared to hoods with ducts. Moreover, larger models will deliver more power than smaller ones.
What Is the Type of Exhaust System You Prefer?
As already said, another important aspect among range hood features is whether the hood is ducted or ductless.
Ducted Exhaust System: The one with ducts will transport the smoke outside, thereby cleaning the air in your kitchen. It is usually mounted on an exterior wall, ensuring shorter, efficient ducts.
Ductless Exhaust System: Ductless hoods will recirculate the absorbed air while filtering out all contaminants via filters.
Obviously, the former is always a preferred option but it is expensive and more difficult to install. However, if you go for a ductless model, be prepared to frequently clean the range hood and change its filters.
Read more: Kitchen hood fire suppression system inspection
Conclusion
Installing a range hood may cost you a few dollars. But if you are planning to expand your kitchen or remodel the existing cooking area, it is recommended to get one installed. We have already discussed the basic factors that you should consider when you answer the question — how to choose a range hood for your kitchen? So, take all of these aspects into account and pick a model that shall help you in keeping the kitchen clean, odor-free, and safe.
Read more: The best way to clean oven hood filters
How to Choose a Range Hood for Your Kitchen?
was last modified:
July 25th, 2022
by
Recommended