For many homeowners, picking out a countertop can be the most confusing part of their kitchen renovation. There are plenty of materials available, and more are being added all the time. Materials come with different cleaning and durability considerations, making it tough to know what countertop to go with. Since countertops can be expensive, and choosing the wrong one can make cooking a real pain, it's important to get informed, and choose the right countertop for your needs, lifestyle, and aesthetic.
What to think about when choosing your kitchen countertop
First and foremost, a kitchen countertop needs to be functional and durable. You have to know if you can chop, cut, and place food and drinks on a countertop, and whether it will stain, or leave a mark or a nick. In addition, you need to know what maintenance is involved in your choice. Does your countertop need to be sealed often, like marble and tile, or will you go with something like stainless steel that can take a beating and requires minimal upkeep?
Aesthetics are also a consideration, since the style of kitchen you're aiming for will inform your countertop choice. If you are after a timeless look, granite and marble will be your best bet. Both materials also lend elegance to your kitchen. If you are seeking warmth and love a natural or rustic look, wood might work well. If you are going for an industrial appearance, concrete might be the option for you. And if a restaurant-style kitchen is your heart's desire, nothing sets the stage like stainless steel.
To determine your price range and what you can afford, you first have to measure your surface area, as most countertop options like quartz, marble, glass, and tile are sold by the square foot. Obviously, more surface area means you'll need a bigger countertop budget.
Many homeowners choose granite, marble, or quartz because they provide a high-end, elegant aesthetic. However, granite is one of the costliest materials available. If you're on a budget or just want something different, there are plenty of other options. For example, laminate or tile might work well for you. If you shudder at the thought of laminate or tile, both of which are often found in old or dated kitchens that have not been renovated, know that newer versions come in many colors and styles, allowing for a modern look. However, these less expensive options have disadvantages as well.
Whether you are looking to go all-out or have a modest budget, look at your countertop options in-depth. Note that average costs vary greatly, depending on your area and the exact material you select. Be sure to examine each option's pros and cons, so you can choose the right countertop for you.
Granite Kitchen Countertops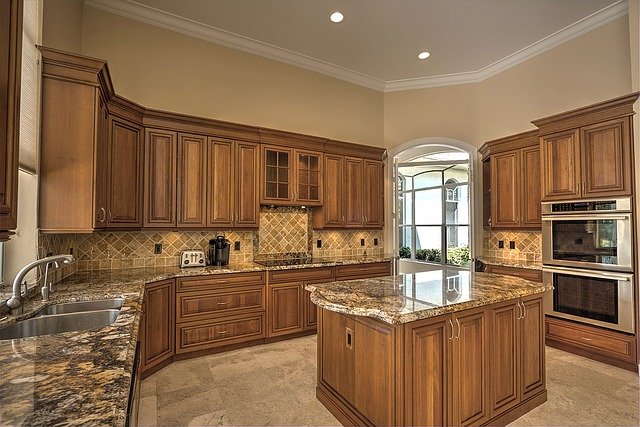 Granite is an igneous rock that contains mica, feldspar, and quartz. Its high-end look makes it a favorite among homeowners, and it adds instant value to your kitchen because it's both elegant and utilitarian, providing a polished sheen and a durable prep surface. Granite is a favorite for kitchen countertops.
Because it is a natural material, granite comes in many stone-pattern variations, making each slab unique. This is great for homeowners who want their countertops to match or complement their cabinets or backsplashes. But it's very heavy, and you'll have to reinforce your base cabinets, which is an added cost.
Thinking about butcher block countertops? Find the best cost for your installation.
It's no secret that granite is expensive – average prices run from $50 to $100 per square foot, with custom slabs around $250 per square foot.
Installation, resealing, or templating add to that cost. But once you install granite, its longevity means you'll never have to replace your countertop again.
Granite is also versatile. It is scratch and heat resistant, which means you can place hot pots on it without worrying about marks or burns. It resists chemicals and bacteria as well, and is easy to maintain. And since it is non-porous, it also protects against mold and mildew.
However, you do have to wipe up oils and acids quickly if you don't want marks. If you reseal your countertop every year, you can avoid stains and keep it looking like new. If you don't, your granite will start to tarnish, which is one strike against it, since many other, cheaper alternatives give you less or little need for upkeep. You can tell your granite is fine if you leave a few drops of water on it and it beads up. If the water soaks through the granite, you need to reseal it right away.
You can get granite polished, which gives it a glossy look, or honed, which gives it a matte finish. Finishes also include sandblasted, brushed, and flamed.
As for cleanup, you don't need any special cleaners. All you need is a microfiber cloth soaked in mild dish soap and warm water.
Try to stay away from harsh or acidic cleaners that have ammonia or bleach in them, as well as vinegar, lemon, and lime, which will weaken the sealant on your stone over time.
Marble Kitchen Countertops
Marble is an elegant option for your countertops. This natural stone will instantly make your kitchen look like a beautiful French patisserie.
For those in the know, it's a popular alternative to its pricier competitor, granite. However, it's not as durable because it's not as hard as granite. Also, unlike granite, marble's surface will scratch and show signs of wear and tear over the years. So if you're not looking for a material that will undergo an aging process, marble might not be for you. Still, with its natural veining and markings, such "imperfections" add character and uniqueness to your kitchen workspace. And marble definitely gives you the look of luxury that many homeowners seek. With its natural luminescence, it makes your kitchen look glamorous. It's just not as perfectly glossy as other materials.
Because it's porous, marble can stain and etch easily. Unlike, say, laminate or stainless steel, marble needs a lot of maintenance with regular sealings. If you avoid acidic things like orange juice and red wine, you'll keep your marble from looking worn. If you leave a slice of lemon on the countertop overnight, the shape of the slice will leave a mark. Perhaps that's why Carrara and Calacatta marble, with their gray-toned veining, are so popular these days. Those options not only give your kitchen timeless appeal, but also help hide stains and disguise wear.
With average prices varying from $40 to $100 per square foot, marble isn't cheap, but it is more affordable than granite, and certainly more so than quartz or stainless steel. If you opt for Carrara, it'll be cheaper. Whichever marble you choose will help brighten your kitchen.
Quartz Kitchen Countertops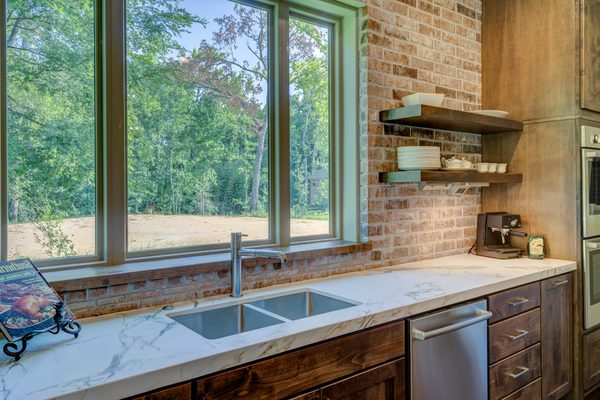 Quartz is a man-made, engineered stone. It provides a clean, neat, and uniform look that will match your cabinets and walls. That's because it lacks the natural patterning or variegation of options like marble or granite. It is available in a wide variety of colors and patterns, giving you many options to choose from. If you choose coarsely ground quartz, you'll get a flecked appearance. If you choose finely ground quartz, you'll have a smooth look.
Since quartz is a composite material, it offers the look of natural stone-like granite and the consistency of a manufactured product. It lends a glossy sheen to your kitchen, playing off matte-painted surfaces like cabinets and reflecting light like ceramic tile backsplashes.
Formed by combining 90 percent ground quartz (a natural hard mineral) with 8 to 10 percent resins, polymers, and pigments, quartz is very durable and easy to clean. Mild soap, water, and a soft cloth is all you need. Maintenance is also minimal given that – unlike other countertop options like marble – quartz does not require sealing. This can be a huge selling point, since resealing every couple of months or years adds to the overall cost of countertops. Quartz is also stain and crack resistant and, because it's non-porous, it is extremely hygienic.
However, quartz is not heat resistant, which means you can't put hot pots and pans on it. Quartz – also called engineered quartz or engineered stone – is also cold, which is great for rolling dough or defrosting food. There will be seams if you require quartz for large countertops, and it's costlier than other countertop materials, with prices averaging $65-$100 per square foot. Still, like granite, quartz is a popular choice if you want your kitchen countertops to look high-end and customized.
Home Renovation Cost Estimator
Sorry, we currently don't have that project at our disposal.
---
You can take a look at our most popular ones:
Water Heater Installation
Exterior Door Replacement
Install Recessed Lighting
Exterior Door Installation
Interior Door Installation
Interior Door Replacement
Stainless Steel Kitchen Countertops
Stainless steel, which is sheets of metal alloy, gives off a metallic glow that will make your kitchen look shiny and sexy. We love it as a countertop because it reminds us of restaurant kitchens and can go from looking industrial and highly modern to traditional, depending on the cabinets you choose to complement it. Its popularity as a countertop material is due in large part to the popularity of stainless steel appliances. It will not only blend in well with its counterparts but also provide a high-end look.
It's no secret why restaurants use stainless steel countertops. Stainless steel is nearly indestructible and can take much abuse. It inhibits bacteria from growing, making it the most hygienic countertop available. It's also resilient to water and heat. Like concrete, it will develop a patina, and scratch marks, etches, and other imperfections will show up. If you want a smooth finish, stainless steel might not be your best option, and you should also note that fingerprints are pretty apparent.
However, stainless steel requires little maintenance – stains wipe off easily with just mild soap and a cloth, and you don't have to seal it. It also provides an instantly updated look for your kitchen, and coordinates well with different colors. Prices range from $75 to $150 per square foot.
Soapstone Kitchen Countertops
Composed from mineral talc, it's unaffected by acids, which means spilled drinks like orange juice and wine won't leave stains. It's also heat resistant.
Unlike other natural stones, you don't necessarily have to reseal it every year. Like butcher block, it will develop a patina over time and its color will deepen. So if you're not looking for a dark countertop, opt for a lighter shade of soapstone.
Soapstone requires close maintenance. It can crack over time, and the roughness of its surface can cause glassware and china to scuff. Unlike other natural stones, soapstone will nick and scratches from knives will show up on the surface. Soapstone is that rare stone that needs a lot of mineral oil worked into it to help fade nearly indelible scratches. In addition, the oil will enhance the stone's natural beauty, killing two birds with one, well, stone.
Average costs range from $60 to $105 per square foot.
Concrete Kitchen Countertops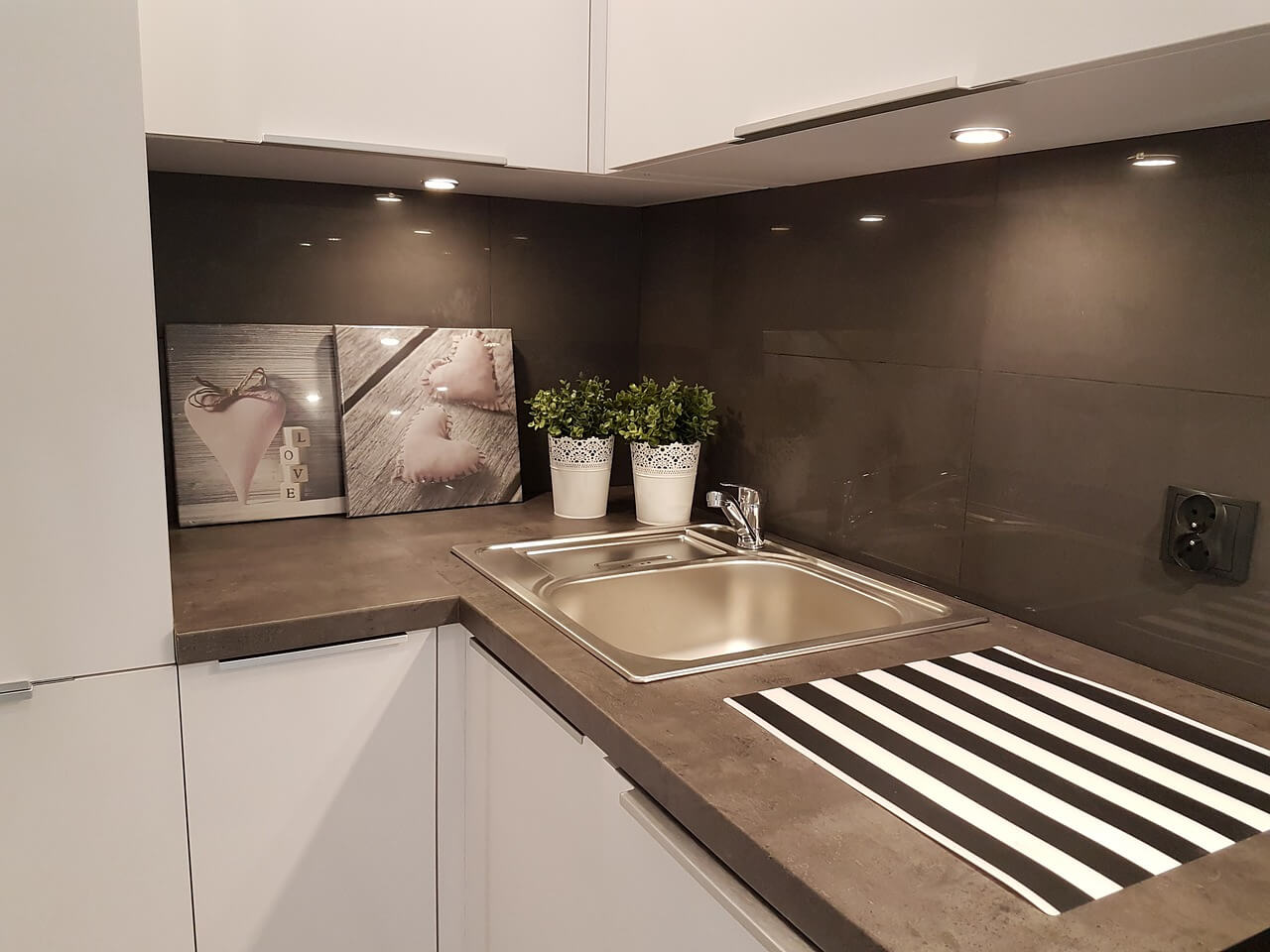 A thick concrete countertop makes for a stunning kitchen. Ideal for a modern or industrial-style kitchen, concrete is made from a general-purpose mortar mix that's one part cement to three parts sand, and it's not just for floors. It's an eye-catching material for your counters that is also very versatile. It can be stained any color and textured to avoid looking like a sidewalk. It can also be cast in any shape you want. Offering strength and style, it works well with glass, tile, and marble accents. You can even embed stones or tiles into the concrete to make a one-of-a-kind statement piece. It's also energy efficient. Concrete captures heat when the temperature in your home rises, and then releases it when the temperature drops.
The result is a natural, organic-looking countertop that stands up well to heavy use, and will improve with age. If you want a pristine, perfect-looking surface, concrete isn't for you. But if you like character, patina, and things that look distressed, concrete might be what you need.
Because it's porous, concrete stains easily. Cracks may develop over time, and its surface can collect bacteria. It also isn't as heat resistant as marble or quartz. If you put a coffee mug on it, for example, a ring will develop if you don't immediately wipe it. And you have to avoid spills from oils and acids if you don't want the patina to start looking variegated.
However, keeping your concrete looking new isn't difficult if you frequently seal it. It's also important to avoid putting hot pots and pans on concrete countertops, and to remember to use a cutting board to avoid nicks.
Concrete ranges from $65 to $100 or more per square foot.
Wood Kitchen Countertops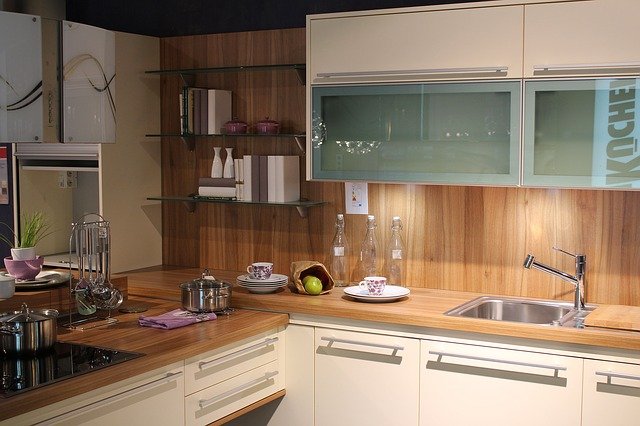 If you like the look of wood, reclaimed and butcher block wood are great options for your kitchen. Hardwood floors are highly revered, which is perhaps why wood countertops are enjoying a resurgence as a popular countertop option.
When properly sealed, wood offers an ideal prep space and gives a homey touch to your kitchen. It looks great in a traditional, country, or cottage-style kitchen. It's budget friendly like laminate, but unlike laminate, it's heat-resistant. Wood looks great as a top for an island, and you can choose from a variety of types (choices include cherry, maple, and bamboo, among others). Over time, it will form a patina and age beautifully.
Reclaimed wood has been salvaged, usually from old homes or barns, and made mostly from older trees. This means it's much sturdier than countertops that use new wood, which is made from younger trees. If you are looking for casual elegance in your kitchen and are concerned about the environment, reclaimed wood is the way to go.
For a warmer, classic look, try butcher block, which is the most common type of wood for countertops. Butcher block, typically made from hard maple that's laminated and sealed, functions as a hard-working cutting surface and has a nice thickness to it. However, it's costlier than regular or reclaimed wood. Average costs range from about $40 to about $60 per square foot.
If you opt for wood, know the cons. It's very porous and susceptible to scorches, nicks, and scratches. You need to clean up spills immediately if you don't want stains. In addition, the surface is prone to warping and can dry up and crack.
But if you keep up with maintenance by sealing and oiling it monthly with mineral oil, you will minimize damage. Just remember to disinfect often to prevent bacteria from growing, and ensure adequate ventilation in your kitchen since wood will expand and contract with changes in temperature. And if you don't like the look of your wood countertops over time, you can always lightly sand out flaws and re-oil the surface to restore its natural beauty. But for many, the shopworn look is part of wood's appeal.
Prices start at $35 per square foot, but can skyrocket to $200 per square foot depending on the material you choose.
What about quartz countertops? Find the right installation price for you.
Glass Kitchen Countertops
For a modern, dramatic look, glass countertops are your best bet. Glass has a sleek, streamlined appearance, and can be customized with many different color options. It can also be cut into any shape and texture. Like concrete, you can add artistic inlays for a highly personalized look. It's also a very durable material, if tempered and thicker than 1 inch.
Although glass is pricey, it's easy to clean and maintain. Because it's able to withstand high heat, glass won't crack or scorch. It's also non-porous, making it stain-resistant and one of the most hygienic materials out there. With few cons, glass is definitely the way to go if you have enough money in your kitchen renovation budget.
Look to spend $60 and upward per square foot.
Laminate Kitchen Countertops
Laminate – paper or fabric sheeting glued to a plywood substrate – is a great countertop option because it's available in many colors and styles, and won't crush your kitchen renovation budget.
While it's not exactly regarded as the most stylish countertop material, laminate is very easy to install and provides an affordable countertop option. Naysayers have come around in recent years because laminate can mimic other, more costly countertop materials. Printing technologies can make laminate look like marble, granite, or even butcher block at a fraction of the cost. You can also give laminate a custom look by adding bullnose edges, mitered corners, or end caps.
Unlike granite, laminate is lightweight, which means you don't have to reinforce your base cabinets for support. If you want your kitchen to look retro, laminate in its "natural" state will do the trick.
The cost of laminate is around $10 to $40 per square foot. While that's a lot of bang for your buck, laminate also comes with a lot of downfalls. If you're cutting on it, you will leave marks. You also can't place hot pots on laminate because it will scorch, and stains can build up if you don't clean spills quickly. In addition, the layers of laminate can peel over time with natural wear and tear and exposure to moisture. That said, if you are looking for something that's affordable, laminate is a fairly durable alternative to pricier options like quartz.
Tile Kitchen Countertops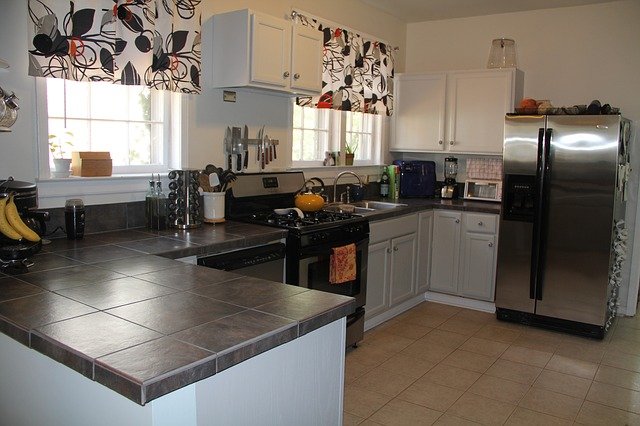 Of all the countertop options available, tile is one of the most budget-friendly. It's also fairly easy to install.
Tile can be cheap, depending on what type you choose. Porcelain and ceramic (made from clay and glazed) tiles are the most affordable, and you can select from a limitless range of patterns and colors. You can even get tile finished to mimic granite or other stones. Natural stone tiles are more expensive than porcelain and ceramic but are still cheaper than granite or marble.
Tile is easy to clean, durable, and heat and stain resistant. In addition, it is impervious to nicks from knives and works well with many different kitchen styles. However, it does have its downfalls. Tile can easily chip or crack, so always remember to purchase a little extra. Damaged tiles are easily replaced. Also, grout can embed dirt, mildew, and bacteria if not regularly sealed. Try using an epoxy or acrylic grout, as these won't stain quite as easily as other grouts.
It's easy to clean tile countertops. You can use bleach or a scouring powder to remove stains and keep your tile looking sparkling and new.
Prices range from $4 to $8 per tile for solid color tiles, which are typically the least expensive. The average cost for tile countertops ranges from $20-$75 per square foot.
By knowing the pros, cons, and average costs of various materials, you can wade through the sea of countertop options and choose the right countertop for your home.
MORE: The Complete Kitchen Cabinet Guide.
Choosing Kitchen Countertops: Things You Should Know
was last modified:
August 22nd, 2022
by
Recommended