How to clean a kitchen quickly and systematically
Your kitchen is without a doubt the heart of your home – the center of your family life. Needless to say, you'd want to keep the most important part of your home clean and convenient. Trust us, a spotless kitchen will go a long way in making you happy and content. And, your home more organized. So, here are some useful tips on how to clean your kitchen easily and effectively.
While daily cleaning is essential for keeping your kitchen looking and feeling its best, regular deep cleaning should be an important part of your kitchen maintenance.
The ultimate goal is to have a neat and hygienic cooking space that exudes positivity. Messy build-ups of food on the kitchen countertops, a sinkful of dirty dishes, and household paperwork on the kitchen island can be a buzzkill.
That's why, we have this step-by-step guide for you. It will help you keep the daily clutter to the minimum and your kitchen surface clean and germ-free.
Start with the right cleaning kit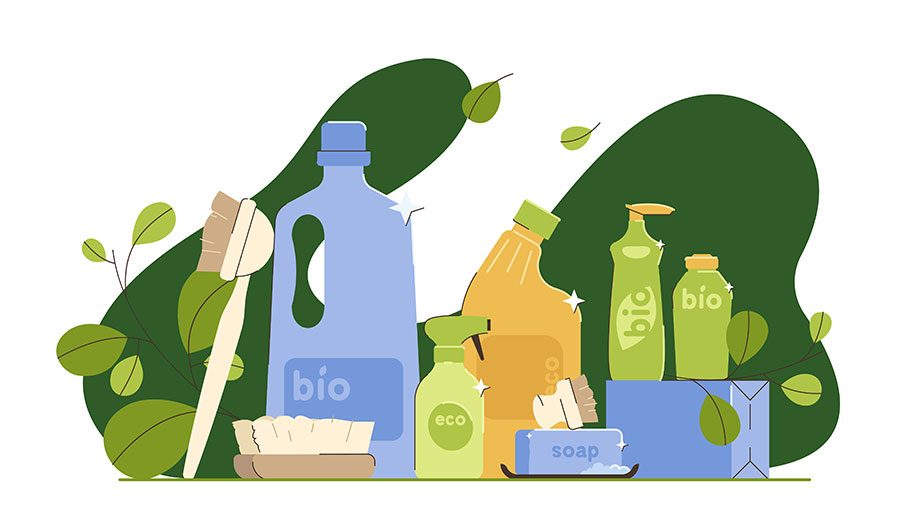 If you want to make your kitchen-cleaning exercise satisfying and effective, you'll need the right tools. For example, a razor blade scraper can help scrape any gunk from your glass stovetop. A good all-purpose cleaner can do wonders in removing dirt. However, only use recommended kitchen products for cleaning purposes. For instance, if you have a granite countertop or any other natural stone countertop, the acid in white vinegar can damage it and must be avoided.
Keep your kitchen counters clutter-free
Begin your kitchen cleaning from one corner of the counter. Remove every item that doesn't belong there. A good way to go about it is to carry a laundry basket and clear away all the unnecessary things altogether instead of one by one. Once the kitchen countertops are clear, you can put the things where they should go. The best solution is to store kitchen items neatly in cabinets or drawers.
Run the dishwasher
A clean kitchen needs clean pots and pans. Run your dishwasher and put away your freshly washed dishes properly once done. Remember to wash all dishes that are hanging around – leaving nothing out on the counter, especially the one next to the kitchen sink.
Dust from top to bottom
This cleanliness tip is not just applicable for the kitchen but also to the living room, dining area, or bedroom. Cleaning and dusting should always be done from top to bottom. As the dirt and dust particles dislodge, they settle on a lower surface which you can easily clean up. Begin by dusting the light fixtures, the top of your refrigerator, and your kitchen cabinets.
Clean the small appliances first
Cleaning smaller kitchen appliances is easier and quicker. Make sure your microwave, oven, coffee maker, mixer, and toaster are debris-free. Always start your microwave-, toaster- and oven cleaning with the inside first to remove crumbs and food particles. For thorough cleaning, you can run a white vinegar cycle through your coffee maker and steam the inside of your microwave with the same. However, never use vinegar on the surface of stainless steel appliances as it can strip off their shine. Wipe down the exteriors with a microfiber cloth. You may even dampen it with a soapy solution or an all-purpose cleaner.
Wipe down the knick-knacks on your counter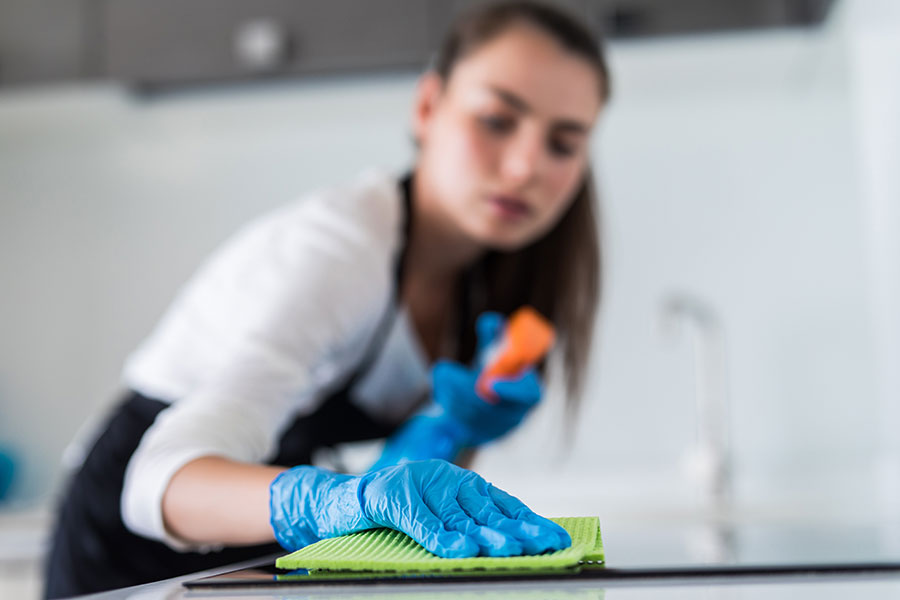 Things you use regularly, such as a cooking oil tray, mug racks, dish racks, water bottles, or urns holding your cooking utensils need to be cleaned too. You can either wash or wipe them down. Also, remember to wash your drying mat for a fresh look.
Scrub your gas stove
If you own a gas stove, remove its grimy grills and soak them in hot soapy water. In the case of an electric burner, you can use an all-purpose cleaner to wipe the surface underneath. Don't forget to clean the knobs.
Clean the counters thoroughly
Once all the things are clean, it's time to wipe down your counters. Always use an appropriate cleaner for the specific type of kitchen countertop you have. Give the last touch with a microfiber cloth.
Give your kitchen sink a deep cleaning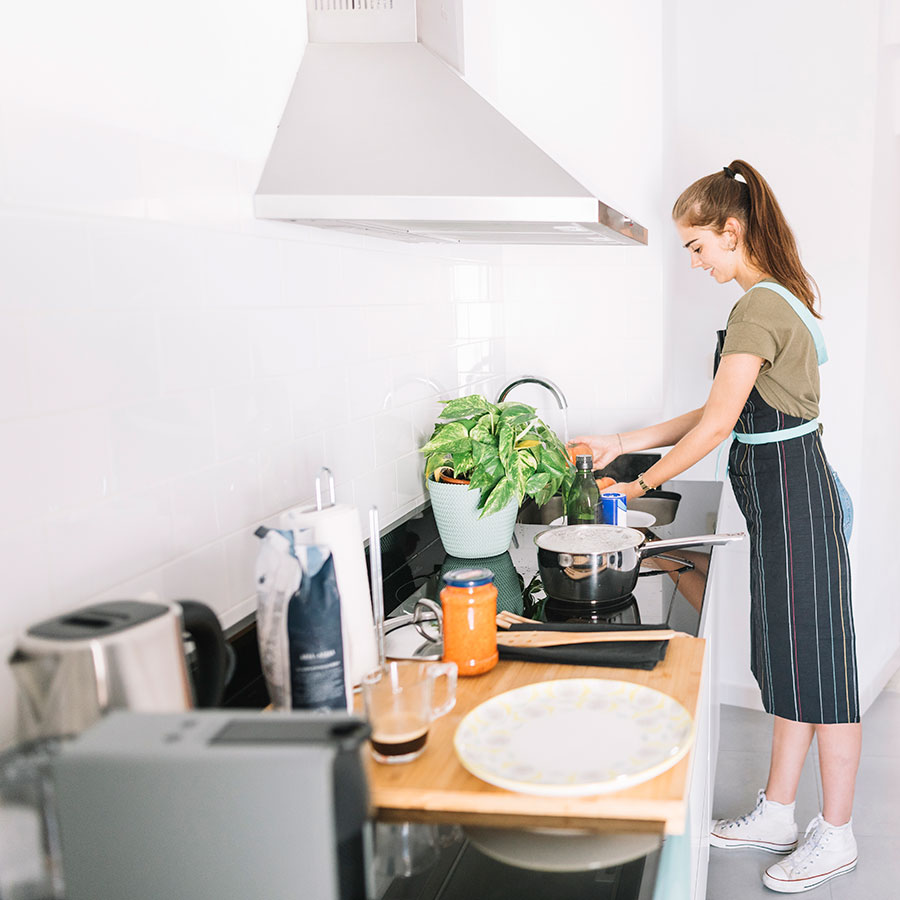 Deep cleaning your sink is easy if you know how. After rinsing it out, use a good scrubbing cleanser and a cleaning brush to remove gunk from all nooks and crannies. Clean your sink faucet, sponge holders, and soap dishes. As the last step, fill your sink with hot water and add bleach to the water. Leave the solution for ten minutes and drain the sink.
A good tip is to add lemon peel to your garbage disposal and run it once with water running.
Clear out your refrigerator
If you have time for a fridge deep clean, it will be ideal. But, if not, give the shelves a thorough cleaning with some soap water solution, or baking soda. Make sure to remove expired food items and wipe off any spills.
When it comes to large appliances such as refrigerators and dishwashers, the quickest way to clean them is to wipe down the outside and polish them with a good stainless steel cleaner.
Read more: Why is my refrigerator leaking water
Empty out your garbage can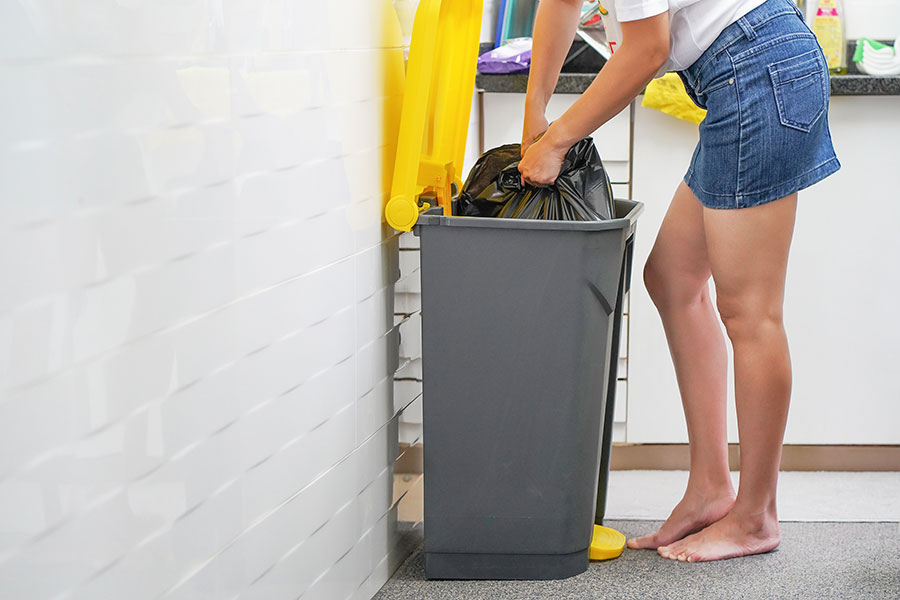 Take out the trash if it's full and vacuum away any crumbs, build-up, or debris from the bottom of the can and the surrounding area. You can use a disinfecting wipe to clean the can as well as the compost bin inside and out.
Vacuum, sweep, and mop the kitchen floor
Sweeping the kitchen floor with a broom will help you clear out the dirt and debris – even the stubborn ones lodged under the refrigerator and oven. You can finish off with a vacuum cleaner to deal with the finer dust particles.
Replace the kitchen linen and cleaning products
Replace your dirty sponges, rags, dish soaps, napkins, and dishtowels with clean ones. Replenish your kitchen paper towels and your liquid cleaners. To add the finishing touches to your spic-and-span kitchen, light some aromatic candles and place bright flowers in a vase.
How often should you clean your kitchen?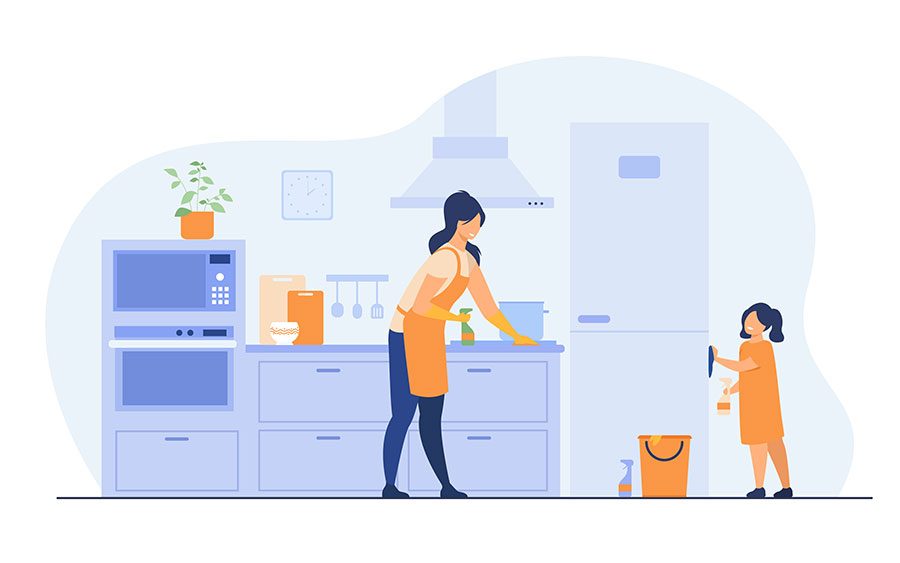 The frequency of your kitchen cleaning depends on the task at hand. While running the dishwasher or wiping down the counters should be done daily, vacuuming can be done weekly, and clearing out the refrigerator can be done fortnightly. Relatively complex tasks such as large appliance interior cleaning, cabinet cleaning, or pantry cleaning can be done once a month.
When and how to clean the kitchen also depends on factors such as the size of your family, the number and ages of the children in the house, and the frequency of your home cooking.
Keep in mind that a thorough cleaning once in a while will make everyday cleaning easier. And, will make spending time in your cooking space a pleasurable experience.
Last thoughts
When you know how to clean your kitchen properly, it won't take you very long. With the right tools and the know-how, you can go from dirty to sparkling clean in less than an hour!
Remember that a decluttered kitchen – with clean counters, cabinets, and appliances – will make a huge difference in the feel and look of your kitchen. Your kitchen deserves your attention. If you give it that, you'll have an organized, spic-and-span kitchen every day!
Read more: Why is my fridge filling up with water?
How to clean a kitchen quickly and systematically
was last modified:
March 3rd, 2023
by
Recommended