Bohemian Home Decor Tips To Create An Artistic Interior
Eclectic and spirited, Bohemian home interiors are full of treasures referencing exotic places, cultures, and lifestyles. The traditional creators and inhabitants of Bohemian interiors have been artists, writers, musicians, and travelers imprinting their passions on the spaces they live in. With a touch of hippie chic about them, these interiors are warm, vibrant, and fun to create. Whether working with an interior designer or creating your space solo, these bohemian home decor tips and tricks will help you create a perfectly personalized hippy-inspired home.
1. Tell a story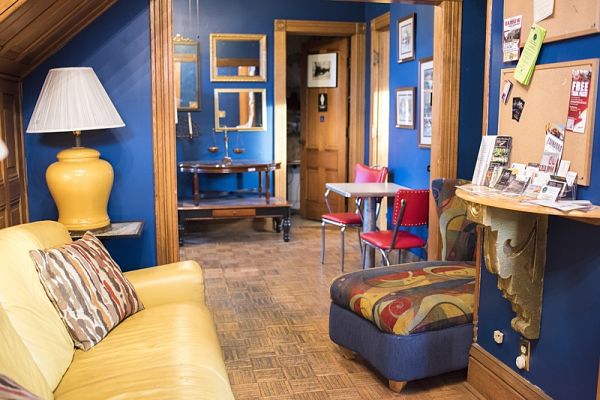 Bohemian style is all about collecting trinkets, pieces of art, and furniture that reference the arts, music, travel, and all things exotic. The idea is to use your interior to display interesting objects that tell stories that ignite adventure and imagination. Think ethnic fabrics, spicy colors, and personal effects with a good story behind them.
In the above layout, the homeowner has opted for a dark blue backdrop. Multiple wall arts, knick-knacks on the table that narrate his experiences, and bright furniture — everything echoes of a hippy spirit.
Take a look at our guide on Art Deco Architecture
2. Inject splashes of colors
There are no set rules when it comes to the ideal mix of boho colors. However, you can think deep browns, greens, blues, and grays, accentuated with bright purples, fiery orange, and even reds. Combining and layering colors is what makes this style unique.
Check out the idea above. Hanging and potted plants create a nature-inspired bohemian look. The designer has further complemented it by using bamboo furniture, electric blue throw pillows, and a patterned carpet. A patterned window treatment completes the entire look.
When it comes to choosing a color scheme for a Bohemian interior, don't be shy. Experiment with mixing contrasting colors in bright, rich tones, textures, and patterns. Look for fabrics with ethnic motifs such as Indian tie-dye, Arabic rugs, and Mexican weavings. One wonderful bohemian home decor tip is to heap up a colorful array of cushions to inject vibrancy into a room.
3. Mix and match furniture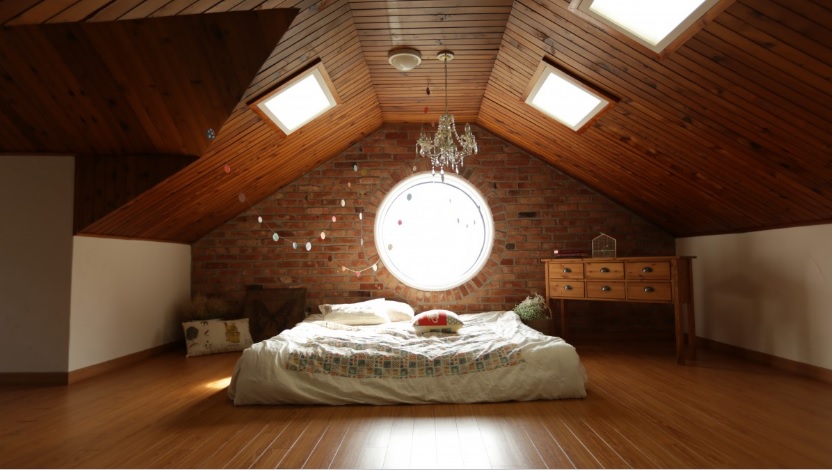 This style isn't about minimalist lines or shiny new furniture; it's more about pieces with lots of character and charm, collected over time. Great places to pick up furniture for a Bohemian interior are antique markets and garage sales. Mix and match pieces so you have a range of styles, textures, and materials – just like this interior, which combines rustic coffee tables with elegant side chairs, and even an industrial metal bookcase.
4. Go for low-level seating
A common element seen in Bohemian interiors is low-level seating, which creates a very relaxed and inviting vibe and can be created with rugs, poufs, and blankets around a low table. You can also go for a comfy, low-height sofa. Create a focal point — maybe with neatly arranged racks that display your favorite DVDs. Place some potted plants and nostalgic elements such as your childhood bicycle — accompanied with a fabric-made swing. There, you are all set!
Read more: Creating a Bohemian Bedroom by Releasing Your Inner Artist
5. Add a touch of romance & coziness
This bohemian home decor tip is where you can really have fun and let your imagination run wild. Check out this romantic, cozy basement bedroom right out of a fairytale. Think back to your favorite books, movies, and travels to help inspire your very own Bohemian interior. Rich, patterned bedding, coupled with a furry rug makes it seems so comfy and inviting. One side of the wall is completely dedicated to multiple wall-frames, while the ceiling features beautiful hanging plants and small trinkets. There's even a ladder, leading upstairs!
6. Showcase your hobbies
For any, it is really important that you decorate it with the things you love. Try assembling things that reflect your hobby — they can be anything — related to your travels, music, or reading. They will bring you joy on a daily basis and will remind you of your life journey.
If you are a music fan, dedicate a corner and stack it with your favorite pieces — maybe, your prized collection of guitars. Use your imagination to think about how you can make this space more conversational. Additionally, apply common bohemian home decor ideas, such as a huge rug, unique lighting pieces, and a comfy seating arrangement.
Read more: Bohemian Bedroom Decor Ideas to Help You Create a Relaxing Retreat
Conclusion
Remember, when it comes to a boho-inspired design, nothing is too much. Hence, strategically place as many items as you want — tapestries, vintage bottles, maps, or mismatched china. Keep in mind that bohemian home decor is all about being eclectic, chic, and glamorous. So, go ahead. Experiment with an ornate chandelier or a chunky gold-framed mirror. The golden rule: everything should come together to narrate your story!
Read more: Autumn Decor Tips
Bohemian Home Decor Tips To Create An Artistic Interior
was last modified:
September 28th, 2022
by
Recommended