Want to know how to decorate a large wall? You've asked the right question. Instead of letting a vast wall look bare and awkward, you can think of it as a blank canvas that can be beautified with the most creative ideas.
This blog has some amazing tips and tricks on how to decorate a large wall. These wall decor ideas will make you stare at the massive space in awe every time you pass by it in your living room, dining room, or bedroom.
So, let's get you the most beautiful wall that reflects your creativity and unique personality.
Place a console table with a mirror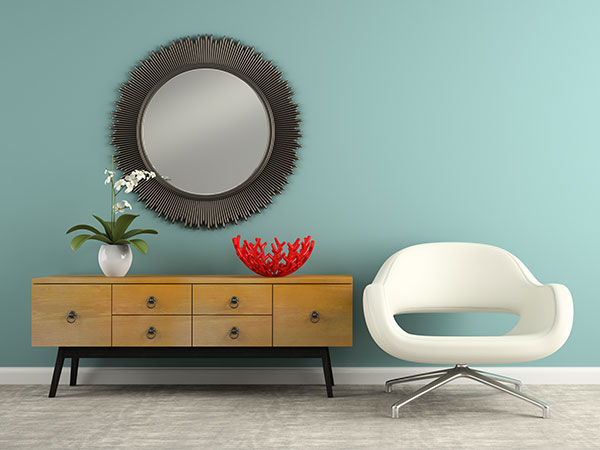 A beautiful console table helps to fill up the barren space in the most functional way. You can add a round or rectangular wall mirror and a table lamp to complement the furniture.
The good thing about console tables is that you can pick a dimension that meets your spatial requirement. And if you do not have much area in front of the wall, you can create a nook with a narrow bench too.
Hang a large piece of art
Framed art never goes out of style. And to add your personal touch, you can paint an oversized piece of art yourself! That's right, turning into an artist is not that difficult. Just take a large canvas, a paintbrush, some bright colors, and a dash of your creativity.
The easiest and trendiest style you can work on is abstract minimalism. Such art looks especially great in Scandinavian homes, mid-century houses, or boho-themed rooms.
The artwork will surely become the focal point of your room. And not to forget, a conversation starter.
Create a black-n-white gallery wall
Nothing livens up a boring wall like a montage of your memories. Create an eye-catching wall with black and white family pictures or travel memorabilia arranged symmetrically. Make sure the picture frames are of the same material and color scheme.
The special gallery wall will look well put together and cohesive. However, if you're an adventurous person, you can also mix up different frame sizes to make an artful statement.
Choose a wall theme to complete a series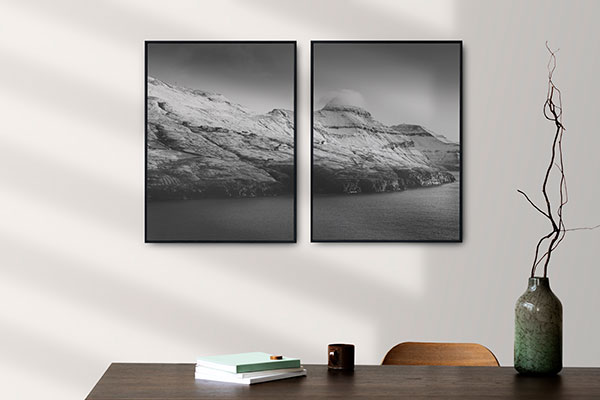 You can pair art pieces together as a set. Since smaller framed artworks are usually less expensive than large-scale pieces, such an arrangement will be easy on the pocket too.
Think of a theme for the wall. You could have one on Roman numerals, floral designs, motivational quotes, or characters from your favorite television series.
Make a collage of printed photos
If you want to display your favorite photos in a crafty way, you can utilize the wall in the most innovative way. Clip all your Polaroid photos on a string of fairy lights and hang it in any shape you want – zigzag, vertical lines, or spell out your initials. 
Your personalized interior décor will not only look great but also give your room a subtle, classy look. This is one of the easiest ways to decorate a large blank wall.
Try interesting wall molding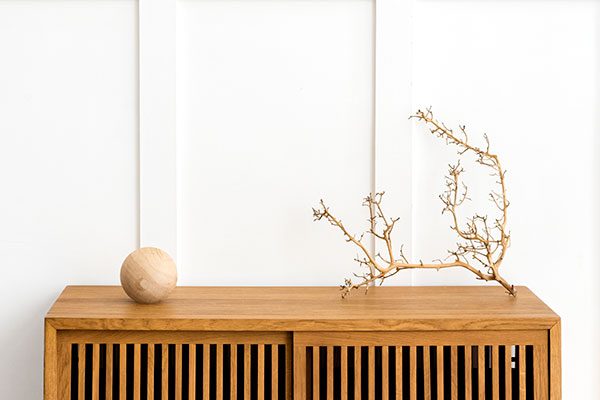 Another tip on how to decorate a large wall is to add trim and molding. Choose a simple design that stands out without the need for any embellishments.
You can have trim details such as board & batten, horizontal/vertical shiplap, or picture frame molding and millwork directly on the drywall or as a separate panel. You may opt for a semi-gloss wall finish as it's easy to keep clean. If you're not comfortable handling the work yourself, you can always hire a contractor for the job.
Create an accent wall with paint colors or wallpaper
If you're looking to be bold and adventurous, try making the large wall stand out through a bright wall color, a quirky wallpaper, or peel-and-stick options available on the market. An interesting choice is to create a faux brick wall. It especially looks great in a master bedroom, a living room, or a dining area.
Place a large floor mirror
A floor-length statement mirror positioned vertically can help draw the eyes upward, besides making the room appear brighter and bigger. Your lackluster wall will instantly look aesthetically appealing. The simple yet elegant look will be perfect for a guest bedroom wall or a hallway. Although it doesn't need any other decorative accents, you can team it up with tall planters.
Hang a rug on the wall
A good rug is a perfect way to add texture, warmth, and pops of color to any room. But the twist is, instead of a floor rug, you place one on the wall. A unique wall hanging will brighten up your wall. This design idea can even be used as a headboard alternative in the bedroom or to create a cozy nook in the kitchen. 
Create a green corner with plants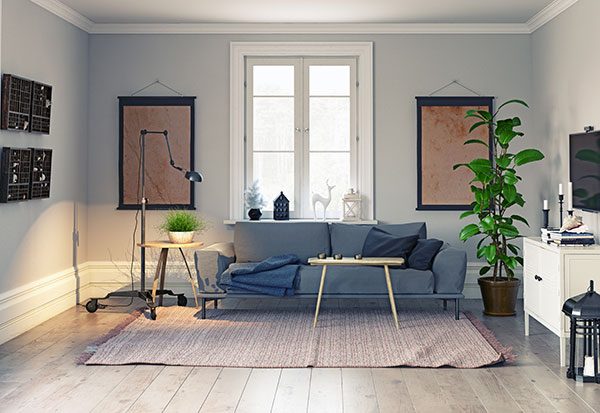 Decorating a large wall needn't always be about taking up wall space. You can place tall plants in front of the empty wall to make it look lively and beautiful. A good choice is to place indoor plants or faux ones such as palm trees or fiddle leaf fig trees.
Design a curtain panel
Putting up a drape or a curtain in a window is common. But, have you tried creating a curtain panel directly on a window-less wall? Try the unique styling and see how it will transform your wall instantly. This wall of long curtains, hanging from a metallic rod, can be held in place with a tie-back.
Build wall shelving
The ample blank space can be perfect for open shelving – whether a floor-to-ceiling built-in storage unit or floating shelves. While the former may need some heavy-duty home remodeling, the latter can be bought from the market and put on the walls as an easy DIY project.
These will give you sufficient storage space to place decorative items, knick-knacks, or important files. It's a great solution for a home office wall or a family room wall.
Last thoughts
Sprucing up a bare wall is not as hard as one would imagine. All you need is planning. And, some clever home decorating ideas. Think wall art, macramé hangings, planters, floating shelves, or a gallery wall that makes your guests go ooh and aah! The wall décor options are endless. Just remember to opt for ideas that suit your personality and that of your home.
We hope these tips on how to decorate a large wall will inspire you to create a personalized space in your home.
Useful tips on how to decorate a large wall at home
was last modified:
November 16th, 2022
by
Recommended