How to increase your property's value
Many factors influence property value, including the price buyers are willing to offer, the prices of properties in the neighborhood, home size, its condition, and any upgrades to the initial structure.
Some of those factors are in your control when you learn how to increase your property's value. A few tactics are affordable, and you can implement them without calling in a home improvement expert. However, other ideas, such as landscaping and an overhaul of your kitchen decor, may have you spending more on labor and materials.
We'll list all the possible ways you can increase your home value, and you can pick the most financially practical ideas depending on the condition of your home.
Tried and tested ways to boost property value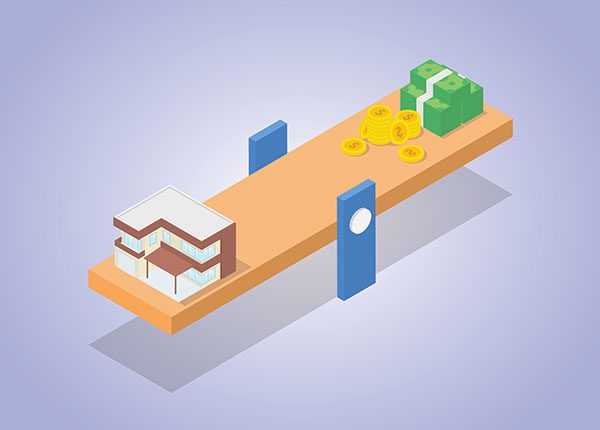 As we discuss these strategies, we'll combine upgrades and updates that take a few days and others that'll take you a few months to complete, such as landscaping and improving your energy efficiency. Let's get started!
Increase the square footage
The size of livable space is one of the first conditions any prospective homeowner thinks about when house hunting. Consequently, you may get more for your property by increasing the square footage through an expansion or addition.
You can expand your main floor to accommodate a new room or make an existing room spacious. Other renovation ideas are enclosing the patio or front porch, building a detached garage, or adding a second floor to have more bedrooms or entertainment space upstairs.
A common pitfall for property owners is converting some rooms to serve an existing need. For instance, some homeowners convert a bedroom into a game room or walk-in closet.
The problem arises when selling the property because they have to convince a buyer looking for a move-in ready house that it's possible to convert the room back into a bedroom. Also, when reselling, you have to state the number of bedrooms, so it's impractical to list a 2-bedroom house when one bedroom is a game room.
Home expansions and additions must comply with your area's building codes, and it's also financially draining. But, the results are satisfying when you resell your property.
Boost the curb appeal
The exterior wall, driveway, perimeter fence, and garden can increase or lower your home value. It's the face of the property.
Who wants to buy a property that looks like the home of Miss Honey in the 1996 movie Matilda? It'd mean spending more to mow, prune and trim to keep away rodents. When you beautify the exterior, it entices a buyer to go inside.
If the garden looks forsaken, give it life by pruning, mulching, replacing broken planters, and resettling dislodged bricks around it. Some landscaping work is manageable over a weekend or two. However, if you're looking to refurbish the whole yard with features like fence panels and porch railings, you might need to ask a professional landscaper for assistance.
Also, avoid elaborate landscaping as it may disinterest buyers who don't want to spend money on backyard maintenance. Just do the basics like pruning, trimming, repainting the front door, and maintaining a simple garden.
You can make it a regular exterior update job where you maintain the porch, the driveway, and the garden. It's easier to maintain your yard when you schedule tasks, such as fence repair and cleaning the gutters, and receive reminders when it's almost time to call your gardener.
Another way to boost your property value is turning your yard into a functional outdoor space. They shouldn't be high-maintenance features, just simple amenities like outdoor lighting, a mailbox, pavements, and a seating or dining area with a perimeter wall for privacy.
Install a hardwood floor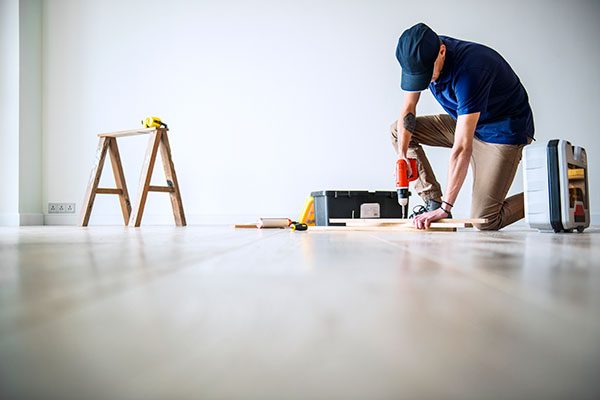 It's a large, financially demanding project, but it can boost your property's value because hardwood floors are durable, easy to maintain, and have an appealing finish. They also work with different decor themes and ideas, unlike the textured surface of carpets.
Repaint your property
Nothing brings life to a structure like a new paint job. If neighbors know your home as a structure without personality coupled with a dull interior, it's time to give it a fresh coat.
Repainting is more affordable than adding square footage, you know. On top of that, a fresh coat on the exterior will boost your property's curb appeal and get you more views on real estate listings.
If it's one of the older houses in the market, repainting its interior will eliminate smudges and dents that might have potential buyers undervaluing it with claims that it needs too many repairs.
Remodel the living area
We've talked about making the kitchen functional, but there's also a way to combine three essential rooms to ease traffic flow for large households. You can do so with an open-concept design by knocking down a few walls to connect the kitchen, dining, and living areas.
An open floor plan is timeless. It may affect energy efficiency because you'll be heating a large area at once, and it's not as private as having three boxed rooms. But, an open-plan layout has better air circulation and more natural light to reduce utility bills spent on air conditioning and lighting.
Families also appreciate the social atmosphere and how the layout utilizes square footage, not forgetting that open-plan concepts are easy to clean.
Upgrade to energy efficiency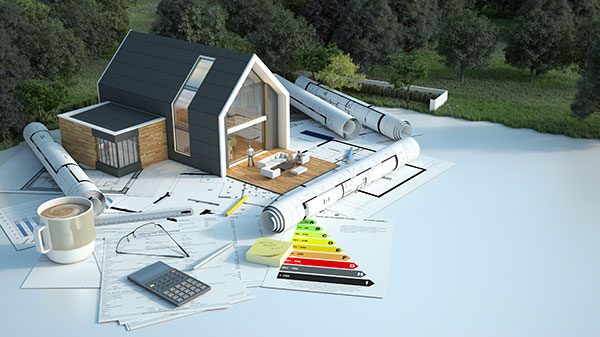 Your offer will be more convincing when you have an energy-efficient system that promises possible savings on utility bills.
One feature that can lower the energy bill is insulation. Insulate your basement, attic, and all the exterior walls so that the house is livable in all weather extremes – summer or winter. While at it, check your windows and replace any that let the air escape, as they may be overworking your heating or air conditioning systems.
Another feature that makes your home more energy efficient is a cool roof. It has a reflective color that bounces light off the house and doesn't absorb much heat. There are two ways to go about this: you can coat your current roof with reflective paint or reinstall it.
Beyond making these changes to make the property more appealing, you'll also attract eco-conscious buyers. They are particular about how a property interacts with the environment and are willing to spend more on a property that has all the upgrades to make it friendlier to the environment.
Hence, after the energy-efficiency upgrades, evaluate your energy score and get an energy rating. Such a rating can earn more wishlist saves on property listing platforms like Airbnb with over 4 million hosts and more than 54 million active bookers annually, and they'll tell everyone about you. It'll boost your property sale prospects.
Update the interior
Consider remodeling your kitchen and bathroom to make them modern and functional. One area that buyers look at is the overall layout and the space available.
Avoid unique wallpaper that might not appeal to the general public. It's also expensive to maintain. Instead, choose a neutral tone like white that is universal in appeal and make the home move-in ready. You may have to replace appliances, update the cabinets and counters, and install new flooring.
Although remodeling the entire space can boost your property's value, it's also costly, and you may have to do it in stages. Therefore, list down all the features and furnishings you must update. For instance, first, repaint the kitchen, upgrade the appliances and see how that boosts your property value.
You can calculate the house price index (HPI) to see the possible price of a house today. It doesn't reflect the actual price in the market, as that depends on factors like repairs and house condition, but it uses the average appreciation rate of that area to predict the price change.
Finish the basement & other unfinished areas
Upgrade your basement: insulate the exterior wall, paint the drywall and trim, install recessed lighting, and tile the floor. These are some ways to boost your return on investment as buyers will be looking for how to utilize every inch of space your property provides.
You can also turn your attic into an entertainment area or an extra bedroom.
Home staging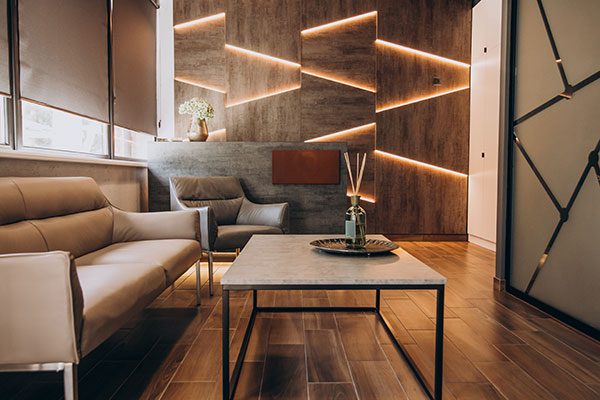 There's the usual decluttering we do to stage a property, and then there's the professional home staging that preps the space for buyers. It'll cost you, but there are higher chances of convincing buyers to pay more for the property when they can imagine how the home will look like for them than when they have to see it with personalized belongings.
Home staging may bring furnishings that modernize the space and accentuate its most appealing features. It also depersonalizes it to give buyers an image of what it's like for them to live there. For instance, you can list your property under minimalist homes and stage it for such home buyers when your personal preference is maximalist. Further, home staging makes your online listing more attractive than when you take pictures of empty rooms.
Unlike other ideas in this topic, home staging boosts property value through visual perception, while strategies like increasing your square footage are renovations that change the structure. Consequently, combine this idea with others that improve the house structure, such as repainting the interior.
Final thoughts
Now, you can believe us when we tell you there are ways to increase your property value. You have many affordable options, such as repainting your interior and exterior, pruning your backyard, and installing some light fixtures. If the property is old, with worn-out carpets and broken window sills, you'll do and spend more, but it's worth it.
First, assess the condition of your property, check the market value of homes in your location, see what buyers look for in your neighborhood, and turn your home into their dream property. It's possible!
How to increase your property's value
was last modified:
October 16th, 2022
by
Recommended