When it's time to renovate your home or complete a tile installation project, you may want tips on how to remove tile from concrete floor. While it's advisable to hire professionals for the task, you can choose to do it yourself – provided you have the right tools and expertise to do it. The last thing you'd want to do is to damage the concrete subfloor or yourself.
Good tiling can add considerably to your home value. To get the look and style you need for your tiles, you need a flawless tile installation or tile replacement. Since tiles adhere to the concrete slab underneath, removing them requires effort and know-how. Here, we'll walk you through the process, step by step.
Prep work
Keep in mind that removing tiles from a concrete floor can be tedious and messy. Dust and tile fragments are bound to fly around the room. That's why it's really important that you use safety glasses, work gloves, a dust mask, and knee pads for your safety and comfort. Wearing long pants and a long-sleeved shirt is advisable.
Also, remember that the shards as well as stray debris can cause damage to your cabinets, walls, windows, and furniture. It's best to remove or cover all the furnishings and home décor items before beginning your tile replacement project.
Proper planning and prep will make your home remodeling more comfortable, efficient, safe, and stress-free.
Requisite tools and materials
The kind of tools and equipment you need to remove tiles from your concrete floor depends on the size of the project. However, there are some essential items that you'll require for the home improvement project.
Protective gear such as leather gloves, goggles for eye protection, knee pads, and dust mask
Mallet and a hammer
Painter's tape
Floor scraper
Thin-set mortar
Shop vacuum
Flat trowel
Carpenter's level
Cold chisel
Electric tile stripper
Broom and a dustpan
If you don't have the time or patience to tackle the job the old-fashioned way, you may want to use power tools such as a hammer drill with a good bit or a larger rotary hammer. They will help speed up the project.
How to remove tile from concrete floor: Steps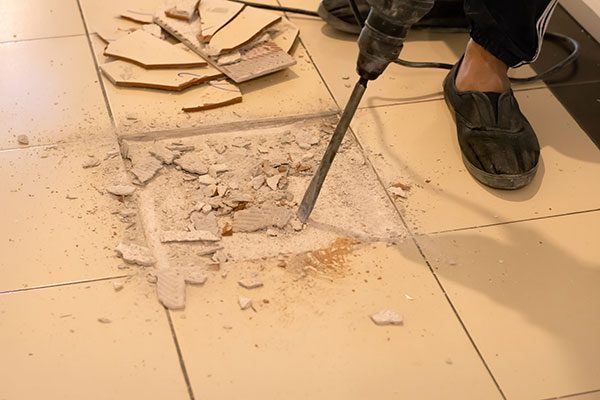 Removing a tiled floor requires your time, patience, and hard work. For a complete tile replacement, you'll need to knock off each tile by detaching it from its adhesive.
Here are the steps to guide you on how to remove a floor tile from a concrete floor.
Make an angle (less than 45 degrees) between the cold chisel and the concrete hammer, and strike the tile. The task will be faster if you begin with an already broken tile. The loose grout will help you lift the tile.
In the absence of any loose tiles, try to loosen one from an end.
For a stubborn tile, break it into pieces for easy removal. You may use a masonry chisel of 2.5 cm in width.
Loosen and lift off the tiles. You can even make use of a sledgehammer to hit the chisel instead of a mallet.
Sweep away or vacuum the broken pieces, dust, and debris.
Read more: Choosing the right grout color for your tile
How to remove the floor tile adhesives
After successfully removing the tiles, you'll have to clear out the tile adhesives as well – or else the concrete surface will continue looking rough.
Here are the steps to remove the residues:
Scrape off as much adhesive as possible with a big chisel.
Smoothen the concrete floor surface with the help of a floor scraper. It's easily available in any home improvement store.
Vacuum clean the remaining dust particles.
Mix and apply a thin-set mortar to level the floor.
Make grooves with a square-notched trowel. This step will help you in laying the new floor.
How much does it cost to remove tile from a concrete floor?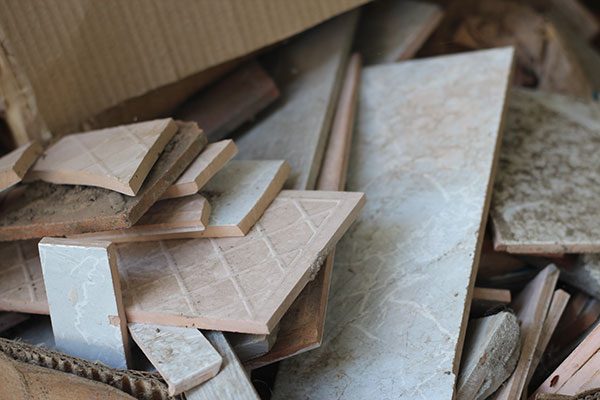 If you don't want to opt for DIY tile removal, you can hire a professional tile installer to complete the job. The average cost of professional tile removal is between $1.50 and $4.15 per square foot.
A DIY tile removal, on the other hand, costs between $1 and $2 per square foot – depending on the scale of the remodeling project, the tools or equipment you buy or rent, and the debris disposal.
Make sure that the pros you hire completely remove all the tiles, dispose of them, and clean up after the job is finished. Keep in mind that the new tile installment comes at its own cost.
Read more: Broom clean
Last thoughts
Tile flooring, among all types of flooring, is known for its incredible longevity. Moreover, it can withstand high traffic. But eventually, your floor tile may wear out with time.
If you're planning a do-it-yourself floor replacement project, we hope the above steps will guide you on how to remove tiles from concrete floors.
Fortunately, removing tiles is not an expensive procedure. Just remember to keep yourself and your surroundings safe when attempting this kind of work.
How to remove tile from concrete floor
was last modified:
April 10th, 2023
by
Recommended