How to repair and take good care of your leather furniture?
When looking for home furnishings, leather could be your ideal bet since it is durable and comes with low-maintenance surfaces. By following the right steps, cleaning your leather chair, sofa or ottoman should be a relatively easy task. However, leather upholstery is available in different types, each with cleaning requirements that vary from the rest. Let's take a quick look at the common types:
Natural and soft aniline leather that's simply dyed with no protective surface coating
Semi-aniline leather that has an even color owing to the thin protective coating of a matching pigment
Corrected grain leather or full grain leather with pigmented finish
Pull-up leather (a kind of semi aniline leather) that comes equipped with a silky wax topcoat
Hand rubbed leather (yet another variety of semi aniline leather) where aniline dye layers are rubbed on full grain leather to get the preferred color
Nubuck leather that has a matching pigment layer as a protective topcoat against fluids and stains
Now that you are aware of the types of leather, let's take a look at how you should clean the most commonly used varieties.
Cleaning of Leather
Aniline Leather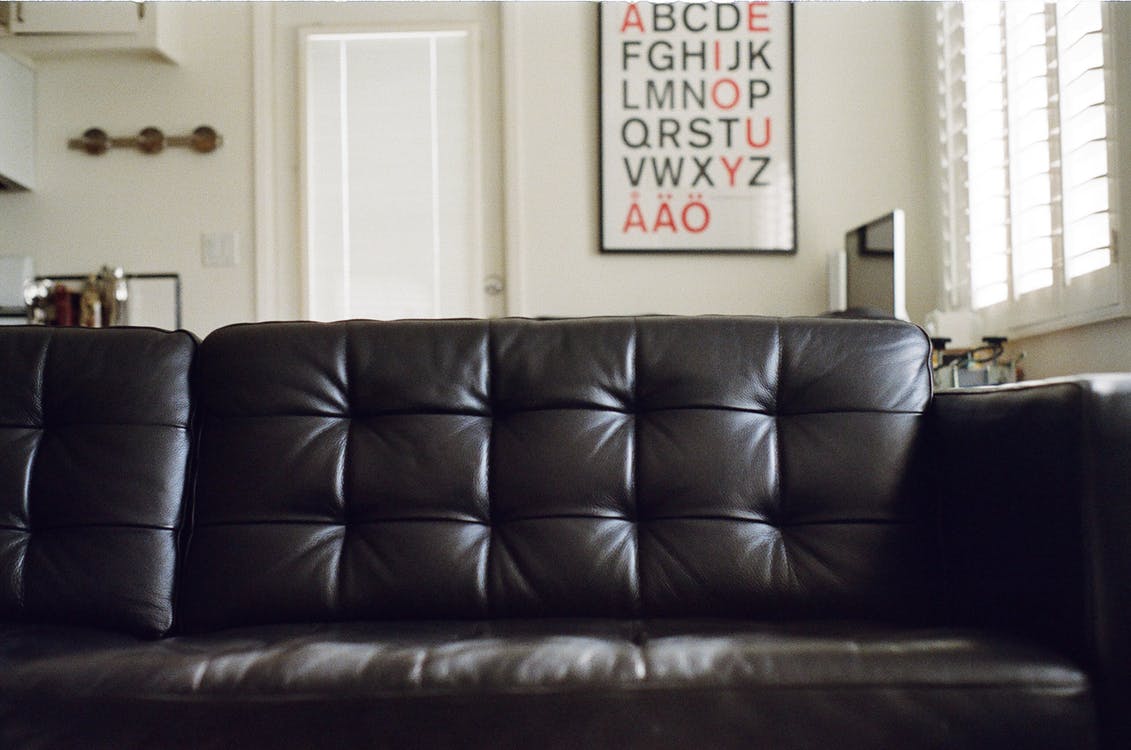 Dust it every week with the soft brush of a vacuum or a soft cloth.
Use a damp cloth to dab any stain right away but steer clear of rubbing. To avoid water staining, don't use excess water to clean the stains.
Don't use your standard household cleaning products. Instead, put to use an aniline leather-cleaning product by following instructions on the pack.
For added protection against scratches and stains, you can use an aniline leather protection cream but test it first on areas that aren't visible easily to check if it's changing the color of leather.
Semi-Aniline Leather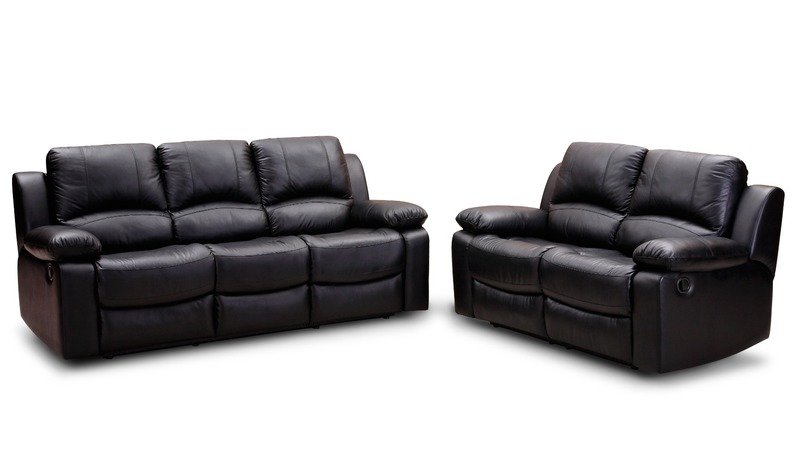 For daily cleaning of dirt and grime, use a damp cloth and a mild soap solution.
Use a soft piece of cloth or vacuum with a soft brush for weekly dusting.
Dab any spillage immediately with a damp cloth but steer clear of using excess water or any rubbing.
Don't use your usual household cleaning products. Instead, use recommended products for cleaning semi-aniline leather as per the instructions on the pack. You may also use protection creams formulated especially for this type of leather. But make sure to test such cleaning products and leather protection creams on inconspicuous areas first before using them all over your leather upholstery.
Pigmented Leather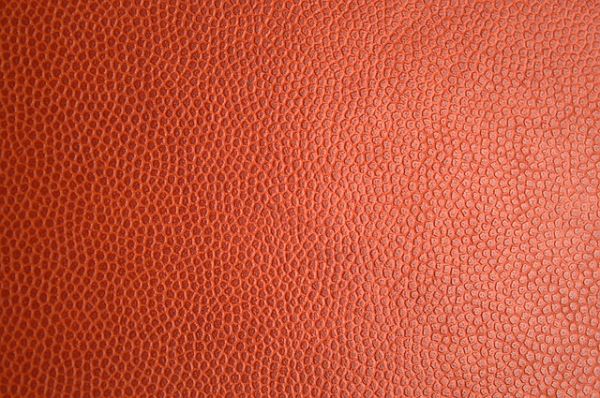 Such leather is available in three forms namely corrected grain pigmented leather, finished split leather and full grain pigmented leather. The basic steps to clean such leather remain the same as other varieties mentioned before.
Dust it every week with a soft cloth or the soft brush of a vacuum.
Use a damp cloth to dab any spillage right away. Steer clear of using excess water (to prevent water staining) or any rubbing.
Avoid using household cleaning products as they may cause leather cracking by reacting with the finish. Instead, use recommended cleaning products for pigmented leather as per the instructions on the pack. You may even use leather protection cream formulated for this leather type for added protection against scratches and stains. However, test them first on areas that aren't in plain sight to ensure they are right for your upholstery in use.
Pull-Up Leather
Use a vacuum having a soft brush or put a soft cloth to good use for weekly dusting.
Dab any spillage with a dry cloth right away but steer clear of any rubbing.
Superficial scratches can be removed with a soft cloth that's gently warmed and rubbed against the leather surface to redistribute the oils.
Avoid using your standard household cleaning products. Instead, use recommended re-oiling or cleaning products as per the instructions on the pack. Ideally, test them first on areas that aren't noticeable easily to ensure they won't alter the color of your leather upholstery.
Nubuck Leather
Use a vacuum cleaner with a soft brush for weekly dusting.
Brush to rejuvenate the areas that have flattened due to continued use.
Any spillage should be dabbed with a damp cloth right away with no rubbing or use of excess water (as the latter can trigger water staining).
Avoid using standard household cleaning products. Use recommended cleaning products formulated especially for nubuck leather and examine them on the inconspicuous area at first.
For stain-protection, you can use recommended sprays but they may change the leather color. So, it's best to check them first in inconspicuous areas and notice the results before taking a final call about whether to use them or not.
Read more: Genius Kitchen Furniture Ideas To Up Your Decor & Functionality
Avoiding the Damages
Various factors damage your leather upholstery. Here are some common culprits and ways to avoid such damage:
Though leather is waterproof to some extent, it can be weakened and discolored when you allow the spills to seep through into it. Ideally, any spill should be immediately soaked or dabbed with a dry cloth or sponge.
Since body salts and oils are the prime reasons for upholstery leather breakdown and color loss, you should avoid perspiration build-up on your leather with daily cleaning.
People taking medications (like those for heart ailments, cancer, blood pressure etc) often excrete residues of their medications in perspiration, which can trigger damage or stains to leather. So, they should be careful when sitting on leather furniture.
Since cooking fumes, the smoke of cigarette or cigar can cause leather color change or fading, you should avoid such air pollution.
Don't let your leather, especially the light colored variety, come in contact with food and clothing dye as the color can get transferred to leather fast, which would then be pretty hard to get rid of.
Since the sharp teeth and claws of your pets can damage your leather upholstery finish, don't let them sit, cozy up or jump on your leather furniture.
Prolonged exposure to direct sunlight or other heat sources cause fading as well as cracking and drying of leather. So, keep your leather furniture in shaded places (where they aren't subject to intense or direct sunlight) and at least 50 cm away from heat sources like gas or electric heaters.
Ordinary household cleaners, petroleum products, solvent, or non-recommended and unspecified products that are usually used for cleaning footwear or saddles can harm your leather. So, avoid using them.
Since perfumes and hair sprays to flee powder, nail varnish and yogurt can damage leather, keep your leather upholstery away from them. Be careful when using wipes or other cleaning products with alcohol, solvents or leather ink removers that can cause the leather color to fade and even make the leather dissolve literally.
Keep nails, scissors, pins and other sharp objects away as they can cut and scratch your valuable furniture surface.
Since the backrests and armrests aren't created for sitting, avoid doing it or may risk damaging both the frame and the leather.
Leather Repairing
Scratches
Light scratches can be repaired by rubbing baby oil, olive oil or saddle oil on the affected surface in circular motion, after which the oil is allowed to dry and finally, a clean cloth is used to wipe off the excess oil.
You may even rub lanolin oil or cream on the scratched area, perpendicular to the scratch's direction, to make it fade though it may demand several re-applications before you notice effective results.
You may even ask your leather manufacturer for a leather repair kit or to suggest a treatment suitable for your leather type.
Repairing large or serious scratches is best handled by professionals since your attempts with random chemicals and preparations may cause adverse reactions with the leather surface, which would ruin your furniture.
Such large repairs usually involve gluing a leather piece that's cut from the inside and pulling together the edges as close as possible. Any surface inconsistency is then smoothed out with leather filler, after which the entire repaired region is tinted with a leather colorant to go well with the rest of furniture.
In case you have scratches along stitching, services of an auto upholsterer may be needed to repair the damage completely.
Cuts & Tears
Cut a sub-patch with rounded edges and put it inside the cut on your leather, poking inside with a toothpick to make the edges smooth.
If anything feels uneven when you run a hand around the tear's edges, even out the sub-patch inside.
Next, use a flexible but strong glue (not a super glue though) on the inside edges, wipe off the excess glue and pull the torn pieces as close as possible to glue them to the patch.
Use a board or book to apply pressure and let the glue dry.
You can use a little bit of superglue around the torn line on the leather with the toothpick. Wipe off the excess with a paper towel and use sandpaper to sand in the direction of the tear. You can use some more super glue, buff it again with the sandpaper and use a matching leather dye at last to make the repair work vanish.
Another method is to use the sub-patch and glue, and then use heavy fillers followed by a matching color dye (which you can get from leather touch-up kits) to repair the cut or tear.
Burns
Cut the burnt portion partially, insert a sub-patch under the leather using scalpels and fix it firmly with the cut's underside using strong glue.
Apply a thin layer of heavy filler, press it down, wipe the excess and dry it out with a hair drier.
Continue the process and once you have applied the last layer of filler, wipe it over the cut to ensure it's at the same level of the leather.
Next, use a leather touch-up kit to find a color matching your leather and apply it on the filler using a cotton wool bud. Use the hair drier to dry it out, leave for a minute and apply more color until the burnt part has blended with the rest perfectly.
Peeling
When it's bonded leather or foam leather that's peeling or disintegrating, you need to use leather and vinyl restore products and fillers.
Pull off the parts sticking up for getting a sturdy base as any unstable base won't help the repair work.
Get a matching leather paint, rub it on the affected part, use the filers and then the sealants to repair it to some extent but many leather restorers say it isn't worth the trouble, especially when it isn't truly leather but just synthetic leather.
Reupholstering of leather
The first step is to get rid of the existing leather fabric. Since it's likely to be sewn at different sections, you should use a seam ripper to loosen the leather from the furniture structure while ensuring you don't destroy or rip it out.
Next, cut new leather to match the size of old pieces and start attaching to the structure from inside out. Attach the new pieces to the seat and armrest and then move onto the front side.
Once the front is covered, pull it to the rear and sides and staple in place. Make sure to use leather strips to cover rough edges by sewing Velcro onto them.
Recolor of leather
Find a matching leather dye for the job.
Rub the de-glazer or leather preparer at first using a clean cloth to remove leather finish from the surface, which would make it easy for the dye to penetrate consistently.
Depending on the type of leather, you may need to dampen the surface a little using a spray bottle.
Paint your first coat using either a sprayer (for large surfaces) or paintbrush (for smaller areas).
Apply additional coats after the first coat has dried a bit until you get the desired color.
Let the final layer dry completely, while you manipulate the surface periodically to keep it supple.
Buff the surface and apply leather sheen for a shiny finish.
Conditioning of leather
Vacuum the seat as well as beneath the cushions and the corners to remove dirt, dust, and debris.
You can get rid of build-up residue by using leather conditioning wipes or even baby wipes to ensure your furniture remains clean.
Stains can be removed with moisturizing soap and a clean damp cloth.
Dab a soft cleaning cloth with a mixture of vinegar, extra virgin olive oil, and lemon essential oil (an optional choice) and apply it on the leather. A blend of flax seed oil and vinegar can also be used. Let it stay overnight and wipe with a clean cloth the next day for giving your furniture an extra shine.
Dark stains can be removed with a blend of cream of tartar and lemon juice, which has a bleaching effect.
Read more: Top Tools and Practices for Your Furniture Care
Conclusion
Cleaning, conditioning and repairing your leather furniture on your own at home are attractive propositions. Not only does it give you a chance to showcase your DIY talent but even saves considerable cost. However, it's always advisable to consult a professional before applying any technique or using any product on your leather because the wrong choice can damage your treasured piece, often in an irreversible way. Also, when the damage is too big to handle for a DIY enthusiast or even for those doing such tasks at home for quite some time now, it's always better to hire professionals for the job to ensure it's done to the best possible results. So, depending on what your leather needs, make an informed choice and enjoy your prized possession for years to come.
Read more: How to choose home furniture items like a pro?
How to repair and take good care of your leather furniture?
was last modified:
October 13th, 2021
by
Recommended