Good Housekeeping: How to steam clean a couch
If there was a poll as to what the favorite furniture of any household was, the couch would probably win hands down. We lounge on them in our living rooms and hang out on them during game nights in our man caves. They get repurposed into guest bedding. Some of us even have couches in our master bedrooms.
It's no surprise, therefore, that the humble couch also sees a lot of dirt as well. Our kids eat on them and often leave behind food stains. Pets fall asleep on them. Even we adults accidentally spill a drink on the couch occasionally. And there's only one real way to thoroughly clean a couch: steam cleaning. 
Benefits of steam cleaning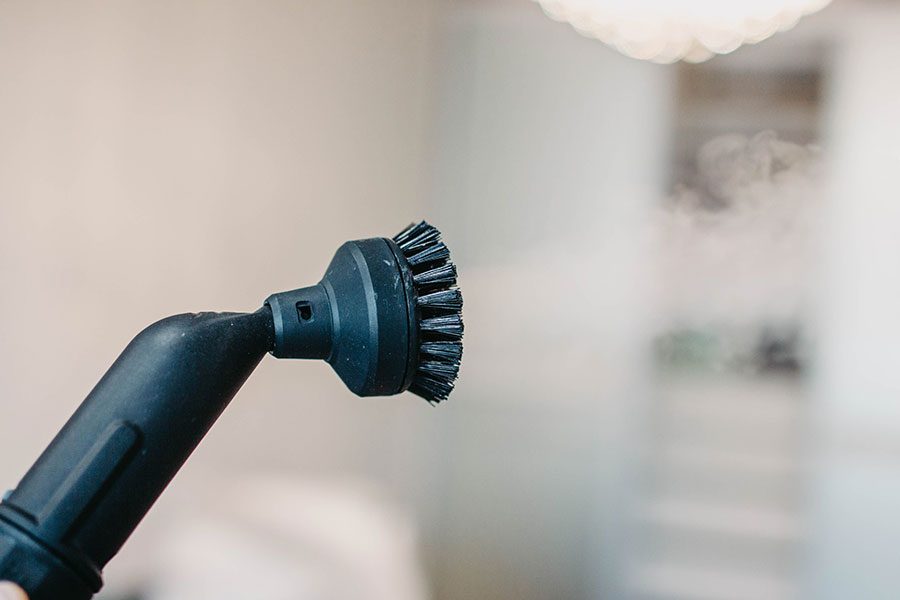 Steaming will ensure your couch cushion material remains soft and pliable.
Odor-causing bacteria are killed when you steam clean your sofa. This will keep your couch smelling fresh for longer.
Insects, bed bugs, dust mites, and other critters are killed by steam cleaning.
Does your couch have stubborn stains that are embedded in the fabric? Steaming will get rid of those as well.
If you have mold spores or any other fungi growing inside the couch, they will be eliminated as well.
The cleaning process
The first part of the cleaning process is getting the couch ready to be cleaned. To do this, remove all your cushion covers and set aside all the couch cushions.
Now that your couch is bare, you ought to be able to spot any large debris and pieces of dirt. Remove whatever can be removed by hand. Then, use a soft bristle brush and clean the cushions as well as the couch once.
If you see any embedded debris, loosen it so the vacuum cleaner can get it. Then, out on the upholstery attachment on the vacuum cleaner and start with the cushions.
Vacuum and clean the rest
Vacuum clean the rest of the couch as well. This will remove pet hair, dander, dust, and other allergens that may be in the nooks and crannies of the couch. 
Be sure to do a thorough job while vacuuming. This will also allow you to inspect the fabric of the cushions for tears and repair those if needed.
Next, try to remove as many stains as possible using an upholstery cleaner. For especially stubborn discoloration, use one portion of heavy-duty fabric detergent with four parts water as a cleaning agent. The way to clean using this solution is to wet a rag with it and then apply it to the stain. Then. allow it to dry. 
In a continuation of the stain removal process, spray a liquid upholstery conditioner on the stains as well. Allow this to emulsify with the dirt for a few minutes. Then apply a little upholstery shampoo and scrub it with a brush. This should make most stains disappear.
Finally, we're not at the steam cleaning part of the process. For this, you will need to use an upholstery steam cleaner. These steam cleaners come with a wide range of accessories specially designed to clean furniture. A part of the design is long necks that can access hard-to-reach corners in the upholstery. They're also lightweight and portable, making them easy to use.
Further considerations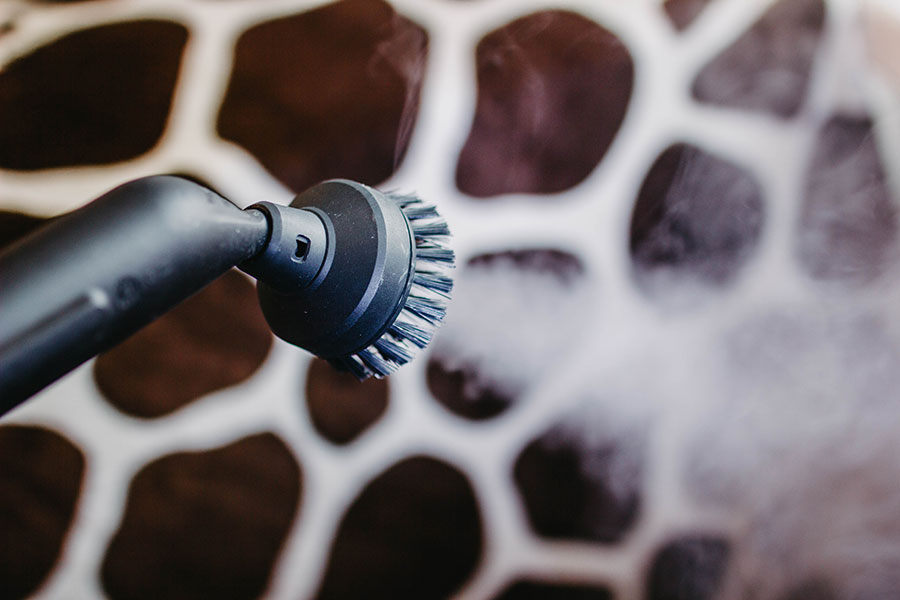 Make sure you add the correct amount of water to the cleaner. Too much or too little water won't give you the desired results. Also, check for instructions you may have received from the couch manufacturer about the correct temperature the steamer ought to be set at.
To give your couch a fresh smell, you may want to add a drop or two of essential oil such as lemongrass or orange.
Also, make sure you choose the right attachment before you begin the process.
Begin by doing a test steaming on the underside of a cushion to make sure there aren't any adverse effects. Then, begin cleaning in earnest. Here's how you ought to go about it.
With the cleaner accessory attached, steam a portion of a cushion or the couch.
While that area is being steamed, drag the attachment along the area to make sure the steam gets deep into the fabric.
Once an area has been steamed, let it dry completely before repeating the process if needed.
Make sure you cover all the areas, including the cushions, pillows, the corners of the couch, and even the sides of the couch.
Be sure not to spend too much time steaming just one area. You don't want it saturated with moisture.
Once you're done, switch off the steamer, and if necessary empty the reservoir. Make sure it has completely cooled down before putting it away. 
How often should your couches be steam cleaned?
Ideally, it ought to be enough to steam clean your couches once a year. However, if yours is a home that has pets, small children or both, then you may need to steam clean your couches at least three or four times a year.
Good Housekeeping: How to steam clean a couch
was last modified:
June 1st, 2022
by
Recommended