If you've been looking for a nice place to kick back and enjoy the outdoors with your family, maybe entertain a few guests from time to time, we've found the perfect place for you. And believe it or not, it's attached to your home. We're talking about your backyard. With the right kind of treatment, you could convert your backyard into a private slice of outdoor heaven. Here are eight fabulous ideas for backyard renovations to help you do just that.
Most experts say that homeowners ought to budget between 5% to 10% of their home value for backyard renovations. The average fee that you would have to pay a landscape designer could vary from between $2,000 to $6,000.
We know that sounds like a lot. So, we're going to be giving you five fantastic options that you could get to work on immediately on a minimal budget.
Then, we'll discuss five more that may require professional attention, will definitely be more expensive but will add oodles of oomph and curb appeal to your home.
Five Fantastic Backyard Ideas on a Budget
1. Backyard Landscaping
Budget-friendly backyard landscaping is one the first things you ought to do to begin beautifying your backyard.
Start by laying a brand new sod-roll lawn. This could put you down anywhere between 25 cents to a dollar per square foot.
The next thing you need to do is to choose the kind of trees and plants you want in your backyard. We'd suggest you choose trees and plants that are native to your region. Not only will they be more affordable, but they will also require less maintenance and will last longer.
Add flowering plants along the edges to add pops of color to your backyard.
And if you have empty spaces, cover with rock gravel, creating little rock gardens.
2. Mend Fences
Your fence is the first thing people will notice from the outside. So make sure your fence is well maintained. A brand new picket fence could cost you between $14.25 to $20 a square foot.
There are cheaper options you could choose from.
For example, a wire fence would cost you only as little as $2 per square foot.
A 6-foot high privacy fence made from treated pine wood will put you down around $5 per linear foot.
Read more: Questions about glass fences
3. Recycle, Repurpose and Upcycle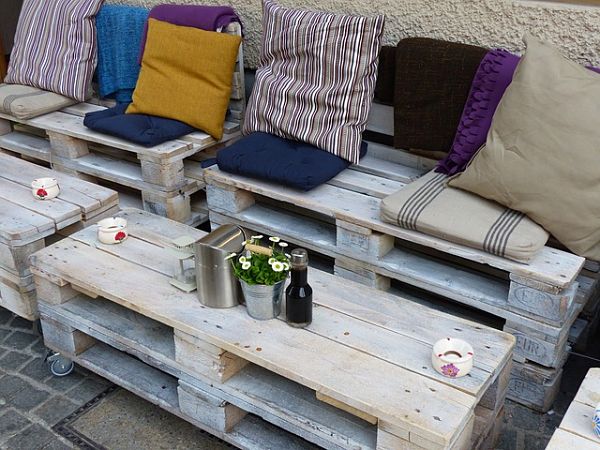 A great way to save money and be ecologically conscious is to reuse as many things as possible.
For example, old tires can be reused to make swings for kids, to use hanging planters, or as the base for a DIY fish pond in your backyard.
Another great DIY project for your backyard could be to upcycle old furniture for your patio. Sometimes, there's nothing a little carpentry, some glue, new upholstery, and a little sweat can't fix.
Similarly, bench seating made from repurposed wood looks great in outdoor settings like backyards.
4. Choose Affordable Lighting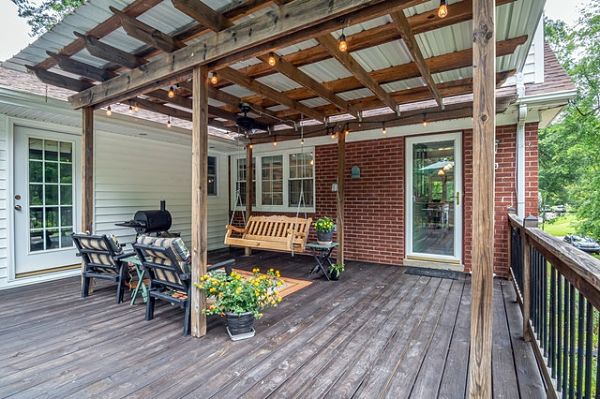 There are lots of affordable outdoor lighting options that you could choose from to illuminate your backyard.
For example, string lights that you can wrap around everything from trees to your patio trellis cost only around $9 a strand.
Line your backyard pond and walkways with LED strips which will put you down between $20 to $50 afoot.
5. Build Your Own Deck or Patio
A DIY deck or patio is something that will definitely make entertaining your guests a lot more pleasant. And it does not have to be an expensive affair.
For example, a lot of the raw materials you can use to construct your deck can be upcycled or recycled. Instead of buying plywood, you could source pallets for free, or for really cheap. Websites like Craigslist often have free surplus materials available.
If you really want to do a quality job, materials could cost you as little as $15 per square foot, or as much as $35 per square foot if you choose to buy premium materials.
Want a great idea to light up your deck? Consider a mix of recessed lighting on the floor and fairy lights above.
Three Luxurious Backyard Renovation Ideas
The next three design ideas we're going to discuss are certainly not cheap backyard ideas, but will definitely make entertaining in your backyard something you will look forward to as much as your guests.
1. Build an Outdoor Kitchen and Bar
An outdoor kitchen gives you the ability to enjoy an outdoor living space like your backyard to the fullest. What could compare to spending a summer afternoon cooking for your family and friends outdoors while sipping on a cold one?
But building an outdoor kitchen will cost you. Depending on the design and materials you choose, construction itself could cost you between $5000 and $12,000. Add another $2,000 to $5,000 for appliances.
Nothing complements outdoor kitchens like outdoor bars. You will have to shell out between $12 to $20 depending on the quality of wood you want for your bar counter. Natural stone counters are even more expensive.
Make sure you also build an outdoor eating area so your family and guests can enjoy al fresco dining when the weather permits it. Popular choices for patio furniture include wrought iron furniture, wicker furniture, and teak furniture. Keep your guests entertained by adding an HD LED TV with an inbuilt soundbar to your outdoor seating area.
2. Add a Swimming Pool
Water features are always a welcome sight in backyards, but nothing makes a statement quite like your own backyard swimming pool. And contrary to popular belief, you do not need a very large backyard to have a pool in it. A backyard pool could you down upwards of $20,000. Poolside landscaping will cost you extra, depending on the bells and whistles you want.
Read more: How much does it cost to build a pool
3. Don't Forget a Firepit
One feature that's a great hit around backyard swimming pools, and backyards in general, is a fire pit.
Firepits serve multiple purposes. For one, they provide warmth, allowing you to enjoy the outdoors even on cold evenings.
They also provide lighting to your backyard. And most importantly, they're visually stunning in any setting.
A gas-powered firepit could cost you as much as $3,800.
8 Fabulous Ideas for Backyard Renovations
was last modified:
May 30th, 2022
by
Recommended