While many homeowners opt for a bathtub others still prefer the straightforward efficiency of a shower. And, a shower can be as luxurious as a tub if you plan your bathroom renovation well. Today, there are innumerable shower floor ideas and designs that are stylish as well as practical.
So, whether you're in the middle of remodeling or designing a new bathroom, do not forget about your shower floor and how it can change the way your bathroom looks. When it comes to your bathroom, privacy and luxury can go hand in hand.
Therefore, while choosing the perfect shower floor for your bathroom, it's best to combine style with functionality. And, of course, it's imperative to know how it will affect your bathroom renovation cost too. You don't want your investment down the proverbial drain, do you?
To help you decide on the best option for your shower, we have put together a list of 11 shower floor ideas in terms of material and design to transform your bathroom into a lovely haven.
Thinking about shower floor replacement? Find the best cost for your replacement.
1. Create a basketweave marble floor
Marble floors add an extra dose of luxury to any bathroom space. They look elegant and are timeless. Though this porous material comes with a price tag higher than similar materials, its beauty outweighs the cost.
However, with a marble shower floor, you need to be careful about a few things. Even the slightest dirt shows, making it important to keep it clean.
Since it's porous, you need to choose your cleaning products carefully lest they damage the surface. Also, marble scratches and chips easily. Having said that, this shower floor idea is for those who value quality.
Our personal favorite is the honed (matt) basketweave shower floor design idea to complement your all-marble shower walls.
Read more: How Much Does a Shower Installation Cost?
2. Think classic with concrete floor
Concrete is one of the most popular shower floors ideas. Since it's porous, it has a lot of traction. Due to this property, a homeowner needs to seal a concrete floor properly lest it soaks up a lot of water.
Once you have a sealed concrete floor, maintaining it is not an issue. It's simple, easy to clean, and versatile. Moreover, it introduces a lovely texture and color into the decor. A stylish and cost-effective shower floor indeed.
Instantly estimate the cost of your remodel...
...or take your time to personalize dozens of choices to transform your house into your dream home.
3. Bring in durability with porcelain tiles
A porcelain bathroom floor, made with a dense clay body, is durable, waterproof, and lasts for decades. Besides these features, it's very versatile and comes in a variety of different shapes, sizes, colors, and styles.
When it comes to maintenance, porcelain is a type of tile that survives detergents, scratches, and long-term water exposure.
However, do make sure to add texture to such a shower floor. A plain, shiny porcelain surface can easily be slippery.
Want to explore more about your shower tiles? Take a look at our guide on how to choose the right shower wall tiles for your bathroom
4. Get the oomph of ceramic
A ceramic shower floor is a perfect choice for your bathroom. It is not easily stained and can be cleaned with just some soap and water. You don't even require harsh chemicals! You can install a ceramic shower pan and pair it with a glass panel for a great-looking bathroom.
5. Make a statement with mosaic
Mosaic tiles make for a great shower floor. Opt for small-sized individual tiles. They can better conform to the slope and shape of the shower floor than a large tiled one.
What's more, the grout lines present between mosaic tiles offer the much-needed slip resistance in the shower.
Because of the vibrant variety available, a mosaic floor can make a custom statement loud and clear.
6. Create a spa-like ambiance with pebbles
Want to create a unique, relaxing, spa-like atmosphere and decor in your bathroom? Go for a pebbled floor. Apart from adding an aesthetic value, it's naturally slip-proof and has a comfortable underfoot feel.
These natural stones add texture and a natural element of the outdoors to even a minimalistic space. With its organic look, pebbles can make any bathing experience look and feel refreshing.
The best part is that they have good appeal for home buyers.
The only downside is that there's a lot of grout to clean. If you live in an area with hard water, a chalky film may develop on the surface of pebbles — requiring daily maintenance.
7. Grace your bathroom floor with travertine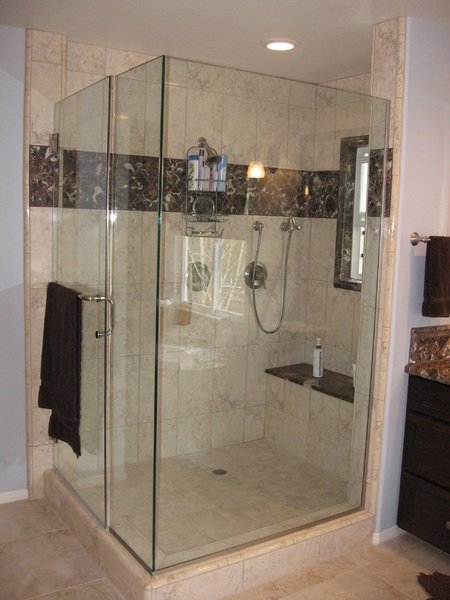 It's hard not to fall in love with travertine. Whether it's chiseled, honed, gloss, polished, or tumbled — the veins and swirls add effortless charm to a bathroom. Such a floor offers slip resistance and lasts really long.
The only care a homeowner needs to take is to seal it properly. Since travertine is porous, it's recommended that you seal it every one to two years.
Other than that, your main concern is staining. DO NOT use anything other than a mild detergent. It can adversely affect the stone's surface.
8. Bring in exquisite style with wood floors
For a humid environment like a bathroom, it's important that you get the right kind of wooden floor. But once you do, the end result is extraordinary.
Opt for teak wood. It contains a resin that makes it naturally water-resistant. DO NOT go for a cheaper alternative that might warp, discolor, or fade. With wood, you need to have a proper shower drain and sealing to avoid any damage due to excessive moisture.
When it comes to design, get a floor that sits slightly above your shower base and has slats — allowing the water to drain out.
Wood brings in warmth and exquisite style to your shower floors — creating a flat, smooth shower entry. A perfect choice for contemporary houses.
9. Get a walk-in shower with a tray flooring
Here's a simple shower floor idea that is utilitarian, smart, and perfect for a small bathroom. There are no shower doors, no tracks to clean or break! You might have to spend a considerable amount initially, but this walk-in shower with its own tray flooring will last you a long time. It won't even require too much maintenance — and absolutely no sealing.
Read more: Types Of Glass Shower Doors For The Modern Homeowners
10. Go geometric with hexagonal tiles
Hexagonal tiles are the go-to tiles for bathroom floors (just as subway tiles are perfect for a backsplash). These geometric tiles are stylish and come in a range of sizes. In this bathroom, hexagonal tile is the glue that holds together this geometric design scheme. It goes well with the square shower walls in matching hue.
11. Add drama with patterned tile
A patterned tile floor is a fun way to add drama to your bathroom. The best part is, you can choose your own patterns and styles. We love how the shower floor tiles complement the cement hexagonal wall. They tie the rest of the room together while injecting a little whimsy.
Plan your shower floor replacement just right with our estimator tool.
Conclusion
If you're contemplating a home improvement, do not ignore your shower floor. For such a relatively small space, it says a lot. So, whether you choose wood, marble, natural stones, or ceramic tiles in the shower — your floor can truly set the tone for the rest of your bathroom.
We hope our shower floor ideas will add to your bathing experience — and help to invigorate your mind, body, and soul. After all, nothing makes a space more enticing than a personalized design.
No matter if a licensed flooring professional has created your floor plan or if you have done it yourself, an interesting shower area could well become your favorite space in the house.
Read more: Shower Wall Panels: Pick The Best For Your Bathroom
11 Impressive Shower Floor Ideas for Your Bathroom
was last modified:
September 28th, 2022
by
Recommended