Want to create a cozy ambiance in your house? Go all out with indirect lighting ideas. Keep the light source invisible and let its illumination spread evenly across the walls and ceiling. And, watch the magic.
There are endless indirect lighting ideas that will make your space more welcoming and stylish. Besides decorating and generating a feeling of greater space, indirect light also offers a pleasant atmosphere by highlighting the line of the area where it is located. The somewhat faded light produces luminous effects with bright, non-localized illumination.
What Is Indirect Lighting?
Indirect lighting refers to hidden fixtures that direct the light upward in such a way that it bounces off of the walls or ceiling to illuminate a room. In contrast to this, direct lighting directs the light downward — directly onto the surface below. Indirect light fixtures feature light that is diffused more evenly into the room.
Thankfully for us, this type of lighting is back in fashion — in homes as well in offices. The best part is, indirect lighting systems can be installed in different shapes and styles depending on the distribution of your furniture, the location of your entrances and windows.
We have eleven indirect lighting ideas to inspire you. So, let's get started.
1. Furniture that illuminates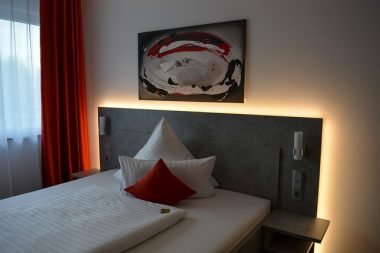 Image by tomasines from Pixabay [CC0]
The first and foremost rule of indirect lighting is that the illumination in a room must not come from a direct light source. We love how this bed headboard has a backlight that throws subtle, diffused lighting into the bedroom. Quite an ingenious design indeed. Apart from being romantic, it also lends a warm vibe to the space.
2. Masked bedroom lighting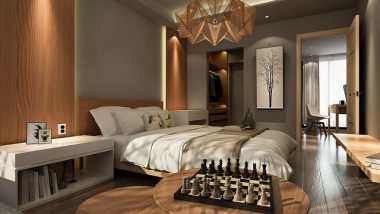 Image by 白 菊 from Pixabay [CC0]
Here's a lighting design that gives a soft look to the bedroom. Apart from the eye-catching chandelier over the bed, you won't be able to spot any direct source of lighting. The walls and ceiling seem to enjoy a play of hide-and-seek with backlighting through masked light fixtures — casting aesthetically appealing shadows across the area.
If your walls and ceiling are enriched with baseboards, panels, frames, and niches — you can fit any of them with a light source and hide it well. Such indirect lighting ideas can be a very effective resource for adding volume and theatricality to a room.
3. Skylight to illuminate an angled wall
Angled Wall, by Jeremy Levine on flickr [CC BY 2.0]
When it comes to indirect lighting ideas, the sky is the limit. No, we mean it quite literally too! Here, an angled wall of recycled redwood with inbuilt lights and a specially created ceiling do the trick for you. The wall beautifully reflects sunlight from the half-visible skylight above into the room during the day. And, the wall panel lights provide illumination during the night. This kind of indirect lighting successfully avoids direct glazing.
4. Cove lighting for the ceiling
If the room has a generous free height, you can create a false ceiling to hold the lighting. In this case, the level of the perimeter is lowered to create a "hole" in the center that brings dynamism to space.
We love how the accent ceiling lights — placed around the perimeter of a false ceiling — gives a warm and elegant vibe to the room. It successfully lights up each and every cove. For additional lighting, the designer has opted for recessed lighting instead of regular, direct lights. And, there's also a large window to let in natural light into the room.
 5. Under-cabinet lighting for your kitchen
scavolini-mood-kitchen-under-cabinet-lighting, by wiccahwang on flickr [CC BY 2.0]
This beautiful kitchen looks even more inviting with its under-cabinet lighting. It illuminates the countertop, yet is not glaring — creating the perfect workstation. It also helps that the quartz countertop reflects this light to make the kitchen space appear bigger and brighter.
6.Illuminating sink/vanity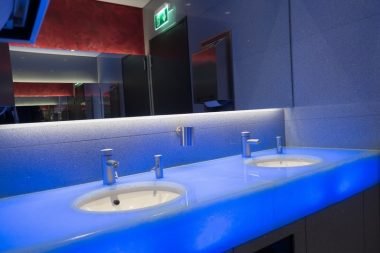 Photo by Pxhere CC0
This is again an ingenious design that provides diffused, indirect light to a bathroom. The self-illuminating vanity — ably supported by a mirror with a backlight — gives the bathroom a mysterious vibe. The best part is that you are not able to see the mechanism of lighting, just its illumination.
7. Backlit mirrors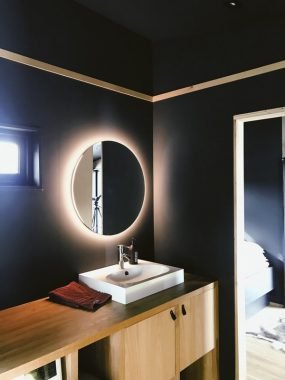 Photo by julie aagaard from Pexels CC0
Thanks to technology, indirect lighting is not difficult to achieve today. We love the integrated light mirror that provides the perfect radiance in this bathroom. This backlit mirror provides agreeable indirect lighting form all four sides. The wall-wash effect gives the room an atmospheric illumination that's beautiful.
8. Stairway or pathway lighting
Photo by designmilk on flickr [CC BY-SA 2.0]
While we invest all our energies in creating smart lighting for our living rooms and bedrooms, we generally forget an important area — the stairs. We love how the designer has lit up the staircase with indirect lighting. The balustrade with its hidden lights illuminates the way in the most glamorous manner.
9. Hidden light source behind furniture
"I built a bed." by jm3 on Flickr on flickr loft.jm3.net [CC BY-SA 2.0]
If you didn't factor in indirect lighting at the time of designing your home, don't worry. You can still create a diffused effect by hiding your light source. Here, the bed has been positioned in front of the light fixture to create a halo. You can conceal the lights behind a screen wall, decorative applique, tray, or any other structure.
10. Wall lighting to highlight decor items
Residence in Barcelona, by Charly W. Karl on flickr [CC BY-ND 2.0]
We love how a part of the wall has been designed to accommodate strip lighting. The illumination doesn't just enliven the wall but also highlights the decor of the living room beautifully.
11. Light from under the kitchen island
Photo by designmilk on Flickr [CC BY-SA 2.0]
Ever seen a modern castle? This design is a beautiful mix of modernity and old-world charm. We especially like the LED lights coming from under the kitchen island and the cove that doubles up as a storage counter. Chic!
Conclusion
Indirect lighting is the magical mantra when it comes to giving your house a glamorous yet elegant look. If you're planning a home improvement, do factor in such a lighting design. The correct lighting increases the value of your house.
When installing an indirect light, study the distances and angles carefully. Ensure that you completely hide the light source but let the muted light illuminate the desired space. And, voila! Your home will look straight out of an interior design magazine cover.
Read more: Living Room Lighting Ideas
11 Indirect Lighting Ideas to Make Your Home More Stylish
was last modified:
September 14th, 2019
by