Want to enjoy the luxuries of a pool all-year-round without waiting for a swim season to indulge yourself? An indoor pool is a perfect solution. What's more, its very nature lends itself to privacy.
So, if you are thinking of getting an indoor pool, and want to know all about its advantages, cost factors, types of indoor pools, etc., then you've come to the right place.
This guide will tell you everything you need to know about indoor pools. From construction cost and time to maintenance — it has it all. So, let's begin.
Benefits of an inside pool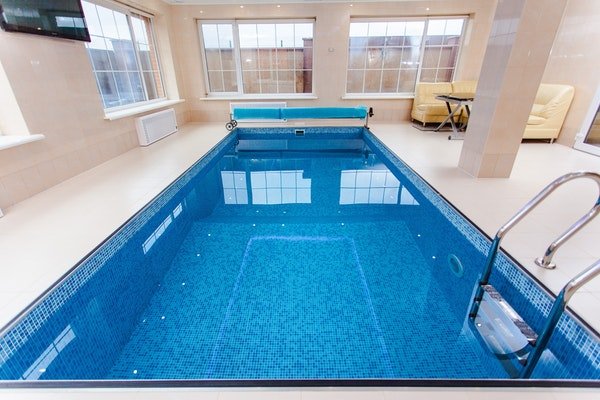 Here are a few advantages of owning a pool inside your house:
All-year-round swimming: The best part about an enclosed pool is that you can use it throughout the year. A temperature-controlled pool will be a great boon for those winter days.

Great for health: Water exercises will keep your body fit and healthy. An indoor pool allows you to use your pool 24/7.

Easier to heat: Indoor swimming pools heat up easily and can be made cheaper with insulation and a solar pool cover.

Easier to clean: You don't have to worry about wind-blowing dirt. Cleaning such a pool is a lot quicker and uses fewer chemicals.

Adds value to your home: Indoor pools add 10%, if not more, to your overall house value.
Popular types of pools
There are essentially four types of indoor swimming pools:
A concrete pool can be completely customized — giving you unlimited swimming pool design possibilities. You can choose the size, shape, and depth according to your requirements. You can use finishing options such as ceramic tiles, colored quartz, epoxy resin paints, vinyl lining, and natural pebbles.
The cost to build a concrete inground pool ranges between $50,000 to $60,000.
Fiberglass composite swimming pools
Fiberglass composite pools too come in a variety of styles, shapes, sizes, colors, and finishes. The best part is, they are easy to install and quickly too. You can even install water features or an in-built spa pool.
The cost of installing a fiberglass pool ranges from $10,000 to $60,000.
Above ground swimming pools
Above ground prefabricated pools can be made either from fiberglass composites or vinyl lined and come in different styles and colors. Interestingly, they take minimal time to install. You can even take the pool with you if you decide to move.
Most homeowners spend anything between $600 and $3,000 to buy an above ground pool. Add an extra $1,000 to $3,000 for professional installation.
A vinyl-lined pool is a popular and cost-effective option. Most of these modern pools may have concrete, plastic, or steel walls.
To install a basic 12'x24′ rectangular in-ground vinyl-liner swimming pool averages $37,000.
Take a look at these small backyard pool ideas to beat the heat this coming summer
Indoor pool cost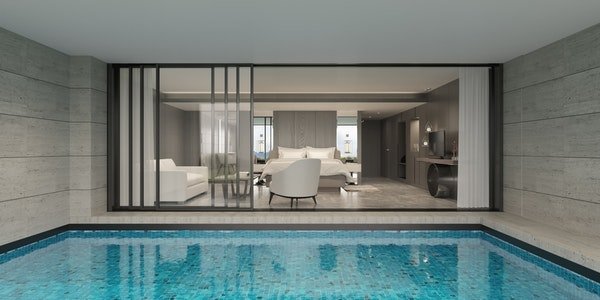 Indoor pool price starts from $20,000 (for an 11×18 feet one) and goes up to $100,000. A truly spectacular, customized pool will set you back by $112,000. It will need a specialized team to build it. The swimming pool cost varies with the size and the additional features you want to incorporate.
Let's break the cost in terms of the main expenditures.
Cost breakdown
The average costs and materials associated with an indoor pool installation include:
The size of a typical indoor swimming pool is about 8 x 15 feet. It necessitates an available space of at least 11 x 16 feet. You can custom build it to have a depth of up to 78″. The bigger and better the pool, the more is its cost. It can go as high as $100,000.
To install an indoor pool, you need the appropriately sized basement, garage, or sunroom. If not, then you will have to construct an entire wing specifically for your pool.
The next step is to get pool enclosures. You can opt for prefabricated options that include rigid frames that are mounted to the deck surrounding the pool. They cost approximately $35 per square foot or more. Additional costs will include electrical work (around $85 per hour) and any plumbing requirements (around $80 per hour).
If you want a swimming pool that has a comfortable temperature level, you will have to make arrangements for heating the pool water.
There are different types of swimming pool water heaters on the market. However, the most economical way to heat both indoor, as well as an outdoor pool, is by installing a solar heating system. On average, a solar heater would cost you nearly $340. This cost excludes the installation.
Whichever water heater you choose, you can lower its running costs dramatically by insulating the water heater tank as well as the hot water pipes, and by using a solar cover to keep all the heat inside the pool while you're not in it.
An indoor pool generates a lot of humidity and heat. The problem is more acute if your swimming pool room is small. You must invest in a good dehumidifying system. The cost of a standard humidifier is approximately $2,000. And, it's pretty simple to install too.
An efficient dehumidifier helps stop water damage and keeps control of the water in the air. It will keep your room bone dry and stop the build-up of dampness.
If the room that contains the pool shares common walls with the rest of the house, it is a smart idea to install a vapor barrier. This may necessitate taking away of the sheetrock and ensuing refinishing of the area. However, it will be worth the trouble as it will prevent the accumulation of moisture, mold, and mildew — otherwise, a frequent problem associated with indoor swimming pools.
According to most building codes, homeowners need to keep the doors locked between the swimming pool and the rest of the house. However, for extra safety, you may want to install door alarms and safety cover on the pool at an additional expense of about $600. This is especially helpful if you have small children in the house.
Read more: Pool Maintenance 101: How To Remove Algae
Time taken to install an indoor pool
Installing an indoor pool shouldn't take more than 6 – 10 weeks. The work depends on your design, the complexity of work involved, and of course your team of constructors.
Running costs of an indoor pool
Let's talk about the basic costs such as running the pumps and getting pool chemicals are concerned. The associated electric work costs around $20 to $30 per month. And, the chemicals cost around $80 in your first month. The amount goes down to about $40.
If you hire a pool cleaner, it would cost you around $40 to $100 for one pool clean (once a week). You can save a lot if you choose to clean your own pool. It doesn't take long at all and let's admit it — the cost of a pool cleaner is money down the drain.
A dehumidifier usually costs around $30 – $80 per month, or more.
Generally, the cost to run a pool heater will be around $150 – $250 in electric every month. Installing a solar pool cover will help you trap the heat and decrease your running cost.
Read more: What is pool shock treatment
Is the total cost worth it?
Yes. If you use your pool throughout the year for exercising and relaxing, then it's totally worth it. Moreover, a pool — both indoors or outdoors — adds immense value to a house. Such a property is bound to sell quicker and fetch more return on investment.
Last words
An indoor pool looks classy. Just the idea of using a heated pool inside your house is enough to make you feel amazing.
However, keep in mind that building an indoor pool requires a good amount of planning. There are the intricacies of the pool and its required infrastructure. You will have to shell out a couple of thousand dollars on pool material, a dedicated HVAC system, dehumidifying measures, lighting, pool deck, and even drainage.
It's best if you hire a pool designer or pool builder with experience in pool design. It will save you from the hassles and create a beautiful indoor swimming pool worth featuring on a magazine cover!
Read more: How much does it cost to build a pool?
How Much Does an Indoor Pool Cost? Maintenance & More
was last modified:
October 11th, 2022
by
Recommended