Want to replace or add new interior doors in your house? Wise decision. Upgrading your doors is an effective way of refreshing the look of your home and its decor. And, it doesn't have to burn a huge hole in your pocket. This comprehensive guide will help you set an appropriate budget for your remodeling by breaking down the interior door installation cost for you.
Planning a home remodeling? Use our free home renovation estimator to have a fair idea of the total expenditure of your project.
Whether you want to replace your old or broken doors or simply upgrade them to premium models — there are several factors that determine the total interior door installation cost.
From the kind of style or type of door you choose to its functionality, features, location, size, frame, customization, and labor costs — you have to know your interior door installation costs inside out.
We also remind you that if you are looking for an easy way to know the cost of your entry door installation, you can always try our free estimator tool. it's easy and quick to use!
So, let's begin with the most important question of all on this subject.
How Much Does It Cost To Install An Interior Door?
Your interior door installation cost can range between $50 to $ 1500 for the door and hardware (the materials), plus the costs of a professional installation. Most homeowners spend around $500 for an interior door.
Keep in mind that an interior door is cheaper than an exterior door. Moreover, it's easier to install — and that reduces the labor cost.
What about a sliding door? Take a look at our guide on Sliding Glass Doors Prices, Cost Factors, and Types!
Interior door cost factors
When calculating your interior door installation cost, there are a few primary factors that have a huge impact on the total expenditure. Let's explore some of them.
Instantly estimate the cost of your remodel...
...or take your time to personalize dozens of choices to transform your house into your dream home.
Types of interior doors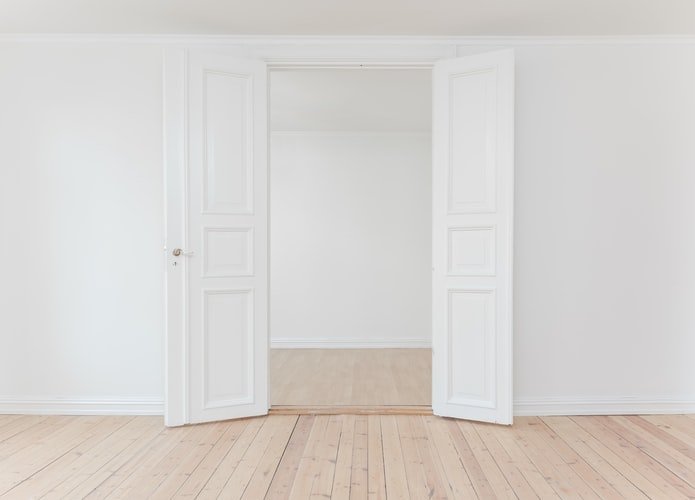 An interior door makes a tremendous impact on the design scheme of your home. Depending on your preference, you can choose the best style, design, shape to suit your home. The many options include:
Type of door
Features
Price range
Sliding doors

Popular for their efficiency and space-saving design
Made from wood, glass, or cores with attached mirrors
Suitable for halls or bedroom closets

Low to medium
French doors

Offer a classic, elegant look
The doors have divided glass panels that overlap to open the door
Allow a good amount of light to enter a room
Usually, don't offer much privacy
Available as single or double designs

Medium to high
Folding and bi-fold doors

Segmented, hinged doors
Typically used for small spaces such as laundry rooms, pantries, and closets
Fold to the side on head track when open

Low
Pocket doors

Space-saving
Slide into the wall
An efficient system
Often used for laundry rooms
Require enough room in the walls to install

High
Barn doors

Heavy, oversized doors
Attached to a wall-mounted slide system
Good for providing privacy to larger spaces
Tend to swing if not secured by a bottom rail

High
Read more: 16 Types of Doors
Interior door materials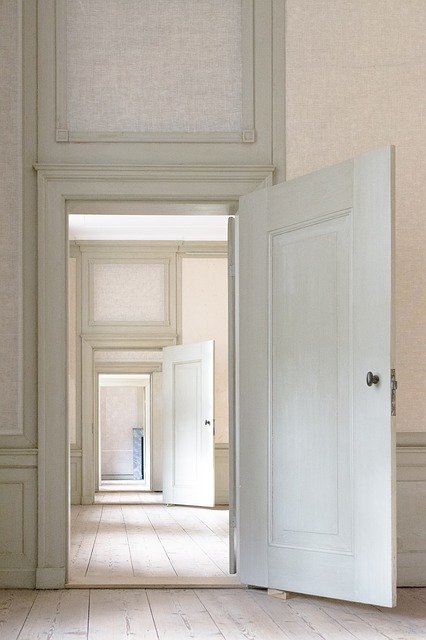 Interior doors, trim, and millwork are made of either wood or wood composite.
A wood composite is made with a wood-based compound having wood fibers, reconstituted wood, or medium-density fiberboard (MDF). Unlike a wooden door, it doesn't warp. And, it is easier to paint and maintain.
However, do keep in mind that it's lightweight and may chip from the bottom over time.
Most wooden doors come paneled or completely constructed from wood. The wood species include mahogany, alder, cherry, maple, or pine.
The good thing about these heavy doors is that they offer privacy and effectively soundproof a room. However, they're susceptible to warping and may expand or shrink due to extreme temperature and humid conditions.
DO NOT use wood doors for your bathrooms or other wet settings.
What about composite doors? Take a look at our comprehensive guide on Composite Door Prices
Labor cost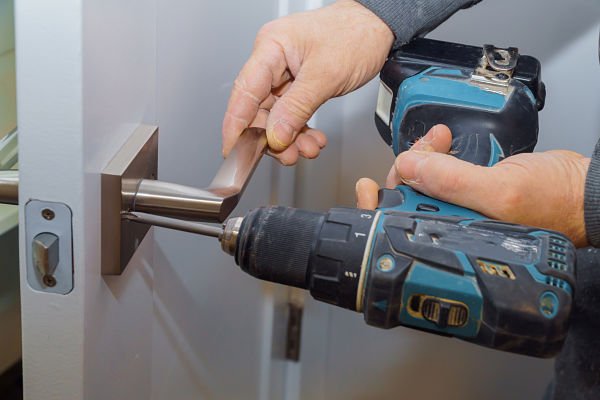 When it comes to installing interior doors, keep in mind that labor generally runs between $40 and $90 per hour — averaging at $70 per hour. Of course, the exact amount depends on your zip code, the location of the door, and the complexity of the work.
It takes an average of 3 to 5 hours for most interior door installations.
Hollow vs solid core composite doors
Another factor to keep in mind is whether you want a hollow-core door or a solid-wood paneled door. The lightweight hollow-core door is quite obviously inexpensive. Since it's not soundproofing in nature, it's better suited for closet doors or pantry doors.
The heavier solid-wood paneled door is more durable — and pricier too. You have the option of additional designs, materials, and high-quality manufacturing. A solid core door (not to be confused with a solid wood door) is a good choice for a bedroom where you need reduced interior noise and maximum privacy.
| Pros | Cons |
| --- | --- |
| Long-lasting | Expensive option |
| Easy to clean | May scratch, stain, crack or cut with sharp knives |
| Can be sanded or resealed | Bacteria may pose a problem |
| Looks beautiful and warm | Requires regular sealing and oiling |
Slab door vs prehung door
Your overall cost to install an interior door depends on whether you're buying a slab or a pre-hung door.
While a slab is a door that you can simply hang in case your existing door frame is still intact and sturdy, a pre-hung door is mounted in its frame and comes with all the necessary parts — the door, a frame, and hinges (attached to the doorjamb).
A slab door, without the frame or any hardware, costs $50 to $400 on average. A prehung door costs $40 to $400 for a hollow core and $80 to $500 for a solid core door.
Read more: How to install a prehung door
DIY project or a professional job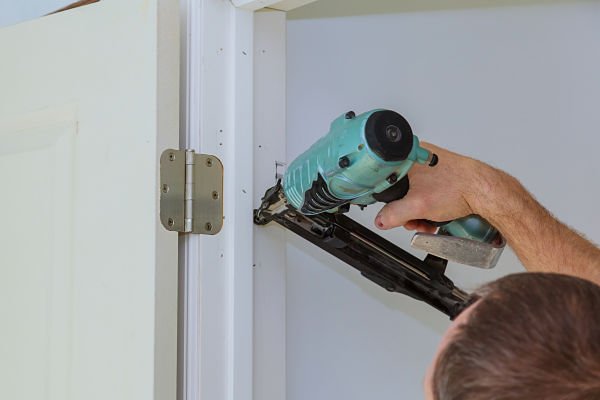 If you have a good amount of DIY experience, you may be able to install an interior door. However, since the project requires carpentry details, we recommend hiring a door professional for the best results and finish.
We know a professional installation will cost you more but improper DIY installation may run the risk of higher replacement and repair costs in the future.
A pro is able to handle the entire installation and its components, including framing, swing direction, handles, and hinges. And, they will have the necessary skills and equipment.
Before you start the project, make sure to get competitive quotes and check out each contractor's previous work.
Other enhancement and improvement costs
There are other costs that you need to factor in. These may include costs of components such as frames, trims (the boards that cover the gap between the frame and drywall), and hardware.
Frame: $150 to $300.
Trim: $2 to $3 per linear foot.
Hinges: $2.50 each.
Hardware: $10+.
Locks and knobs: $20 (keyed locks) to $200 (coded locks).
Painting an interior door: $75-$125.
Constructing or repairing a door frame: $300-$700.
Removal and disposal costs of old doors: $100.
Conclusion
Interior doors (or for that matter entry doors as well) can either make or break the look of your home. You definitely don't want shoddy doors to be an eyesore for your friends and houseguests.
While replacing a door or installing new doors for your home, it's best if you can get a door installation estimate beforehand and also the various factors that impact it. Your remodeling will be easy and quite seamless.
Read more: How to estimate a remodeling job
How Much Does an Interior Door Installation Cost?
was last modified:
September 9th, 2022
by
Recommended