Wondering, Is It Cheaper to Buy or Build Your House?
Everyone dreams of owning a perfect house. There are various things to consider when building or buying a house: its style and design, the total square footage, the neighborhood, the location, good schools nearby, market trends, property taxes, homeowners association fees, and of course, the most important — the cost. One of the first questions a potential homeowner would think is, "Is it cheaper to buy or build your house?"
Well, figuring out the exact cost of building a house vs buying a house can be a challenge. And, that's why we've done most of the legwork for you. In comparing buying a house vs building one, we've taken into account their different costs, additional costs, the time taken, fees and permits, and the kind of contractors you'll need.
The reason why most homeowners opt for constructing a house is that it can be a bit difficult to find a property that fits perfectly into their idea of a great house. And, who doesn't love a custom-made house — designed to your exact specifications — that checks all the boxes. Another advantage of building a house is that everything — from plumbing pipes to the heating and cooling systems — is brand new and under a warranty. Even the entire house comes with a construction guarantee sometimes! That will save you costly repairs in the near future.
That said, designing your dream home has its challenges, too. There are various hassles that inevitably come with construction. And, the most obvious problem is that building a house tends to come with a higher price tag and a longer delivery time. The average time taken to build a single-family house is around 7 to 9 months.
So, if you do not have the patience or the pocket for a custom-built house, it's best to buy a home that comes close to your expectations.
Whichever alternative you choose, remember that buying a house or building one is way too big of financial responsibility to make a wrong choice. It's best to evaluate if it costs more to build or buy a house, and what are the additional costs you need to know about, and if you have the budget for it?
The average cost to build a house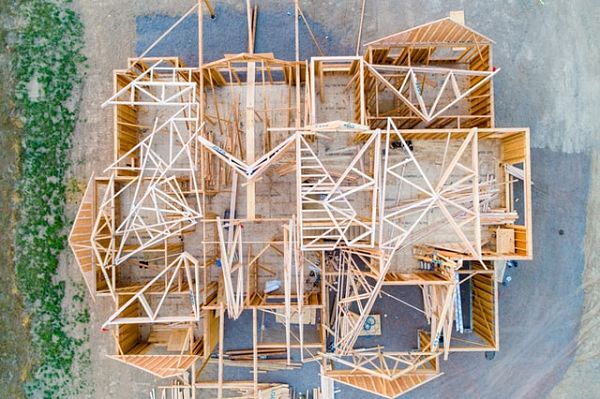 According to the National Association of Home Builders, the average price of constructing a single-family home in the U.S comes to approximately $289,420, or $105 per square foot. However, the exact cost to build a home can vary depending on the location, material costs, labor costs, and other criteria. 
The best way you can really get a good idea of what the total cost will be is to choose a house plan and ask a few builders, general contractors, and architects in your area for cost estimates — specifying exactly what you want. You can then average their bids to get a clearer picture of the construction cost.
The total cost to build a house
There are a few major costs involved in the construction of a home. Some of the most common expenditures are listed below.
The price of a plot of land to build a house on average is $3,020 per acre. Keep in mind that the average home in the U.S is built on 0.2 acres.
Excavation and foundation work. A relatively smooth work will cost you $33,450.
The shell of the house (walls, windows, doors, and roofing) can account for a third of your home's total cost. Average cost: $95,480.
Interior finishes (cabinets, flooring, and countertops) can be another third of your total budget. Average cost: $85,650.
Mechanical fittings (plumbing and heating system) run about 13% of the total cost. Average cost: $37,850.
Kitchens construction and bathroom addition are the most expensive rooms to build).
Architect and engineer drawings or floor plans will run about $4,583.
A building permit, to make sure your home conforms to building codes, will cost you approximately $908.
Land inspections cost about $4,191.
An impact fee (covering the costs such as electricity and waste removal) will run around $1,750.
Landscaping costs which average at $3,220.
Read more: How to deal with constructions in your neighborhood
The average cost of buying a house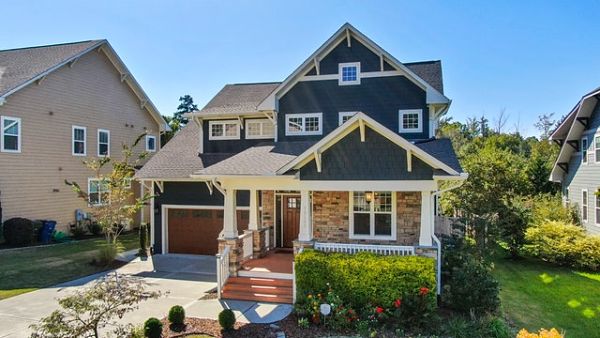 The average cost of buying an existing single-family house is $223,000. The exact house price can vary based on where you live. Also, there are some additional expenses to consider.
Closing costs: The average closing costs (including the appraisal fee, the survey fee, wire transfer fee, underwriting, origination fees, and title insurance) run anywhere between 2% and 5% of the purchase price.
The real estate agent commission (including both buyer and seller's real estate agents) usually split a 6% commission at the time of the home sale.
Property taxes will vary depending on your property value, neighborhood, and state tax rates.
Homeowners insurance which too depends on the state, your property value and your credit score. The average cost of homeowners insurance in the U.S. comes to about $1,085.
Private mortgage insurance (PMI) in case you purchase a house with a down payment of less than 20%. Typically, PMI costs range between 0.5% and 1% of the loan amount.
Homeowners association fees (HOA) are expenses that you share with your neighbors in order to keep up common areas.
Read more: Land survey cost
Additional costs of buying an existing house
Apart from the upfront costs of buying a house, there are other costs too which you need to consider. These include the following:
Maintenance costs
If you buy an existing home, you must factor in the usual wear and tear, and the maintenance, replacement or repair costs. That's why, before you buy a house, it's important that you find out the exact age of the main items.
For example, the average lifespan of a furnace is 20 years and its replacement will cost you approximately $4,000.
A standard HVAC system will last about 15 years and its replacement will cost you more than $5,000. A shingled roof holds up for about 25 years. In case your roof is older than that or damaged, you need to factor in a roof replacement. Similarly, you need to get the plumbing and septic system inspected beforehand. It's a good idea to keep contact numbers of contractors and subcontractors handy.
Looking for licensed contractors? Use Kukun's Find a Pro tool for the most reliable professionals
Energy efficiency
If you buy an older home, chances are, the windows and appliances will be dated. Therefore, the first thing you'll have to do if you want to save money is to get your home energy efficient.
In contrast, buying a new home will already have increased efficiency of heating equipment and building materials. This will reduce your ongoing energy expense quite significantly.
Appreciation cost
If you buy an existing home, you can always research the home's previous sale prices or compare the prices of similar houses in the neighborhood (known as comparables or comps). If the real estate prices have been steadily rising, it will be beneficial — especially if you decide to sell later on.
Building a new home (and installing new appliances as well as gadgets) on the other hand, can be more of a gamble — with not enough data for comps.
Want to know which home improvements will give you maximum return on investment? Try Kukun's Prepare Your House for Sale tool!
Is it cheaper to build a house or buy: last words
Determining the exact difference in the costs involved in building a new house vs buying a house depends on your location, real estate market trends, and other factors.
Whichever alternative you opt for, it's best to consider all the benefits and risks involved carefully to get the most for your money. In other words, it's best to weigh the pros and cons of building a home versus buying and choose the most suitable option.
Read more: 12 crucial things to know before buying investment property
Wondering, Is It Cheaper to Buy or Build Your House?
was last modified:
September 22nd, 2021
by
Recommended