Noise, dirt, and the inability to use your own space can make any homeowner wonder, "Why did I decide to renovate?" By keeping cool, knowing what to expect and how to deal with it, you can make your home renovation as pain-free as possible.
Consider the age of your home
Words like "asbestos"  and "hidden damage" can be scary, especially if they're uttered after you've already begun a renovation. When working on any home constructed before 1978, it's likely that it will  contain asbestos (commonly associated with 9×9 inch vinyl-looking floor tile) and/or lead (paint and tile glazing are the most common sources). Fortunately, these aren't the end of the world – the Environmental Protection Agency has established guidelines for handling these things properly.  This should be addressed before any work is done, so that these substances can be properly removed.
Renovations can also uncover hidden damage. After demolition work is a good time to look for any additional, unseen damage that may need to be repaired (dry rot, termites, mold, or mildew). Hidden damages count as change orders, and should be billed at a rate of time and materials so as not to "muddy" the contract work. By somewhat expecting (and budgeting for) the unexpected, you can manage your renovation stress level.
Prepare and seal
Even if you're normally far from being a neat freak, construction dust can test your sanity. If you're working with a contractor, the responsibility of containing the mess to the work area falls largely with him/her. It's a good idea to discuss this point before walls come down. Try to establish a plan to isolate work areas from living area and try to build in a modular way.
Contractors should put proper floor protection down in traffic areas. It should be able to protect a hardwood floor from a falling hammer. Thermo-ply can be useful, and it's important to tape all edges so dust cannot get in between, act like sandpaper, and ruin a hardwood floor.  Most professional contractors will do that but if you are dealing with an unlicensed or untrained one, you may to have to make sure they do it (we are not judging the fact that you are using an unlicensed contractor but you should)
If you're more of a DIY-er, make sure that you spend time preparing your space. Seal off work areas with plastic, and don't forget to seal the furnace duct work within the area. Zipwall is a great product for this purpose, and even offers zippers you can attach to plastic to make your own sealable doorways. Preparing an area for home renovation isn't nearly as fun as the demolition phase, and it can be tempting to skimp, but if you invest the time and money for the right materials, you'll thank yourself later when your floors aren't torn up and your entire home isn't covered in dust. It's also important to broom clean the area every day.  Successful renovations are about planning and planning again.  The more picky you are lucky the more successful it will be.  Luck does favor the prepared after all so don't test it.
Identify necessary inspections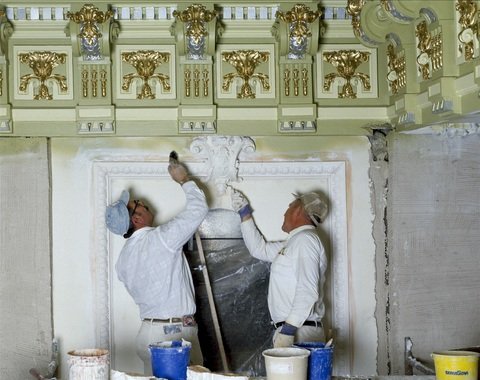 Pixabay
All work should be inspected (if it is a permitted job) before anything is covered up.  This is true almost everywhere in the U.S. for the rough electrical, plumbing, and HVAC work, as well as concrete work (footings and rebar inspections), framing, and finally roofing. Check with your local municipality for a complete list of required inspections. These are usually listed on the permit itself, as each inspection phase requires a sign-off.
Should you stay or should you go?
Renovating multiple spaces simultaneously can be extra stressful. For an extended renovation, temporary kitchens can be created in garages, bedrooms, and living rooms.  While they may not be the most comfortable, they will do the job and allow you to stay in your space while it's under construction. For extensive remodels (such as an entire house), you can be moved around as the work is done in phases.
An electrician should be the first person on-site in order to ensure the safety of all demo work and re-route any power, to keep your other rooms working. The electrician can also set up a temporary kitchen (with outlets and a 220v supply for an oven) in another room if yours is out of commission.
If living out of different spaces in your home or utilizing temporary setups doesn't sound appealing, consider planning a vacation. It's not uncommon for a homeowner to plan a trip, and come home to a finished project.  You will save yourself a lot of dust, discomfort and stress especially if you have a spouse or a partner sharing the space with you.
Another consideration is to move out during your remodel. Unlike taking a vacation, this allows you to stay nearby and be more hands-on during the renovation. Ultimately, each individual has to decide what he/she can mentally handle, and which option is the most desirable.  However, it is costly and many of us cannot afford it.   If you are working with a contractor he or she will certainly prefer that you are completely out so that he can do his job more efficiently.  
Happy renovating and remember to be prepared and organized. We recommend that you use Kukun's bidding tool to get organized and be in control.
How to Keep Your Cool During a Home Renovation
was last modified:
June 20th, 2019
by