The elegance of your kitchen is not entirely dependent on it being large. Even though most of us desire large kitchen spaces we can always make the most of what you have. A touch of design genius is all you need to transform your kitchen into a stylish small modern kitchen. A great kitchen will ensure that you always look forward to stepping in there to prepare your favorite delicacies for you and your loved ones.
   1.  Open shelves
Find an alternative for the utensils you've stashed in your wall cabinets as these cabinets tend to eat up much of your space. You could think of having few open shelves which will give a decongested feel to your kitchen. Lovely wallpapers and matching accessories can be used on these shelves to light up the kitchen. This notwithstanding, not everything should be stocked here as you are trying to create an ambient environment. The whole idea is to try to prevent overcrowding in your kitchen.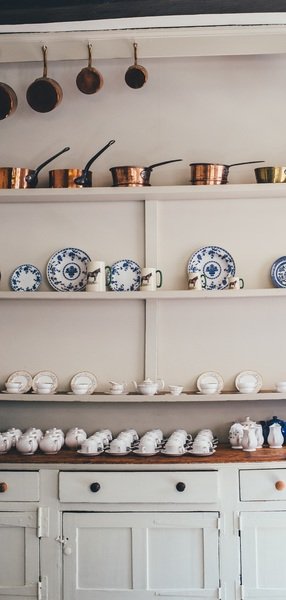 Day to day activities of the kitchen requires a few specific items depending on how often you use the kitchen and your diet. It is important to find out what you won't always use and store them up elsewhere till when needed.  You could consider placing such items in cupboards or shelves that are high up the wall. This way your worktops will not be cluttered up with unnecessary items.
Cup hooks could be fixed under the open shelves. You'll love the look of your mugs on these hooks while at the same time freeing up more space in your cupboards. Talk about killing two birds with one stone.
Read more: 7 smart small apartment storage ideas keep flat organized
   2. Rails and racks
You could also consider hanging some of your utensils on rails to ensure that you use your space efficiently and create room on your worktops. Plate racks mounted on your kitchen wall could also be used. Wine racks could be placed between cupboards to ensure that all your space is adequately used. A spice rack placed in one your cupboards also helps to clear up space on your workstation.
The storage location of the items that you use on daily basis within your kitchen should be dependent on their use. Given that pans will always be placed into cookers they should be stored nearby. Glassware, on the other hand, ought to be close to the dishwasher to reduce the likelihood of breaking them once they have been cleaned.  Slim cabinets could be placed on additional space next to your washing machine. Numerous small items as well bottles that you use around the kitchen will gladly fit in such cabinets provided that they are stocked with storage racks.
Read more: Choosing cabinets and countertops
   3. Workstations
For a small kitchen, you won't need a lot of working space. You could create an island that is not more than 50cm wide. This gives easy access to different areas of your kitchen while also saving on space. It also ensures that all your work is done from a single central location. Alternatively, you could make use of a portable kitchen trolley. This is sure to provide you with adequate preparation space while at the same time you could get it out of the way once you are done with it.
   4. Suitable appliances
Appliances that are multifunctional also ensure that you won't use up a lot of space. A power air fryer which allows you to air-fry, roast, bake or grills your food is one such device. Mixers and blenders among other appliances greatly enhance your kitchen experience while taking up very little space. Most of these appliances come in different designs that help you establish a modern look. There should be no room for luxurious devices even though we love having them. Look for efficiency as you shop for appliances.
When thinking about smaller appliances that are necessary, go for the ones that can fit comfortably in drawers rather than those which will take up a lot of unnecessary space on worktops.  Apart from their impeccable performance in the kitchen, stainless steel appliances add a lot of class to your kitchen.
   5. Ease of movement
Freedom of movement in your kitchen is very important. You would not like to knock over items every time you move around. Let your layout ensure that you can easily access appliances as well as the shelves. Access to the room should also not be hampered.
   6. Brighten the kitchen
The lighting in any room will greatly determine the kind of feel that one gets once they step in. Enough light in your kitchen will definitely increase the feeling of space. Mounting a large mirror on one your walls in the kitchen will help you achieve this as light will bounce on it and spread throughout the room. To enhance your food preparation experience you could have task lamps beneath cabinets. You could also try out down lighting to make your kitchen livelier.
White units tend to also give your kitchen a spacious feel. Dark worktops give a good contrast to your kitchen while white tiles give it a sleek look. Giving your walls a blue shade or an equivalent bright color of your choice completes a lovely look for your kitchen area.
   7. Dining area
You can easily create a dining space in your small kitchen. All you need are chairs and a folding table on which you could have lovely flowers in a vase as you enjoy your meals. This serves especially well if you don't have an extra room to serve as your dining area. Bar stools placed under a worktop could also be used in creating a nice eating area within your kitchen. Ideally planning for furniture should be well thought out to make the most of the space that you have. Wooden pieces of furniture have been used frequently to enhance the modern look.
   8. Add a little flavor
Personalized wall clocks can be used to create a touch of class for your kitchen. Traditional plates anchored firmly at strategic points on the kitchen wall can also be used as accessories. Fabrics used in place of cupboard doors help to cement a country style kitchen. On the other hand, if you want a totally modern look then the frosted glass will serve you best as cupboard doors.
At the end of the day, you still get to choose what you like your cooking area to look like. Keep in mind that a great design will help you enjoy your experiences in your kitchen and you won't shy away from having friends come over for meals.
Read more: Kitchen island with storage ideas
Key Elements in Designing a Small Modern Kitchen
was last modified:
May 17th, 2022
by
Recommended