Children hate anything that's boring or mundane. Especially when it comes to their bedrooms. And, as parents, we too want to offer them a space that's designed to energize and inspire them to be their vibrant and creative selves. Choosing the right bedroom for them seems like an even more daunting task if there's limited square footage involved. But worry not. If you're looking for some brilliant kids' bedroom ideas for a small area, you've come to the right place.
We have 12 creative kids' bedroom ideas that are perfect for your little ones. All you need is some imagination, creativity, and loads of cool quotient!
Kids these days have very specific ideas as to how they want their bedrooms to look. Style and good taste come very naturally to them. And, this is why most expert interior designers insist that we involve them in every stage of the room remodeling.
When designing a small bedroom, keep in mind that the overall ambiance must be airy and not look cluttered. The room has to reflect your child's personality, help them feel comfortable, and look uber stylish.
Planning a home remodeling? Use our free home renovation estimator to have a fair idea of the total expenditure of your project.
We have some of the best kids' bedroom ideas for a small space. So, let's begin.
1. Create the perfect blue lagoon for your boy
Here's a cool kids' bedroom idea for a boy's bedroom. From the walls to the cupboard and study chair — there's a nice touch of blue throughout. That said, we like how the brown from the wood and the white of the curtain balance out the effect.
Storage under the bed, wall-mounted bookshelves, and the uniquely shaped wardrobe utilize the space in the best possible way.
Planning a bedroom remodel? Try our free estimator tool to have a fair idea of the total cost of your bedroom remodeling project
2. Design a royal bedroom for a girl
We love the magical and dreamy aesthetic in this all-purple room. From the bunk bed to the rug and the chair — it's the most perfect girl's room. Make your princesses feel like royalty with the glamorous look.
The unique chandelier adds to the fairy tale effect with its teardrop embellishments.
Take a look at our guide on the Best Color for Bedroom Walls
3. Get an innovative elevated design
We just love how the room has an elevated design — beautifully accommodating the two beds underneath. The small square footage has been creatively utilized and how!
On the top, there are two study desks with chairs and wall-hanging book racks — nicely nestled on either side of a sliding cupboard. Now, that's called innovation!
Take a look at our guide on Things To Consider When You Plan Bedroom Additions!
4. Let in lots of natural light
There's something very cozy about this tiny room. From the wall-to-wall carpeting to the unique bed and the large window letting in natural light — this room is a good place to inspire your child.
Let the comfortable space give wings to your child's creativity and talents.
Top Guest Bedroom Ideas For a Perfect Modern Home.
5. Use each and every corner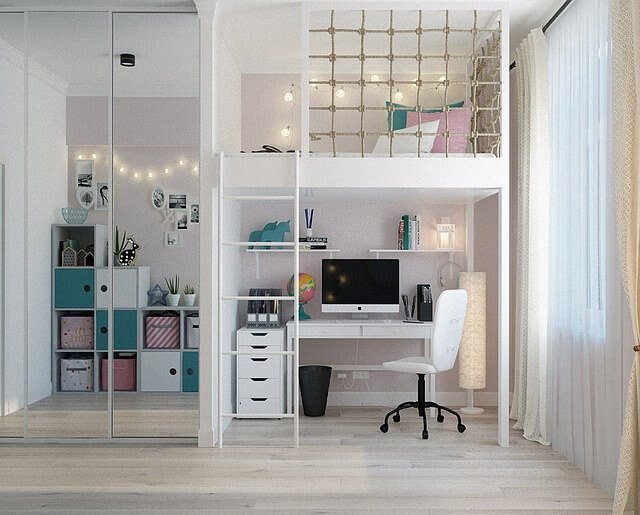 We think this is one of the coolest kids' bedroom ideas that we've ever laid eyes on. And, we're sure you would agree.
It has literally everything a child could ever ask for! One-of-a-kind architectural design, a conveniently located study desk, fun storage, cozy sleeping arrangement that takes up minimum space, and plenty of accents to spark the imagination.
And, don't forget the quintessential fairy lights to brighten up the area.
6. Give priority to storage
Whatever the room size, budget, and the age of your children — you need to factor in a lot of storage in your kids' bedroom ideas. You want this room to be clutter-free without having to run after them to tidy up their room every hour.
Give them good storage and they'll do the dirty work themselves!
The idea is to create a neat, tidy and organized space. A kids' room isn't just a place where they sleep, it's also a place to write the homework, play games, read, hang out with friends, and to dream big.
This room has a good amount of storage, even under the bed. We love how a colorful rug helps keep everything together — making the room appear super-stylish.
Read more: 7 smart small apartment storage ideas keep flat organized
7. Add a woody touch
Want a room decor that's perfect for your outdoorsy brats? Try this kids' bedroom idea for your cowboys! It involves a lot of wood accents in the room. There's a bunk bed that matches the rest of the furniture to the T and a striped rug to add an element of color to the otherwise simple room.
The basic idea is to create a distinguishable place without relying on a cheesy theme. The architectural elements have functional value — an ideal choice for your teenagers.
Read more: Beautiful teen room designs by architect
8. Utilize the wall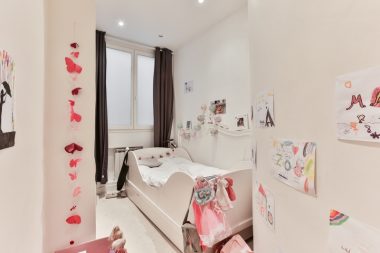 Photo by Pxhere CC0
Just because you have a tiny space doesn't mean you cannot decorate it beautifully. Use the wall to showcase your child's creativity. Beautiful artwork or random musings — you can make each wall talk with their artistic touch.
We like how the room exudes positive vibes and a homey feel. Try this kids' bedroom idea if you have a shy child. Involve them in decorating the room and then see them smile.
9. Use cheerful color schemes
We absolutely love the citrusy yellow and green color scheme running through this room. It envelopes the entire space in a happy, cheerful zone — nicely unifying all the elements. The result is amazing — making it a conducive place to study, play, and rest.
The architectural quirks (even on the ceiling!), along with the punchy colors, and fun fabrics make this room feel like a clubhouse.
Read more: Interesting Kids' Room Colors
10. Bring in the quirky elements
Add a lot of quirky decor elements into your child's room. These will give the room a cool look. Don't bother about matching each piece with the rest of the room. In fact, mixing styles is a great way to give a room pizzazz and personality.
The idea is to mix and match items for a spunky, eclectic look.
Read more: Kids bedroom interior design
11. Consider cupboards that slide open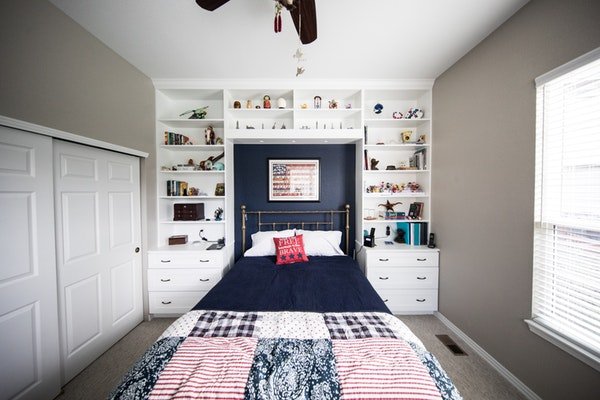 Now here's a design that's perfect for a small room. Instead of the regular cupboards that open outward, choose ones that slide open. It will leave a lot of space to add other elements in the room.
Just see how the bed fits neatly into the floor-to-ceiling storage unit. The result is a neat, well-organized room that looks straight out of a magazine cover.
Read more: How to Set Up the Perfect Homework Station at the Children's Room?
12. Add a lot of colorful accents
Another kid's bedroom idea is to keep the wall in a single tone but add lots of colorful accessories.
This has two benefits. The decor items such as nameplates, artwork, cushions, curtains, and other knick-knacks help your children personalize their room. Plus, as they grow older, they can easily replace these with other things that interest them. Simple!
Read more: Creating Stunning Kids' Bedrooms on a Budget
Last words
Just because you don't have a giant space doesn't mean that you let your children be content with a boring room.
Creating a kid-friendly room is all about using the space strategically, adding your creativity, and sparking their imagination. Trust us, you can transform your child's room into something magical.
Try these bedroom decorating ideas and give them a perfect room to start their day from!
Read more: How To Create A Backyard Playground In Your House
12 Creative, Space-Saving Kids Bedroom Ideas for Small Rooms
was last modified:
May 27th, 2022
by
Recommended