Kitchen renovations are all about making the right choices, whether you're looking at upgrading our appliances, choosing the correct countertop materials, or deciding if you need to resize your kitchen cabinets. That last area is exactly where this size will come in handy.
While you could get your kitchen cabinets custom built to suit your needs, it is more affordable and faster to buy cabinets off the shelf from manufacturers. However, it helps to know what standard sizes are, so you can measure how much space you have to work with based on your kitchen design and decide accordingly.
Why measurements are important
One of the reasons measurements are important is because while size choices in manufactured cabinets may be standardized, you can mix and match to customize cabinets based on your needs and space utilization.
For example, you can make your cabinets work efficiently even in small kitchens by choosing base cabinets and utility cabinets that are pullouts. Lazy susans can be integrated with corner cabinets. Shelves reduce the number of cabinets you need, freeing up floor space, while tall cabinets are best used as broom closets.
If what you're looking at doing is replacing your cabinets because they've lasted as long as they were meant to (10-15 yeast, on average), you will simply need to measure your existing cabinets to know what sizes you need to buy.
However, if you are renovating your entire kitchen, then you will need a more detailed plan, including floor measurements, plumbing, and gas line locations, etc.
Kitchen base cabinet height
Base cabinet measurements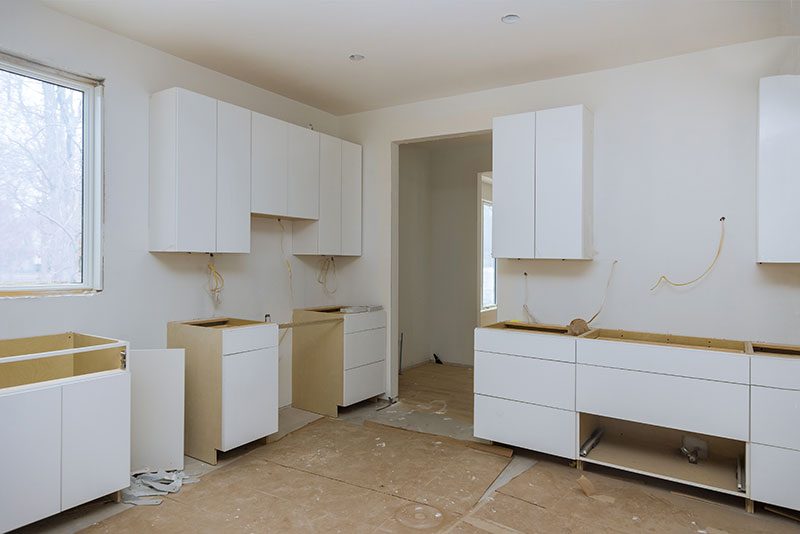 Base cabinets bear the weight of almost the whole kitchen on them, considering they're at ground level. Kitchen sinks, cooking ranges, and kitchen countertops are laid on these cabinets, while dishwashers are fitted into them. They also provide storage for pots and pans. It is no wonder that base cabinets are the most expensive cabinets.
Height
The height of the base cabinet is the least variable, considering they come at a standard height of 34½ inches tall irrespective of which manufacturer you buy them from. This cabinet height is deemed to be the correct height for maximized accessibility according to building codes.
Of course, the final height depends on the kind of countertop you choose to add on top of the base cabinets. In most cases, it increases to between 35 and 36 inches. However, some custom fabricated countertops have been known to increase the height to as much as 38 inches as well.
If you're a tall person and the standard base cabinet height is too short for you, an easy way to increase that height is to use a customized box frame. It can be made to look unobtrusive by covering it up with a toe kick and some decorative molding.
Instantly estimate the cost of your remodel...
...or take your time to personalize dozens of choices to transform your house into your dream home.
Width
There is no standard width to a base cabinet. It can be as narrow as 9 inches or as wide as 48 inches. Sizes usually vary in increments of 3 inches.
Depth
The depth of a cabinet is measured from the outer edge to the wall. Based on the size of standard kitchens, the depth for base cabinets is set at 24 inches deep. This, of course, does not include the countertop overhang.
Countertops tend to overlap the cabinets in the front. The cabinet depth is usually 25 or 26 inches including this overlap. If they were any deeper, it may become difficult to reach the wall at the other end and to do things like plug-in appliances.
Some manufacturers also stock specialized base counters with depths of 12, 15, and 18 inches.
Tall cabinet measurements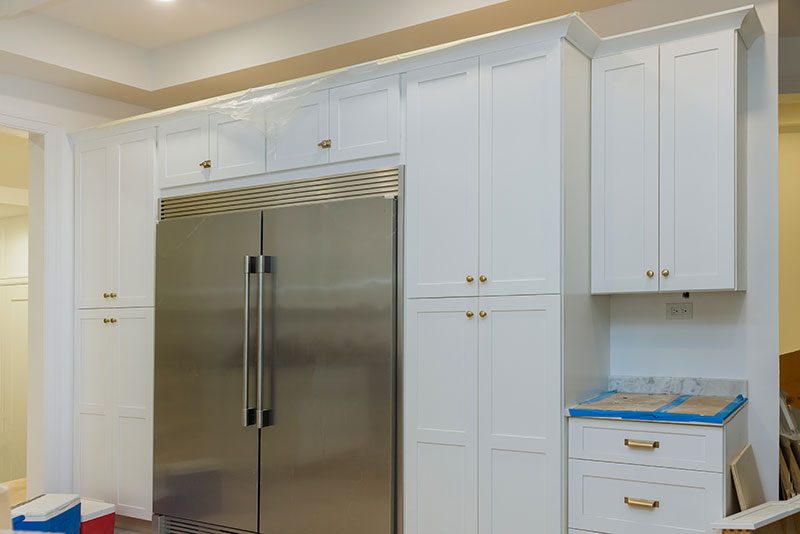 Tall kitchen cabinets, often called pantry cabinets or utility cabinets, tend to be the most spacious cabinets in the kitchen. As the name suggests, these cabinets can extend the full height of the room, from floor to ceiling.
Height
Most tall cabinets are either 84 inches or 96 inches tall. At 96 inches, the cabinet would extend all the way from the floor to the ceiling, assuming a ceiling height of 8 feet. A cabinet that is 84 inches in height would look more uniform with the other cabinets and offer around a foot of space between the top of the cabinet and the ceiling.
Width
There are three widths that tall cabinets come in: 12 inches, 24 inches, and 32 inches.
While 12 inches is normally enough to store a lot of food and for fitting into narrow spaces, 24 inch wide cabinets are a great option for larger families.
With tall cabinets that are 32 inches wide, you get to choose a lot of extra options, such as storage racks inside the cabinet doors.
Depth
Tall cabinets offer two depths as standard: 12 inches and 24 inches. A cabinet with 12 inches depth is sufficient for storing canned foods. A 24-inch deep cabinet can be converted into a broom closet, be used to store appliances, and has enough space for extra features such as pull-outs, increasing the functionality of the cabinet.
Wall cabinets
Wall cabinets are like the showpieces among kitchen cabinets. A lot of homeowners splurge on getting accessories such as glass inserts and in-cabinet lighting. In some kitchens that feature kitchen islands, these cabinets may even be suspended from the ceiling or hung from the soffits.
Normally, though, wall cabinets are screwed onto the wall studs directly.
Height
Wall cabinets are available in the following heights: 12, 15, 18, 24, 30, 36, and 42 inches. Some manufacturers offer cabinets that are 48 inches tall.
Normally, wall cabinets are either 30 or 36 inches tall, allowing space above for soffits. While the 12 inch and 15-inch cabinets are perfect for the space above refrigerators, the 48-inch tall versions extend all the way to the ceiling.
Width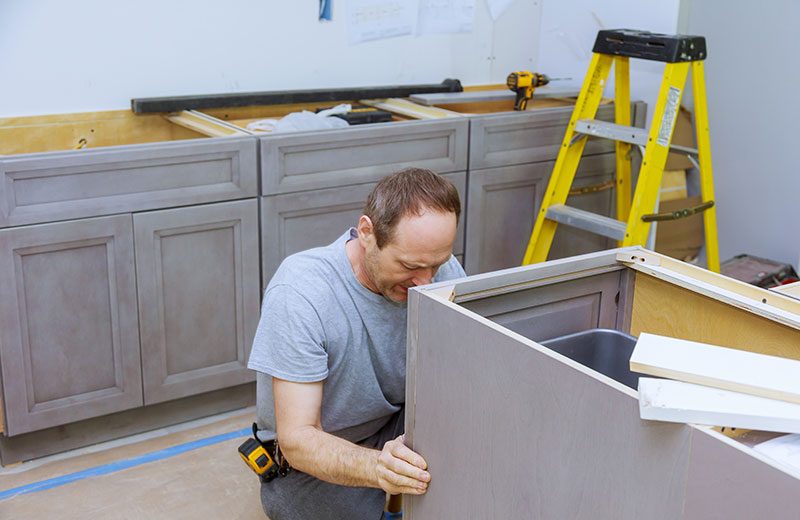 Widths in wall cabinets may vary from 9 inches to 48 inches, increasing in increments of 3 inches. However, 30 inches is the most commonly used width, with sizes going beyond 36 inches very rarely.
Depth
In most cases, wall cabinets are 12 inches deep, since this provides sufficient overhead storage and comfort working on the countertops below. It is common for cabinets placed above microwave ovens to be between 15 and 18 inches deep.
However, the maximum depth for wall cabinets is 24 inches. This is because they cannot surpass the depth of the base cabinets.
Read more: Why wont my cabinet doors stay closed
Kitchen base cabinet height: A cabinet size guide
was last modified:
November 22nd, 2022
by
Recommended