Estimate
Estimate the cost of your kitchen remodel
Estimate
Want to give your kitchen a new look without completely renovating it? Choosing the right color combination for your kitchen cabinets may just do the trick. However, choosing the correct color combination is easier said than done. You may want to keep it trendy, bold or neutral as per your liking. But, every single combination has a story to tell. It is important for you to resonate with the story to make it your choice of colors. 
1. The marble and wood combo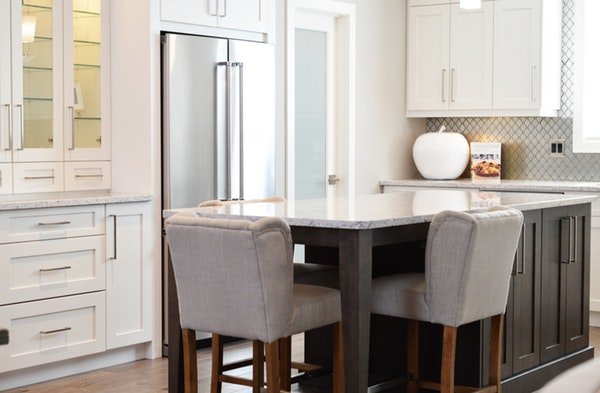 Photo by Pexels CC0
This is a spectacular yet elegant color combo that will make your guests go wow. The marble top on the cabinet is rectangular in shape and is well complemented by the wooden cabinet doors. The white kitchen countertop adds a very attractive feel to the entire kitchen. This color combination goes well with walls that are white-based. Irrespective of the size of your kitchen, you can choose this combination to add that extra look and feel to your kitchen. This cabinet comes with two chairs to make the most of the available space. You can use this set for dining too!
How much does it cost to remodel a kitchen? We can help you, try our free kitchen remodel estimator tool to figure it out!
2. The modern kitchen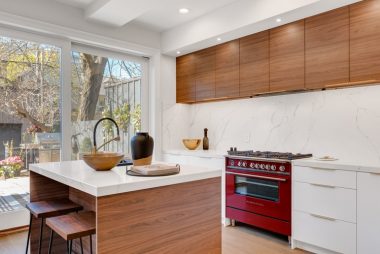 Photo by André François McKenzie on Unsplash CC0
This exquisite color combination is very hard to resist if you are into modern fashion. If the set of brown and white cabinets are not elegant enough, the red oven will take the entire look and feel to a different level. see here how to choose the best kitchen oven for your house if you need a little help. Also, the marble top and the wooden kitchen island come with an added basin, making it a must-have in any modern kitchen. 
What about some darker layouts? Try our guide on creative ways to incorporate black kitchen cabinets
3. The white and blue bonanza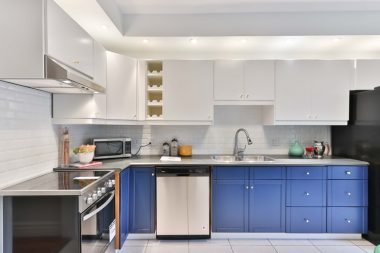 Photo by Sidekix Media on Unsplash CC0
Another elegant option for any modern kitchen, the white and blue color scheme gives a feel of the ocean. This color combination is sure to soothe your heart as the cabinet solves your space problems forever. This combination works best for kitchens that are moderately spacious.
What's The Average Cost To Replace Kitchen Cabinets? Let's find out together!
4. The classic kitchen cabinets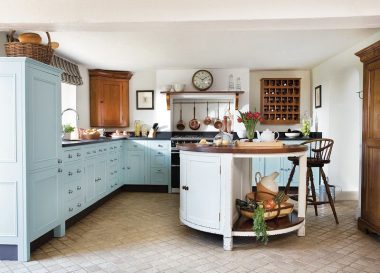 Chalon CDC classic kitchen, by Chalon Handmade on flickr [CC BY 2.0]
The light blue cabinet sets and the white, oval cabinets in the middle of the room are sure to give you a classic feel. This breathtaking color combination is a must-try for houses that have a classic interior decor. The extra woodwork on the walls adds to the overall look and feel of this fantastic color combination. 
Take a look at our guide on Kitchen Cabinets Upgrade, Repair And Reconfiguration.
5. The milky gray style
The dark gray cabinet doors with the milky white tops and navy blue chairs account for a perfect kitchen cabinet color combination. If you are looking for a colorful kitchen, this is a stainless steel color combination that you must try. 
Take a look at these Kitchen Wall Decor Ideas to Give Your Space a Stunning Look
6. The black and white combo
The milky white cabinets paired with the black ones give a very sharp look that is hard to resist. If you want a smart looking kitchen, this is the color combination to go for. This combination will also give a very smart and compact feel to the entire kitchen. 
7. The cream and red combo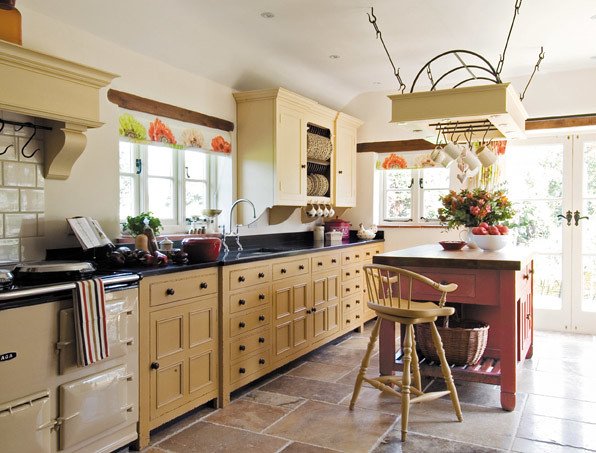 Large Chalon Kitchen, by Chalon Handmade on flickr [CC BY 2.0]
This dark cream cabinet set paired with the reddish cabinet in the middle of the kitchen is a special treat to the eye. If you are looking to add a rare color combination to your kitchen cabinets, this is the one to go for. The cream-colored chair and light add to the final look and feel of the kitchen in a big way.
8. The gray life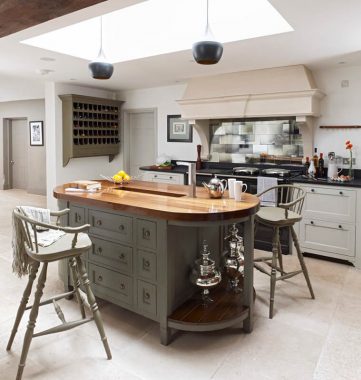 New Chalon Colours, by Chalon Handmade on flickr [CC BY 2.0]
This is another sober color combination for your kitchen cabinets. Try different shades of gray for the cabinet in the middle of the kitchen for the best effect. The other white upper cabinets have a neutral effect on the overall look and feel, helping the centrally placed cabinet in getting the maximum attention. This gray kitchen designed for comfort will not let you down.
Now that you have these top 8 kitchen cabinets color combination, what are you waiting for? Pick the one that you like best and get it done today! Our estimator tool can get you started!
Top 8 Kitchen Cabinet Color Combinations to Choose from
was last modified:
January 3rd, 2021
by
Recommended for you