Do you have a small kitchen without a kitchen island that you are looking to renovate? If you do, then this article is for you. Changing the cabinet colors is one of the easier kitchen remodel ideas. This article will list some of the top kitchen cabinet colors for small kitchens.
The idea is to use colors to make a tiny kitchen feel bigger and fresher. However, while choosing the cabinet colors, consider the final impact and the mood that you are looking to create. If you want to let your kitchen cabinets reflect light and make your kitchen brighter, use soft and light colors. If you want a more flashy output, you may want to go with dark, bright color schemes. But, generally, it's not such a hot idea to use dark cabinets in a small kitchen. The hue will make the already small space look smaller.
Top kitchen cabinet colors for small kitchens
1. The brilliance of white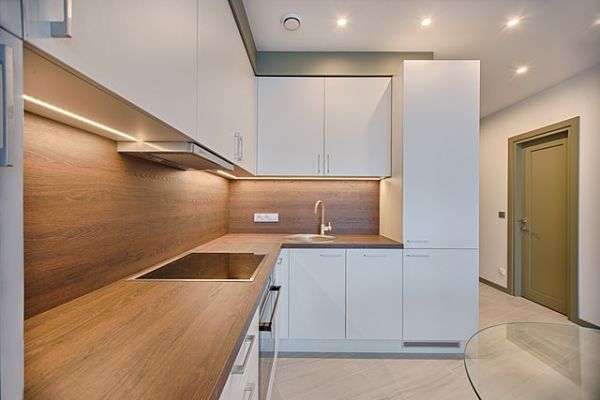 White is a color that goes with any kitchen decor, any colors on the walls, or any accessories with pops of colors. When it comes to small kitchens, white can prove to be the perfect color for cabinets. It will make your otherwise small kitchen look brighter and bigger by allowing natural light to reflect freely.
Choose black or brown drawer pulls and marble countertops to add a contrasting effect. The black and white paint effect will amplify the final look and feel of your white kitchen.
Instantly estimate the cost of your remodel...
...or take your time to personalize dozens of choices to transform your house into your dream home.
2. The natural feel of brown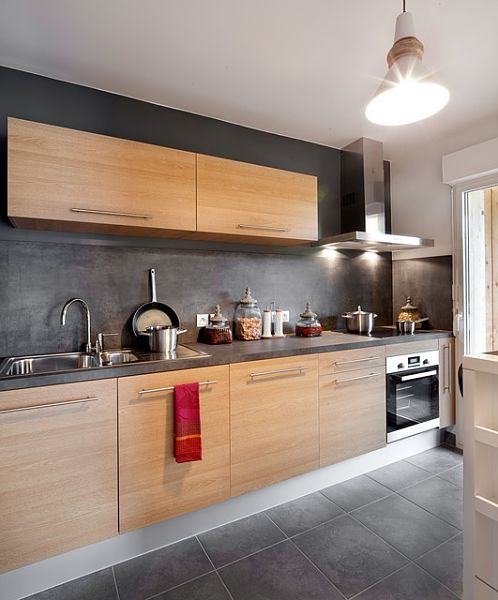 The color of the wood is perhaps the most natural color for kitchen cabinets. Brown will add a very elegant feel to your kitchen without making it look clumsy. Make sure you have sufficient light installed if you are looking to go with this warm color. Having pendant lights and white walls may help in this regard. The wood cabinets will then have enough light and wouldn't make the room feel smaller.
3. The brightness of yellow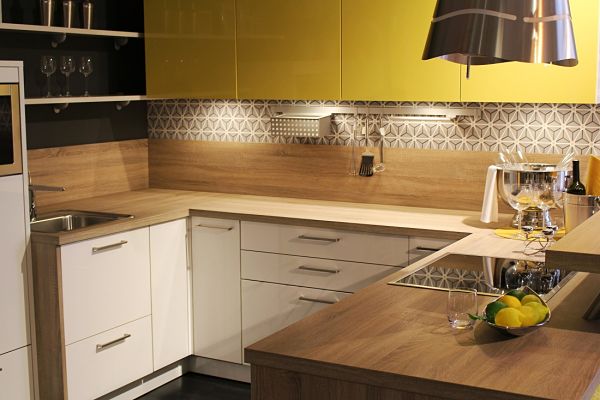 This is a shade that will make your kitchen space feel bright and lively. However, you need to have a proper cleaning mechanism in place if you are going with yellow. Have shades of white and brown in other areas of the kitchen for an enhanced look and feel. You may even opt for an accent wall that complements this interesting color.
Read more: Color should paint kitchen white cabinets 
4. The brilliance of grey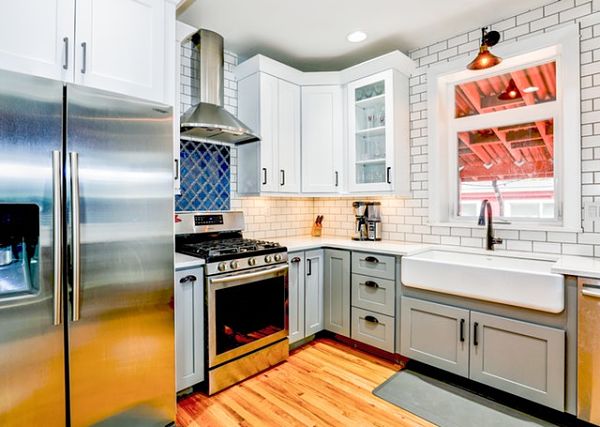 This is a very attractive option for a modern kitchen. Grey cabinets will look just fine in small kitchens. It also doesn't need a lot of maintenance, making it a popular choice among Americans. Have smart kitchen wall tiles to compliment the grey colored cabinets.
Read more: Kitchen base cabinet height
5. The elegance of off white
Off white has a very smooth and soothing feel about itself. Off white-colored kitchen cabinets can bring a rare sense of calmness without damaging the style quotient of your kitchen. Try this exquisite option for your small kitchen cabinets today!
Read more: An expert architect's tips and ideas for an L-shaped kitchen
6. The magical touch of pastels
Pastels are perfect for small kitchens. Pastels will allow your creativity to take a full swing. You can use them as your heart desires without having to worry much about the outcome. You may also want to use different pastel colors for different cabinets for a more customized experience.
Read more: Kitchen Color Ideas
Choosing the right vendor
When it comes to updating kitchen cabinets, changing the colors can be a good starting point. You must have decided the right color for you by now. The next big question is how to find the right interior designer to execute your kitchen idea? If you want to see the proper impact of the chosen color, you will need to pick the best vendor for your kitchen renovation project.
An easy way to do this is to check the ratings and reviews of the popular vendors nearby on a credible home intelligence platform. It is also a good idea to handpick more than one vendor. You can then take cost quotes from the shortlisted ones before choosing the final vendor.
So, what are you waiting for? Pick your favorite kitchen cabinet colors for small kitchens and give your kitchen space a renovated feel today!
Read more: Can house paint be used for painting kitchen cabinets?
Top 6 Kitchen Cabinet Colors for Small Kitchens
was last modified:
November 22nd, 2022
by
Recommended