While almost every homeowner dreams of having a separate kitchen and a lavish dining area, not everyone has this luxury. Smaller homes are generally equipped with a kitchen dining room combo to utilize the space effectively.
But, how to have a kitchen dining room combo without making it look cramped? Well, you can. With the right ideas and design layout, you can make your house's open floor plan look stylish, convenient, and spacious.
The idea is to give the area a cohesive look — while keeping the personality of both your kitchen and dining area intact.
Although an open floor plan that blends together your kitchen and dining area can feel like an interior challenge, it does come with its advantages.
Benefits of a kitchen dining room combo
Since a kitchen dining room combination does not have walls to separate the rooms, the layout visually opens up space. As a result, you get one big multi-functional room rather than a small kitchen or a small dining room.
A very interesting facet of such a design is that it makes entertaining easier and more intimate. A kitchen and dining room combo allows you to interact with your guests even while cooking or preparing the food. It's a great way to connect with your friends and family over a meal.
And, you can design your kitchen dining room combo in several ways as you're not limited by specific room designs. You can either separate the kitchen from the dining room by using a different decor and color scheme or match them to maintain a seamless, continuous flow.
Another important reason to have a kitchen dining room combo is if you have small children, such a space allows you to watch your kids while preparing a meal. Something parents of naughty children will definitely appreciate!
Small kitchen dining room combo ideas
Here are a few useful ideas to combine your small kitchen and dining room in an organic, beautiful way. These ideas will help you create a visual separation through colors, furniture layout, and design — while preserving the open flow of the space. So, let's begin.
1. Use picnic-style benches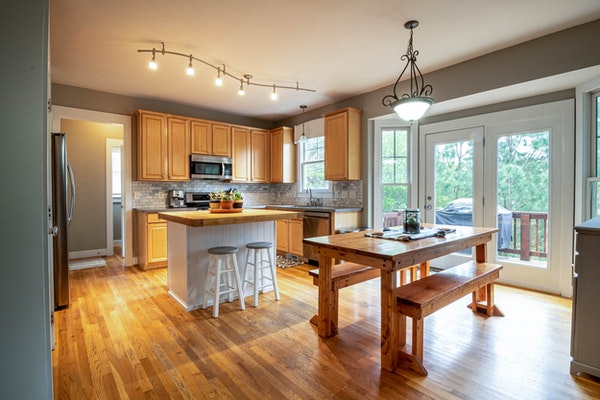 If you want to add a casual and modern vibe in your kitchen and dining area, add picnic-style benches. These benches not only give you more space to move around, but they also create a cool ambiance. Plus, they will pair well with your dark wood floor, if you have it.
Moreover, if you have a tiny kitchen, you can buy foldable benches. So when you don't need a seating area, you can simply tuck them under the table. And, you're set to party!
2. Add the right focus with pendant lights
If you want to demarcate your eating area from the cooking area, you can easily do so by adding focus to your dining table with pendant lights. The suspended lights provide the perfect task lighting and a relaxing vibe to the area. You will love spending time with your family and friends under the glowing coziness of these remarkable light fixtures.
3. Create an accent wall in your dining area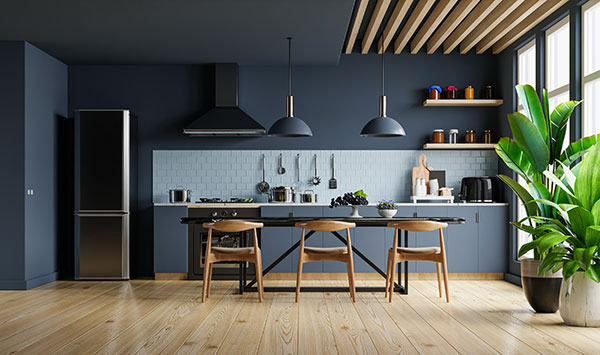 Another great way to visually create a separate dining area is by adding an accent wall in the background. Notice how the well-lit stone wall (thanks to the recessed lighting) adds a lovely warmth to your eating area while giving off an earthy, rustic vibe. Because of the addition, the table looks as if it rightfully belongs there!
4. Add windows to let in natural light
Nothing makes an area more open and welcoming than when it's washed in natural light. If your house floor plan allows it, do add as many windows as you can to your kitchen dining room combo. The fixtures will open up the area and make it look spacious as well as airy. Your small kitchen will no longer look packed, and you'll love your cooking sessions here.
5. Place the dining table strategically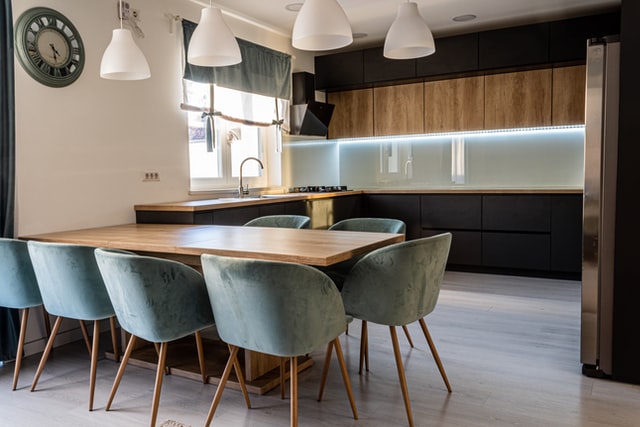 By placing your dining table against your kitchen wall, you can create a clever separation between the kitchen and dining areas — while keeping the kitchen layout open and spacious. And, when you have friends and family over for a get-together, you can move the chairs and use the table as a peninsula bar!
6. Invest in more than adequate kitchen storage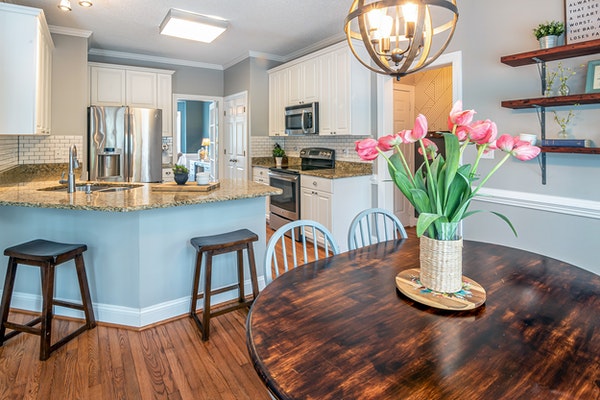 In order to keep your kitchen and dining area looking uncluttered, you should invest in good cabinet storage. From organizing your pots and pans to storing expensive crockery — good kitchen storage can make your small space look bigger and neater.
Apart from that, using bar stools, you could even use your kitchen countertop or kitchen island as an additional table for those informal gatherings. Utilize it as a space for food preparation as well as having meals. And, yes, a place where your children can complete their school work under your supervision.
Read more: Ways of storing accessories in the kitchen
7. Match the decor of your kitchen dining room combo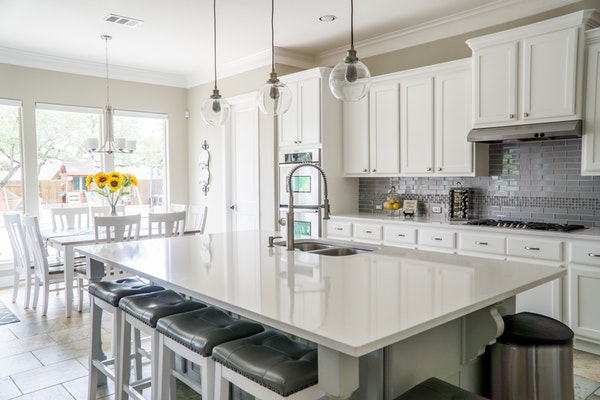 Decorating your dining area as well as kitchen space, in the same way, makes them look as one big space. One way to create a homogenous look is by applying similar colors in both areas. It will make the connection feel more open. However, do keep in mind that putting too much of the same color may make the area look monotone. We love how the gray of the backsplash tile and the dining chair upholstery break the monotony of an all-white kitchen-dining room.
Read more: Great ideas for your transitional dining room
8. Keep the color palette simple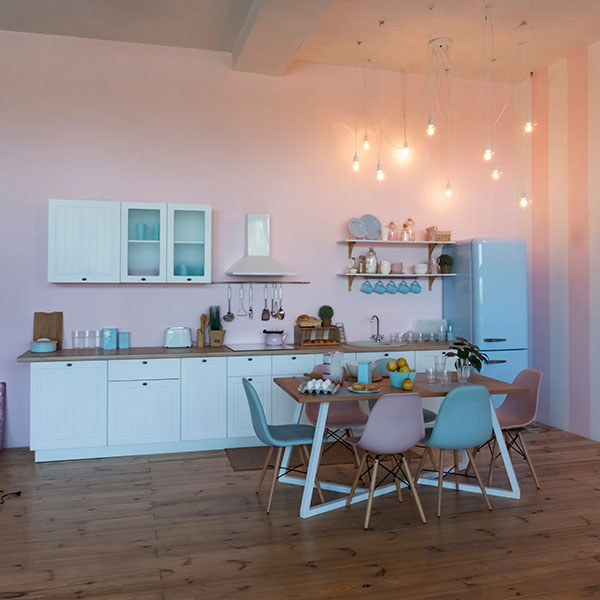 In continuation of the above point, you will also need to keep the color palette of your kitchen dining room combo as simple as possible. This will create an open and neutral space without making it look too cramped because of the closely placed kitchen and dining area.
A good way to do this is by combining white walls, crème, or beige walls with stainless steel countertops and a dark-hued dining table or black kitchen cabinets.
However, if you do want to use dark wall colors, you can add natural wood furniture to soften the look.
Read more: The best time to order a new dining room set
9. When in doubt, use a round table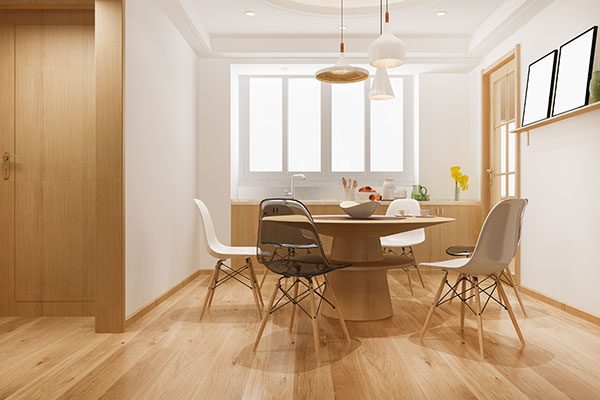 If your eating area is very small, using a round table instead of a square or a rectangular table is a smart move. It can make the space look bigger while making your movement in the kitchen easier. You can choose between a wooden or a glass table depending on the decor and vibe you're aiming for.
10. Add pops of colors to connect the areas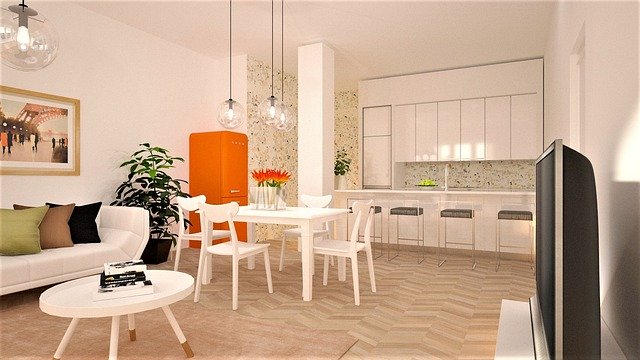 Adding pops of colors throughout the kitchen dining room combo makes the space look connected. For a homogenous look, you can repeat the elements from the kitchen and dining space. For example, we love how the lovely green plants have been added to make both the areas come alive. And, the orange color of the refrigerator looks as spectacular as the bright flowers on the wooden table.
Read more: Decor ideas for dining room by front door
Last thoughts
We hope these design ideas will make decorating your kitchen dining room combo easier and convenient for you. With the right home improvement ideas, you can create a seamless, multi-utilitarian room. It can be the perfect living room, dining area, entertaining hub, and even your family room. An all-purpose area where you'd love to spend most of your time.
Read more: 13 superb alternative uses for a formal dining room
10 Stunning Ideas for Your Kitchen Dining Room Combo
was last modified:
October 11th, 2022
by
Recommended