If you live in an apartment, you probably understand that you don't own the building your home is in. Since you're not responsible for the building, you may think you don't need insurance for your apartment.
You may be surprised to learn how valuable an insurance policy can be for you, even if you're just renting. If you own an apartment, it's even more critical that you have insurance for it.
We'll look at what renters insurance covers and what you need for an apartment or condo. We'll also go over how much it costs. If you're hoping to get the lowest premiums possible (who isn't?), read to the end, where we'll give you some tips on saving money.
Do you need apartment insurance?
If you buy a unit in an apartment complex, your lender may require that you purchase condo insurance, but if you're renting, you may be able to decide for yourself. Whether or not you're required to purchase it, you should buy the appropriate home insurance for your living situation.
Why? Well, there are a couple of reasons. One is that your belongings have value and if something catastrophic happens and you lose everything you own, insurance can help you rebuild your life.
If a fire damages your apartment and you lose your possessions, consider how much it would cost to rebuild your wardrobe, purchase new furniture and dishes, and anything else you need to replace. Likely, when you spell it out, your belongings are worth more than you originally thought.
The other major reason to have insurance is for liability purposes. If your friend trips on your area rug and breaks their ankle, their health insurance may demand that you pay for the injury. If you're left to pay out of pocket, you could lose all your savings and worst-case scenario, have your wages garnished.
Even worse, if someone decides to sue you for an injury that happened in your house, you could be left with liability charges that you may never be able to recover from. Insurance covers not only your belongings but also your liability.
Read more: What replacement cost mean home insurance
How much is apartment insurance?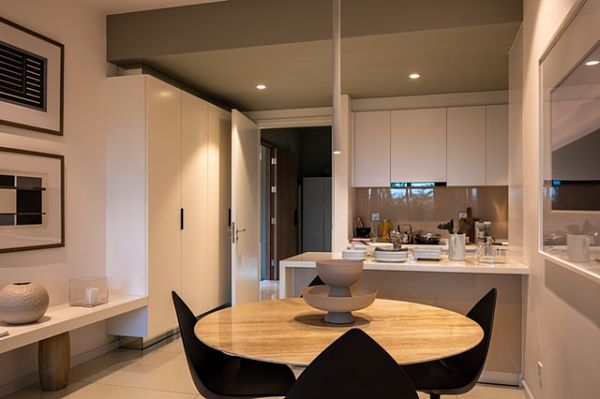 How much your insurance will cost will depend on whether you own or rent your apartment. Typically, if you're renting your apartment, you don't need to insure your appliances because your landlord owns them. Your insurance policy also won't have to cover your carpet and fixtures.
Your policy can be far less comprehensive when you're renting because your landlord bears the greater responsibility. However, if you own your unit, you're responsible for more elements, so your insurance policy will have to take on greater risk.
Typically, a condo policy will cover an owned apartment, and a renters policy protects a rented apartment.
Several other factors will play into your premiums, such as the following:
Value of your belongings
Where you live
Your credit score
Your personal information
Insurance premiums are based on the risk you present to the insurer. The lower your risk, the lower the chance they'll have to pay a claim. Insurance companies want to earn your premiums and avoid paying your claims.
Each of the factors listed above equates to a risk level in your premium formulation. Whether you're on the upper or lower end of the apartment insurance spectrum, your rates will be lower than they would be with a similar stand-alone house.
It's difficult to give an idea of how much apartment insurance costs because of how different it is for each person, but if you're fairly low-risk and you're renting a small apartment, you may be able to find a policy for $30 a month. If you have a posh apartment and a vast art collection, you could pay over $300 a month.
How can I save money on apartment insurance?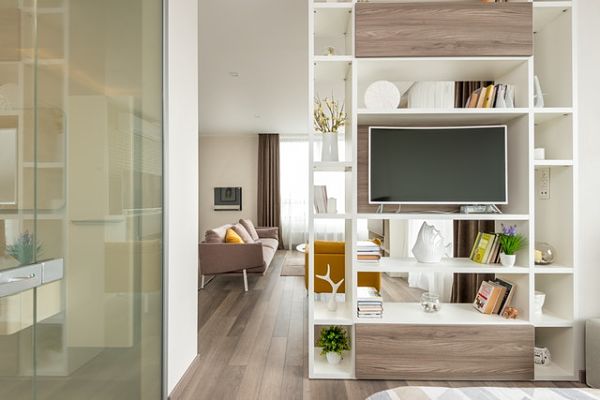 There are several ways that you can cut your apartment insurance bill.
Compare insurance quotes
Shopping around for quotes is the easiest way to find the company that's the best fit for your needs. When you compare rates, keep in mind that while the price is important, it's not the only factor to consider.
You'll also need to look into a company's reputation in finances and customer satisfaction. If the company that offers you the lowest rate checks out as reputable, use them as your insurance provider and start saving money as soon as possible.
Look for discounts on insurance policies
There are several common insurance discounts that could help you save up to 30% on your monthly premiums.
A bundling discount is one of the best discounts because it typically will apply to each line of insurance coverage you have from a particular company. So, not only will you get a discount on your renters' insurance, but you'll also get discounted premiums on your other lines of coverage like a car, boat, or umbrella policies.
When you compare quotes, make sure you consider the company you get your car insurance from because of how much difference bundling can make.
Other common discounts include the following:
Military
Job-related
Paperless billing
Security system
Read more: Tips to lower your home insurance bills
Lower your insurance risk factors
If your credit rating is poor, take steps to improve it. Like it or not, most states allow insurance providers to use your credit report to help them calculate your premiums. When your credit score improves, your premiums should get lower.
Making claims usually leads to higher rates, so avoid making claims if possible. Try to reduce your risk of needing to make a claim.
One way to reduce the risk that you'll have to make a claim that will also usually earn you a discount is by installing a security system. Many insurance companies are partnered with security companies to offer customers reduced setup and monitoring fees. Ask your insurance provider if they have partnerships with security companies.
Read more: Why did my home insurance go up
Insurance is important even for apartments
Because you have belongings and may face situations where you're liable for costly incidents, you need insurance even if you're just renting an apartment. If you own your apartment, there's even more reason you need insurance because you have a greater investment in and responsibility for where you live.
The good news is that insurance for apartments is relatively inexpensive, and you can further reduce your costs by shopping around, looking for discounts, and lowering your risk factors.
What you need to know about insurance and apartments
was last modified:
February 6th, 2023
by
Recommended