Who is not a fan of large living spaces? But then, just like small, teensy rooms, even big rooms come with their own challenges. You need to figure out how to arrange your furniture, strategically place decorative items, and smartly highlight objects of interest. Whatever you do, your space should not look either overstuffed or empty. Moreover, your steps should not add up too much to your living room remodeling cost. Therefore, today, let us try to tackle this problem by introducing you to some of our savviest large living room ideas that are extremely easy to steal. So, here we go!
Neoclassical Minimalism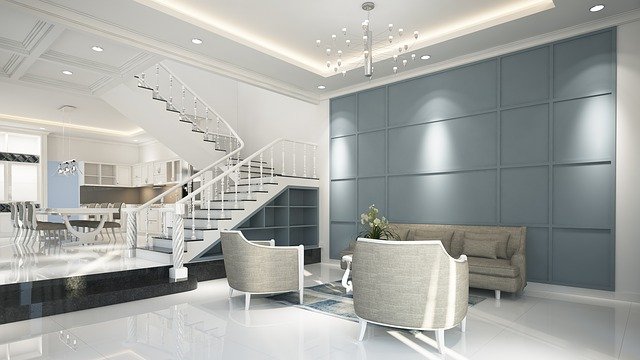 Neoclassical interior design is all about sophistication and style. It does not resort to a conspicuous display of wealth, but instead, adopts a more muted, luxurious approach. And this is a wonderful idea to design larger rooms with high ceilings or huge floor spaces. In the layout above, the architect uses minimum furniture. A grey-shaded 3-seater sofa — set against a sectional wall — in a different color tone than the rest of the room, a center-table, and two large chairs are all that is needed to highlight the airy ambiance of the room. A divider in the form of a winding staircase gives a clear view of the adjacent dining area and kitchen.
Plenty of Natural Light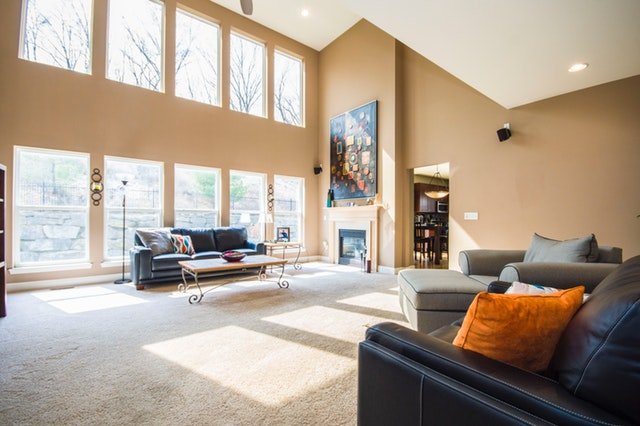 One of the clever large living room ideas is to bathe it in natural light. Moreover, huge wall spaces lend the scope of getting creative with your windows. Check out the above idea. Rows of windows from top to bottom — alongside one wall — allow so much of natural daylight. You can further add to this and install some clerestory windows to give the appearance of a floating ceiling. Additionally, see how the designer has covered the floor with carpet throughout its entire length and width — to enhance its cozy appeal. Sofas — placed at two sides — have divided the room into two sections — one near the lighted area close to a fireplace and the other towards the further end.
Thinking about the great room? Find the best cost for your renovation.
Bringing In the Natural Shade of Wood
When you coat your large spaces in the luxurious shades of natural wood, it immediately adds to its appeal. Check how in the above layout, the colors radiated from the last rays of the setting sun, beautifully resonate with the hues of the living room. The base here is the polished brass hardwood floor with black and brown leather sofas. Wooden dining and center tables further add to this effect. Finally — a stone fireplace — that also acts as the focal point of the living room — takes up the classy, elegant feel a notch up.
How To Estimate The Cost of Your Living Room Remodel? Take a look at our guide on the basics!
Tall Potted Plants
Another of the wonderful large living room ideas is to put tall potted plants in enclosed spaces with high ceilings or empty corners. However, ensure that your houseplants get enough natural light for the right amounts of time every day. Have a look at the layout above. It almost feels as if the outdoors have been brought inside with beautiful greenery. To add to this nature-inspired look, the architect has gone with an oak hardwood floor and tall glass windows — offering a stunning view of the surroundings outside. Similar woody furniture and plain black couches add the final finishing touch.
Bringing in an L-shaped Sectional Sofa
Large, modern spaces are perfect to accommodate a big, L-shaped sofa. Check out the color combination of the living room above. A bright red sectional sofa ideally complements the green backdrop behind. A green area rug and a wood fireplace complete the arrangement. Overall, this entire set-up screams comfort!
Living Room with a View
The outside view takes the center stage in this roomy living room. Moreover, the interior set-up — including the wooden domed ceiling and wooden, paneled doors — perfectly complement the greenery outside. Again, a sofa and ottoman — in woody shades — along with green throw pillows and decor items — lend a cohesive feel to this layout.
Get the best estimate for your great room with our estimator tool.
Some Additional Tips
Whenever you scour for large living room ideas, consider two important aspects — the furniture and decor items
Designer tips for furniture arrangement
Any huge space — as opposed to small rooms — offers you the option to zone it out into sections. And you can easily achieve this with the help of proper furniture coordination. For instance, with ample square feet at your disposal, you can have separate areas for conversation, watching television, reading, or gaming. Therefore arrange your furniture accordingly.
When you have a large room, but a low ceiling, go for low-height sofa or chairs — to create the illusion of more height. The opposite is true for high ceilings. Place your furniture closer to each other (at least 3 feet apart) and opt for cushions and rugs — to generate a cozy, inviting look. You may also consider adding a few architectural elements — like columns or moldings — to lend more beauty to your living room.
Read more: How to choose the right furniture for your home
Designer tips for decor items
NEVER clutter your room just because you have more space, but, maybe, invest in larger decor elements. Bring in bigger pieces of artwork, tall vases, and potted plants. If you have a lot of small items, arrange them in groups. Also, don't use too many colors. You may go for neutral and accent shades, dark and muted hues, or bold and bright colors blended with warm, neutral shades.
Get some ideas on how to arrive at the right combination of colors in a living room.
Whatever large living room ideas you implement, remember that larger rooms place challenges just like smaller rooms. Your main aim should be to make your room feel stylish, comfortable, and cozy at the same time. It should not overwhelm you and should not look too bare or too crowded. Just follow the tips above and we are sure, you will be good to go!
Read more: 20 Living Room Lighting Ideas That Are Stylish And Beautiful
Large Living Room Ideas That Are So Easy To Replicate
was last modified:
August 29th, 2022
by
Recommended