9 Living Room Wall Decor Ideas to Inspire You
The best part about adding living room wall decor is that you can let your creative juices flow and turn your plain living room wall into a beautiful piece of art.
Moreover, when it comes to choosing your options, you can select just about any color, accessories, or designs and still make your home look its best — and that too without increasing your home renovation cost too much.
To help you in this endeavor, we have 9 great living room wall decor ideas that you will simply love. From stunning canvas art to mesmerizing framed art and ledges — you can choose the best one that aligns with your personality and design aesthetic.
So, let's begin with the stylish options to personalize your space. We hope these will help you put the finishing touches on your living room.
Read more: Living room colors
1. Create memorabilia with family photographs
Personalize your wall with intriguing black-and-white pictures of your family from olden days or freeze moments of your recent favorite outings. Frame and showcase them in a sprawling gallery wall. There's nothing like a beautiful pictured wall to make you nostalgic. Needless to say, you will also turn a set of photos into a stunning living room wall decor.
2. Bring the outdoors inside with a vertical garden
We simply love this idea. Creating a large wall terrarium draws attention to the back of this amazing living room. If such an extravagant project is not in your budget, a large nature painting or an indoor vertical garden would have a similar effect. It will not just bring life to the area, but also make it very inviting. This eco-friendly way to decorate your walls is easy as well as beautiful. We think plants in your living room, or any room for that matter, are a great way to embrace nature and bring a part of it into our lives.
Want to explore some living room decor options on a budget? Take a look at our guide on living room decor ideas on a student budget to see that with little you can do much!
3. Make a striking statement with a large-scale painting
If you own a large, beautiful piece of canvas art in your inventory, you don't require much else. A signature painting will effortlessly draw everyone's attention towards it and bring an elegant touch to the living room. Just remember to keep the rest of the decor simple and aligned with the artwork.
Read more: Best And Easiest Living Room Storage Ideas For Your Home
4. Let your wall do the talking with beautiful trims
Want your living room to be simple yet elegant? Opt for walls trims. Whether crown molding or wainscoting, wall trims are a fine mix of functionality and style. What's more, they make a surface beautiful while making a bold design statement. Wall trims are an inexpensive way to transform the look of a space. We love the simple decor of the living room that seems to complement the decorative wall. A painting and some light curtains are all it takes to make the room look dreamy.
5. Enhance your living room wall decor with a showcase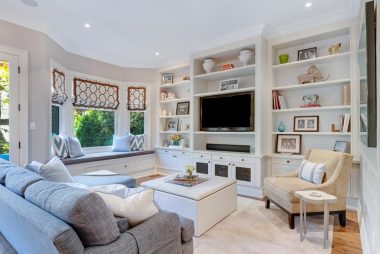 Photo by André François McKenzie on Unsplash CC0
A showcase or shelves built into the wall doesn't just give you extra storage on the wall but is also aesthetically pleasing. It's the perfect way to display your prized collection of small objects and knick-knacks.
You can even organize your jeweled boxes, decorative items, colorful books, and sculptures on the ledges to enhance the décor of your living room. This also works well if you already have art and additional décor on the walls.
6. Strategically place decorative mirrors
Hang or keep a decorative mirror (or maybe two) and ensure it complements the other decor items in your living room. Place it strategically to invite extra light into the room and make your space appear larger than it is. Think wall-mounted ones above a cabinet or under a light fixture. You can even place it on the floor. Make sure there is enough light in the room and that it reflects off the mirror. We like how the two ornate mirrors have been placed on the floor to add depth to the living room.
Read more: Accent Wall Colors to Make You Go Wow
7. Create a stunning wall art panel
Have related paintings, picture frames, or any other artwork? You can create the most beautiful collage on the wall through these art panels. Make sure that you place the assortment of your small, medium, or large art pieces at equal distances from each other for uniform flow. Such a display will instantly liven up your wall.
Read more: Bathroom Wall Decor Ideas
8. Enliven the space with bright wall decals
This is again an economical way to bring bursts of colors into your space. Wall decals or wall stickers are increasingly becoming popular these days and for good reason. They are available in a variety of designs and colors and are easy to use. From eye-catching floral shapes to motivational aphorism — you can choose your own theme.
9. Bring together an eclectic mix on the wall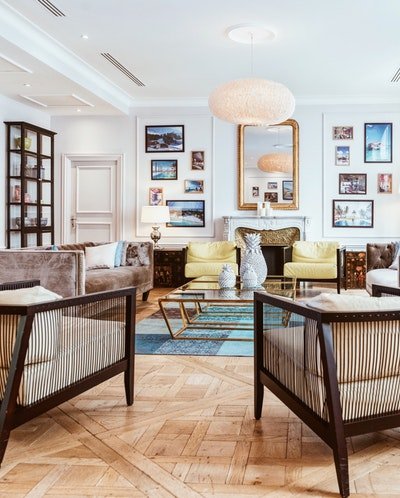 Showcase your paintings, prints, photographs, a unique wall clock, or floating shelves on your living room walls. You can go bold with two completely different works of art or create a cohesive look by choosing the same artist, medium, or color scheme. Like we mentioned before, when it comes to living room wall decor, you can't go wrong with your choices. If it's appealing to your aesthetic senses, it's the right style for you.
Read more: Pastel color combinations
Last words
More often than not, a living room is the most special place in your house. It's where you entertain your friends and family –sharing quality time together. It's also where you unwind at the end of a long day.
Therefore, it's important that you infuse your living room with the right kind of energy. After all, your living room wall decor reflects your personality and style. We hope our 9 decor ideas will inspire you to decorate your living room in the way that you've always dreamed of.
Read more: Your Checklist For An Eco-Friendly Bathroom Remodel
9 Living Room Wall Decor Ideas to Inspire You
was last modified:
May 26th, 2022
by
Recommended