A master bathroom is like an extension of your master bedroom. You can have a luxury master bathroom or a small, utilitarian space — your choice.
Typically, a master bathroom is the largest bathroom in your home. It's average size is about 160 square feet. It can range from 115 square feet to 210 square feet. Of course, the exact bathroom size depends on how much space you have in your floor plan or real estate for a master bathroom.
And, its decor depends on your taste and budget!
Planning a renovation for your master bathroom? Try our free remodel cost estimator; it's easy and convenient to use!
So, what do you put in a master bathroom? A master bathroom generally has a vanity (either single or double vanity), an integrated or freestanding tub and/or a walk-in shower, and a toilet. Apart from this, it would have ample storage space, good bathroom lighting, and convenient bathroom furniture.
The more luxurious master bathrooms will have expensive bathroom features, an all-glass shower door, fancy bathroom light fixtures, top-of-the-line floor tiles, and magazine-worthy bathroom design with contemporary touches.
If you have a bit more to spend, here are a few luxury master bathroom ideas that'll make your living experience more comfortable and spectacular.
1. Design a black and white luxury master bath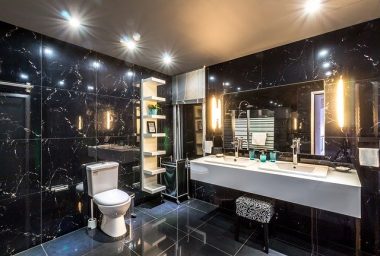 We love how the black and white color scheme adds a touch of drama and intrigue to this bathroom design. The quartz walls seem to reflect the bathroom lighting in such a way that the whole space looks straight out of an interior design magazine.
Thinking about a master bathroom remodel? Find the best cost for your renovation.
2. Create a palatial luxury bathroom
Want to create the master bathroom of your dreams? Look at this visual delight. Right from the ornate chandelier to the gold-trimmed bathroom mirror and the exquisite stone floor — this master bathroom design is every homeowner's dream!
3. Feel together with a double sink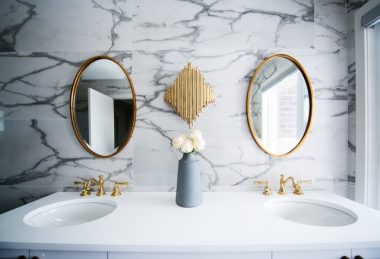 Use the master bathroom to celebrate the power of love. When it comes to couples, a double bathroom sink can do wonders to boost the love in your relationship. If you choose to wake up together, why not start your day by brushing together? If your bathroom is sufficiently big, try fitting in a double sink.
Instantly estimate the cost of your remodel...
...or take your time to personalize dozens of choices to transform your house into your dream home.
4. Go touchless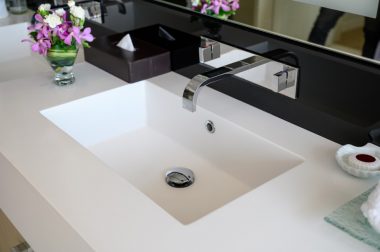 Get touch-less faucets to make washing your hands and face easier and smoother. This will also help to boost the overall hygiene of your house.
5. Let a large countertop do the talking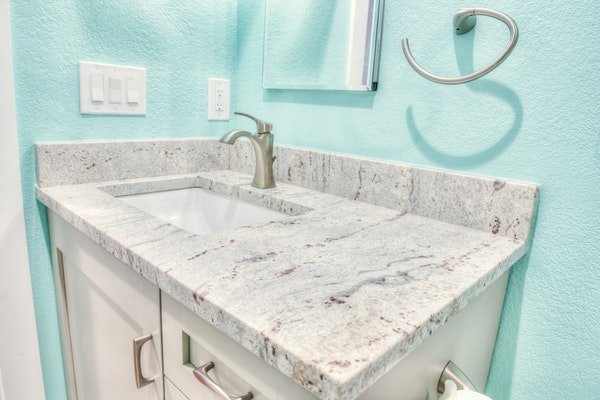 A long granite countertop can amplify the look and feel of any bathroom by manifolds. If you don't have it already, try installing it today!
6. Get a shower enclosure for two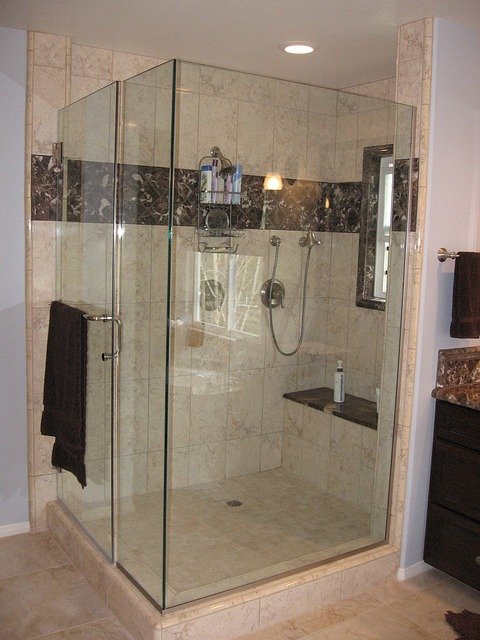 Is your shower enclosure big enough for two? If not, it is time for you to think about a complete bathroom renovation. Make bathing a romantic and enjoyable experience by getting a big shower enclosure.
Read more: Cost to install bathroom vanity
7. Don't forget to ventilate well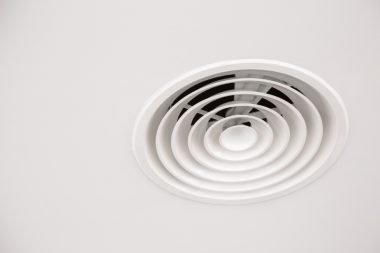 This is an extremely important point. You will need to get a proper ventilation system in place that offers sufficient fresh air supply.
8. Add a luxury bathtub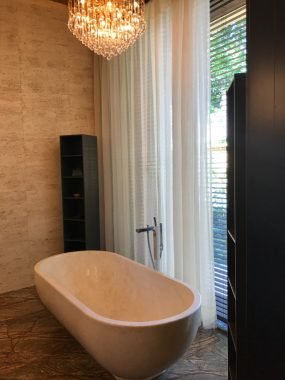 What is a master bathroom without a proper bathtub for you and your partner to soak in. Spend those Sunday afternoons inside a luxury bathtub together to spice up your relationship. 
Read more: Master shower dimensions
9. Connect a walk-in closet
Have a walk-in closet that connects directly to the master bathroom. This will not only make things more comfortable for you but will also boost the overall price of your property.
Your master bathroom remodel cost is important. Get the best estimate with us.
10. Install a floor heating system
If you live in a cold region, a floor heating system is a must-have. This will make your bathroom experience more refreshing and enjoyable.
So, what are you waiting for? It's time to get inspired by these design ideas for a luxury master bathroom and create a space that looks and feels grand. Give your modern master bathroom a touch of freshness and renovation today! Also, check out our blog on style ideas for spa bathrooms.
Read more: Must-Haves of Modern Luxury Homes
10 Design Ideas for a Luxury Master Bathroom
was last modified:
May 29th, 2023
by
Recommended