How to Make Your Long Distance Move Easy
Among the numerous ways, we voluntarily stress ourselves out, moving long distances has to rank up there with the best of them. Whether you're moving with your family or just on your lonesome, getting everything arranged for a big move is a daunting prospect at the best of times.
That's why we're going to go over a few of the biggest hurdles you're likely to encounter and break them down so that those massive, fanged, behemoth-like concerns can be shrunk down and put into perspective.
In this article, we are going to discuss things like:
Everything you need to know when it comes to estimating your budget (distance estimates, paying for additional services, choosing your moving date, paperwork, and more).
The overall process of moving long distances, including the different options available to you.
The importance of considering completing renovations before you move into your house.
Estimating Your Budget
While there's bound to be unforeseen expenses which crop up throughout the moving process, it's still a good idea to know how much you can afford to spend moving forward. Being able to spend more means that you'll be able to outsource more of the moving headaches and manual labor to someone else. Depending on your circumstances, though, you might just need to work within whatever you can afford.
From A to Z
Your budget is going to depend on a variety of factors; among them, where your stuff is actually going. If it's destined for somewhere else in the States, things shouldn't get too extortionate. On the other hand, if you're looking at a cross-continental shift, the costs are going to pile up fairly quickly, especially if you have a lot of stuff.
Likewise, if the destination entails a more complex route, then that means more hassle for the people traveling with your belongings. More hassle, almost invariably, leads to a higher charge.
Paying for More
Another deciding factor in calculating your budget is going to be extra services you opt for in moving. Perhaps you'd rather have a moving company carry out the entire process; they'll package all of your belongings, transport them, and deliver them to your new home. Alternatively, you might want to just box it all up yourself and then have the movers carefully take it away.
What if you're not going to be able to receive your transported goods right away though? Well, then you might choose to pay for temporary storage, which removal services often offer. That might be handy, especially if you're not going to be at your new address for a few days, but it's likely to present another fairly hefty charge.
Setting the Dates
Try to remember that removal companies tend to be booked flat during certain periods, especially over the summer and throughout the second half of the year. A good way to get around paying premiums is to arrange your move during one of their quieter periods – a booking in January, February, or March is going to get you a much more favorable deal.
If you're moving on a holiday though, you should expect to pay more. Businesses have to comply with state and federal regulations to offer holiday pay, and – you guessed it – are going to pass any charges they incur for this privilege onto you.
It's also a good idea to book ahead of time as much as possible. The farther in advance that you book the services of a moving company, the better off you're going to be. If the big day is closing in and you only manage to arrange assistance with a few weeks to go, it's going to cost you big time.
Paperwork Blues
One thing that we need to stress to you is the importance of correctly completing all of your paperwork requirements ahead of time.
If you're moving across state boundaries, then obviously you need to fill out any of the documents required by the local government or council offices. This shouldn't be a colossal hassle; in fact, you're far more likely to have more paperwork relating to the purchase or rental of your new property than your residence in a new state.
On the other hand, moving to another country is going to require a decent amount of diligence on your part. For one, ensuring that you've taken care of all of the requisite visa paperwork is going to save you a massive headache in the near future. You can find this information on the U.S. Department of State's website.
As far as your property goes, you should also ensure that you've filled out any necessary paperwork for U.S. customs. Incorrect or incomplete documents can mean that your property is, at best, delayed or, at worst, seized! In this regard, the U.S. Customs and Border Protection site is most definitely your friend.
Now that we've got that out of the way, let's talk about a few of the more immediate concerns you might have with regard to moving long distances.
Transporting Your Life
Now comes the question of moving all of your worldly belongings. First up: moving your car. Obviously, if the journey is manageable, common sense would dictate that you'd just drive your vehicle to your new destination. Likewise, if it's not an easy trip, it makes more sense to arrange for a third party to take care of this.
There's no shortage of car shipping companies out there. In fact, if you're lucky, the company will also be able to provide some kind of household goods transportation. While that's going to be convenient for you, it's probably worth knowing that car shipping companies themselves – for the most part at least – don't actually transport household goods themselves.
Instead, they tend to partner up with other companies who deal with moving the rest of your possessions. While it might seem odd that "all-in-one" moving companies are something of a rarity, there's actually good reason for it: car shipping companies own and utilize expensive and specialized equipment for shifting cars across large distances.
On the other hand, your typical home removal service has staff trained to carefully organize and package your items to ensure that your beloved, sentimental, and often valuable belongings aren't reduced to shards by the time they get to your new home.
As moving all of your worldly possessions goes, being able to outsource the process to one or two companies is your best bet. However, things might not be that simple for you.
DIY Moving
If you're struggling to find a removal company that fits into your budget – or if you just can't find one that suits you – it might come down to moving everything yourself. This can be even more daunting than the idea of moving to a new city or country itself, but it's really not such a big deal provided you know roughly what you're going to need.
Using a Cargo Truck
The idea of renting a cargo truck and throwing everything you own into it is somewhat romanticized at times, but it's really only worth pursuing if you're sure it works for you. While you can rent and drive the truck without any special provisions (a regular driving license with the adequate insurance plan will suffice), you will need to bear a few things in mind:
You'll probably pay mileage to the rental company for any distance you drive.
Cargo trucks can be deceptively small. What might at first look like a generous amount of room will quickly vanish when you actually put all your stuff inside. When it comes to moving, you don't want to make too many round trips as this will add to your total costs.
They're generally more expensive to rent on Fridays and Saturdays, so a weekend move could hurt your wallet more than you were expecting.
If a cargo truck isn't suitable for your move, there is the "last resort".
Renting a Shipping Container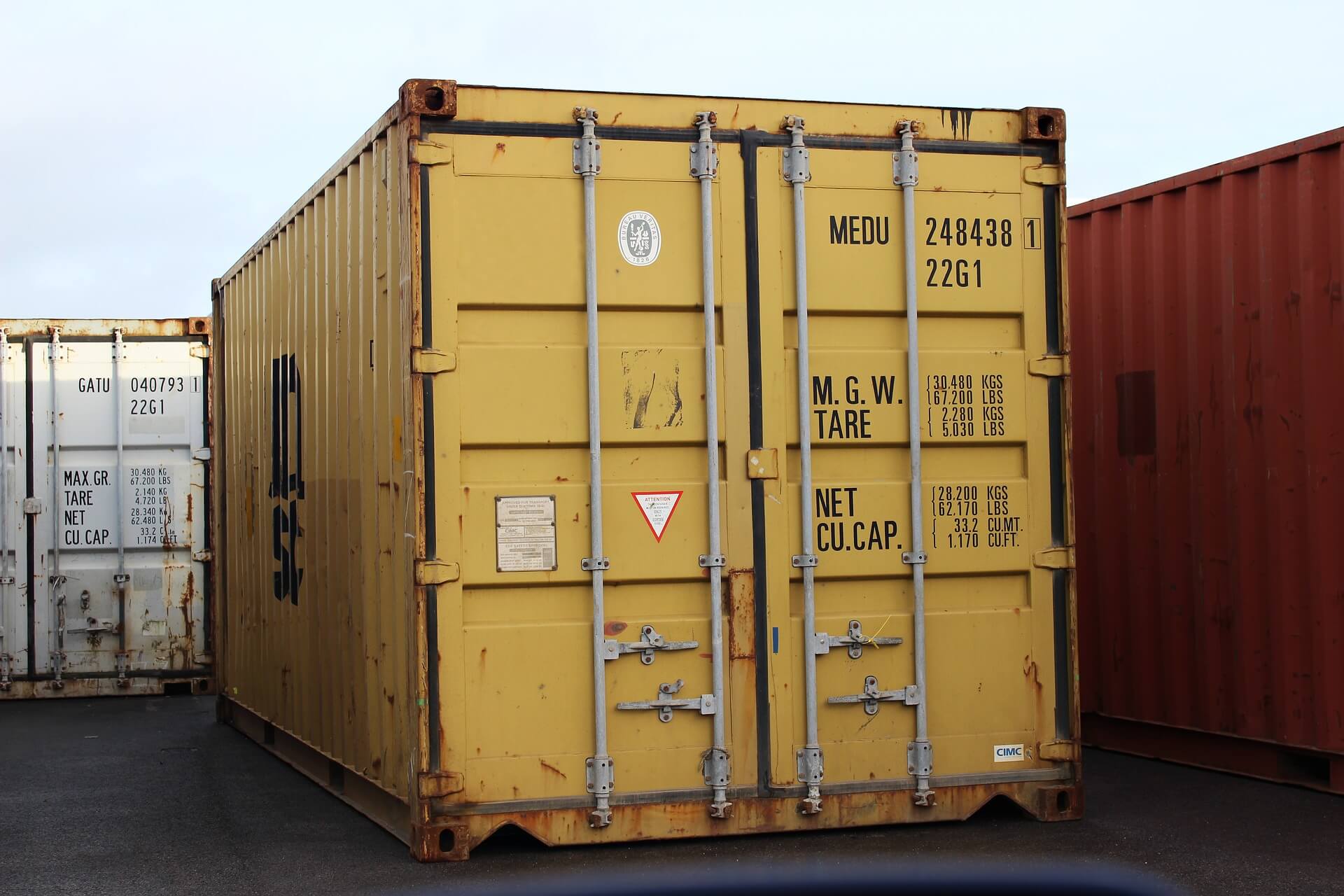 If you've just got too much stuff, don't want to go to the hassle of hiring a cargo truck, or are moving a particularly long distance, a shipping container is probably the way to go.
The process of using a shipping container is actually pretty straightforward: first, you arrange for a time and location for the container to be dropped off near your house (also, it might be wise to remember how large these things are), then you fill it up with your stuff, and – lastly – you arrange for the container to be picked up and transported to your new home.
Convenient? Of course! However, renting a shipping container can be costly, and moving one across the globe is only going to make its financial impact greater. Make sure you ask the right questions to any cargo container shipping companies you are looking to hire. A few questions early on will save you a lot of headaches later on.
Renovating Before Moving
Another thing many homeowners overlook when moving long distances are the renovations they may need to make. Simple things like painting your home, refinishing your floors, and remodeling a bathroom take time and effort that you may not have.
If you are planning to renovate a new home, we recommend that you calculate your total costs using our renovation price estimator. Not only will it provide you with a reliable estimate, but it'll help you connect with reputable contractors in the city that you are moving to.
This means you can make your home move-in ready before you ever complete your move. And if you've ever moved before, you know how important that is.
To Your New Life
Moving a long distance can be challenging. That's why it's good to have services whose entire purpose is to make things a little more straightforward during a time when just about every aspect of your (and your family's) life is likely in a state of massive flux.
It goes without saying, but the more money you have to invest in this process, the better. However, if you take some time to plan ahead and brace yourself and everything you own, it can really be much more straightforward than you once feared.
Read more: 3 biggest moving mistakes avoid
How to Make Your Long Distance Move Easy
was last modified:
November 2nd, 2022
by
Recommended