Maple flooring is a popular flooring choice for many homeowners — both for traditional as well as contemporary style homes. And, there are some good reasons for its popularity. People love the hard-flowing grain, the strength, the neutral colors, and the remarkable density. Moreover, this type of durable, neutral floor helps to enhance their interior design and another home décor quite well.
This guide will help you understand everything you need to know about maple flooring, including answers to frequently asked questions
What is maple flooring?
Maple hardwood flooring is a type of flooring that's milled from the maple trees that mostly come from the forests of the northern United States and Canada. This quick-growing domestic wood is considered sustainable and eco-friendly. In the construction industry, maple flooring refers to both solid hardwood floors as well as engineered wood floors.
This flooring has a distinctive look — its tones ranging from creamy white to a light brown. Here, the wood grain is very subtle, almost unnoticeable, unlike the sharp contrasts found in other wood species, such as oak.
Pros and cons of maple flooring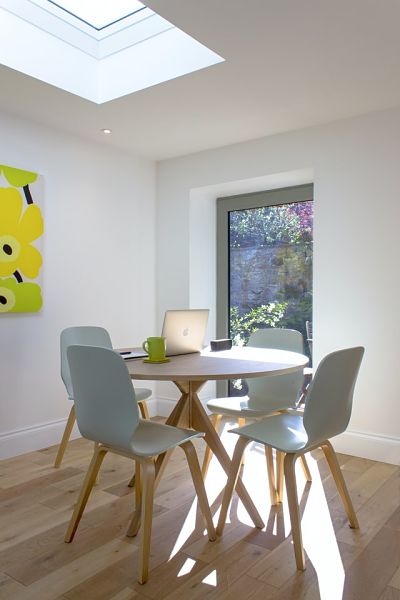 Whether hardwood or engineered, this type of flooring is dense, hard, long-lasting, and durable — making it an ideal choice for most homeowners. However, like every construction material, this too comes with its challenges. Here's a look at the advantages and disadvantages of maple flooring.
Pros
Beautiful look with subtle grains
Dent resistant and hard
Good for high-traffic areas
Long-lasting and durable
Moderately priced
Sustainable, eco-friendly wood flooring
Cons
Does not stain well
May get conspicuous scratches
Fewer color choices
May get affected by fluctuations in humidity levels
How is maple floor different from other wooden floors?
Maple flooring has a lighter hue as compared to other wood species such as white oak which is golden brown and ash wood which is light tan to dark brown. Since the grains are dense and the surface hard, a maple floor is more difficult to stain than other types of wooden floorings. And, unfortunately, any scratches on the surface of a maple floor are more visible.
In terms of the average flooring cost per square foot, maple flooring is mid-range at $5 to $8 as compared to white oak costing $4 to $8 and ash wood costing $6 to $8. In general, maple flooring prices range from $5 to $11 per square foot.
When shopping for hardwood flooring, you must compare the different options available and how they affect your total home improvement cost. It will help keep your home renovation budget on track.
Maple flooring installation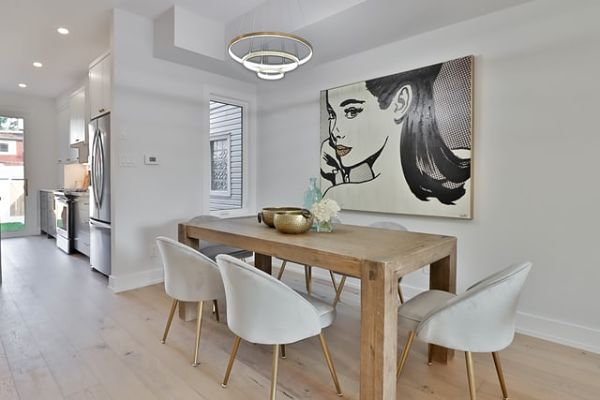 Hardwood floors are beautiful and easy to install. However, you need to keep in mind that maple floors (solid as well as engineered wood) need to be acclimated in the installation area for 48 to 72 hours. That's because maple floors are affected by humidity — much more than any other species of wood. A thorough acclimation before installation, with the wood stacked to allow for airflow, is important for the health of the flooring.
While underlayment may not be necessary for your hardwood floor installation, it's always a good idea as it provides support for your floor and helps smooth out any subfloor imperfections.
You're able to lay your flooring over the subfloor correctly — preventing any tripping hazards, smoothing an uneven surface, or minimizing squeaking. Paper and felt can be installed between the hardwood flooring and the subfloor.
Also remember that because a maple floor is extremely hard, sanding it is generally difficult — and best left to flooring professionals.
Staining a maple floor on-site may not give a uniform color. So, it's best if maple is left natural and unstained.
Maple flooring maintenance
Since scratches show prominently on maple flooring, it's best to use runners, carpets, and area rugs in the house. Another issue is that dirt and debris are more conspicuous as maple floors are light-colored. When cleaning such a floor, remember to avoid using a wet mop. Instead, clean the flooring with a soft broom and a dustpan, or a soft, dry mop.
When it comes to a maple floor, it's a good idea to keep your home's humidity levels in check with a humidifier or a dehumidifier. If you live in an extremely dry region, you may want to incorporate humidification into your home's HVAC system. Keep in mind that sharp temperature fluctuations may cause your otherwise durable maple floor to shrink, warp, or even split over time.
Read more: Handy tips for hardwood floor repair
Last thoughts
Maple flooring is known for its strength and durability. No wonder it's one of the most popular flooring options. The light color, the hardness, and the fine grain pattern add a certain charm to any interior design. So, if you're looking for a clean, consistent surface that brings the natural look of wood indoors, you know which flooring to opt for.
Maple flooring: Cost, installation, and benefits
was last modified:
October 15th, 2021
by
Recommended