Simple and Effective Maintenance Tips for Marble Countertops
Installing beautiful marble countertops for your home is the easiest part. After all, there's something really luxurious about a marble surface. It's the perfect countertop material with its classic good looks and suits any bathroom or kitchen design. However, keeping it in pristine condition is difficult.
According to the National Association of Home Builders, a marble countertop, if properly cared for, can last for over 100 years. But in spite of this amazing longevity, the durable natural material requires extra care for its cleaning and maintenance.
Unfortunately, since marble is composed of calcium carbonate, it's more susceptible to etching by acids. Moreover, this porous surface is prone to scratches, pitting, cracks, stains, and even dulling of the shine.
There are always ways around it, for instance, honed marble hides these imperfections better than polished marble. That's why these types of matte marbles are better as kitchen countertops.
Planning a renovation for your kitchen? Try our free remodel cost estimator; it's easy and convenient to use!
The fact of the matter is marble is an expensive material and deserves to be kept in tip-top shape.
On average, the cost for a marble slab countertop runs about $60 per square foot. The installation cost can range from $40 to $100 per square foot. The total material cost, as well as installation costs, depend on the type of marble, its grade, size, transportation fees, and other parameters.
Caring for your marble countertops should be a priority. Let's take a look at some maintenance tips and tricks that are easily doable at home.
Outdoor kitchen? Let's take a look at how to use marble worktops for outdoor garden kitchens.
Marble care and maintenance
Protecting your marble countertops against etching, cracking, and staining takes effort, but not that much. You must know how to treat them right to ensure that they look their best for many years.
Seal your marble countertops
You may ask, when is the right time to seal your marble countertop. Well, when you notice that water no longer beads, that's the time to reseal.
Sealing a marble surface properly will help it resist staining to an extent. It will not make it totally stain-proof though. You can hire a professional contractor to determine which sealant will be right for your marble counter.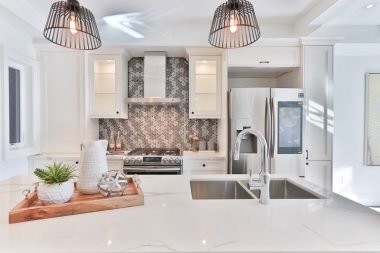 Photo by Sidekix Media on Unsplash CC0
According to experts, a marble surface is as delicate as a fine wood finish and requires special care. Acids such as vinegar, citrus, and tomato can easily etch it. The trick is to not let them sit on the natural stone countertop for long. Clean up any surface spills immediately. It's best to use cutting boards for any chopping. Or, have a separate butcher's block.
Also, although marble is heat-resistant and stands up well to hot pans and pots, it's best to use coasters to keep staining or etching in check. It's an especially good idea for white marble kitchen countertops.
Clean your stone counter only with marble cleaners
Never ever use acidic or abrasive cleaners for your marble surface. Common household cleaners may have harsh acids or alkalis that could dull your marble surface or worse, etch them permanently. Use only pH-neutral cleaners specifically designed for marble. To sweep up regular loose dirt, you must use a damp mop or sponge.
Quartz vs Marble Countertops: Pros and Cons
Treat your stubborn stains
A poultice paste is an ideal solution for removing stubborn stains off your marble counter. Spread the paste onto the stain, cover the area with plastic wrap (sealing it with painters' tape). Give it 12 to 24 hours to dry completely and then scrape off the paste. In the end, wipe the surface with a damp cloth. You may have to repeat the process again for deep-set stains.
Take a look at our guide on further info about Marble Benchtops
Maintain your counter regularly
Your marble countertop needs TLC regularly. The good thing about it is that you can always sand it down or polish it again. Something that you cannot expect from other countertop materials. Although part of a marble's charm lies in the patina it takes on over years of use, keeping it looking as beautiful as the day you installed it will make you one happy homeowner.
We hope these steps will help you keep your marble countertops spotless and dreamy for years to come!
Read more: Add More Elegance to Your Kitchen with Marble Benchtops
Simple and Effective Maintenance Tips for Marble Countertops
was last modified:
May 30th, 2022
by
Recommended