It's only natural that when we plan our home renovations, we put in extra attention and effort to make our master bedrooms as tasteful, comfortable, and functional as possible. Lighting, however, often takes a back seat until it's too late. We need to keep in mind that while natural light may be enough for your bedroom during the day, your evenings will need multiple light sources to enable you to dress, read, set the mood and relax. This easy guide to master bedroom lighting will help you light up your private haven in a way that is functional, elegant, and romantic.
Task Lights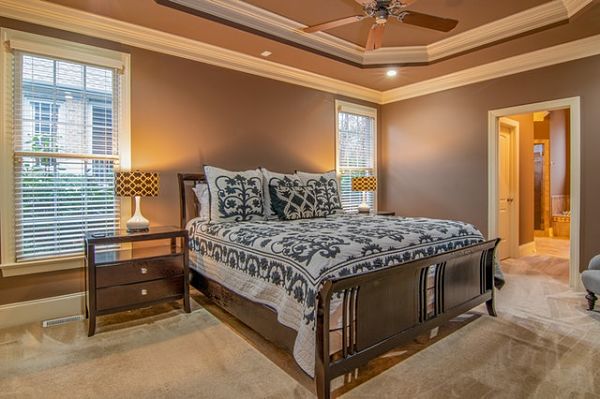 Sure, we all use Kindle nowadays, but falling asleep reading a book is one of the nicest ways to start dreaming. What you went when you read in bed is just enough lighting to allow you to read without really lighting up your entire room.
Traditional bedside table lamps are an old school favorite that do the job of both task and accent lighting. Place them on a dresser and they'll help you find your things, and on a bedside table, they're perfect reading lights.
Another take on the bedside lamp is to have wall sconces on either side of the bed. Make sure your upward facing scones are above eye level, preferably at a height of around 6 feet to hide the bulbs. For example, black and white sconces look stunning against lacquered walls.
Instantly estimate the cost of your remodel...
...or take your time to personalize dozens of choices to transform your house into your dream home.
A lot of modern bedrooms use hanging pendant lights on either side of the bed instead of bedside lamps. Pendant lights are visually stunning while serving the purpose of reading lights as well. It's no surprise that they're fast becoming favorites with interior designers specializing in contemporary bedroom design.
If you have a favorite reading chair you'd rather sit on to read instead of on the bed, consider floor lamps so you can read without disturbing your partner.
For even more flexibility, choose portable gooseneck reading lamps that can be plugged in anywhere you want, and that come with easily adaptable necks so your books become the focal point without having to glare into your eyes.
Use spotlights if you'd like to highlight any work of art or architectural nuances in your bedroom.
General Lighting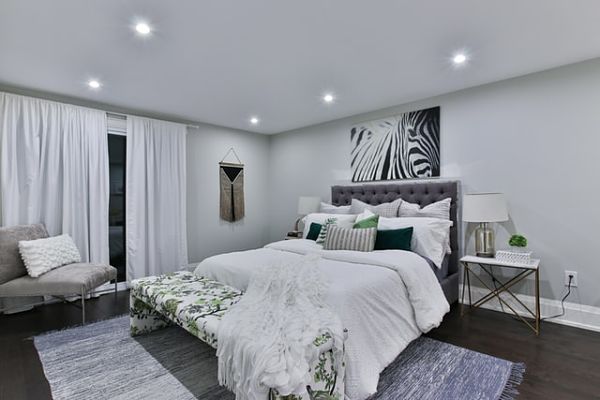 Your master bedroom needs general functional and ambient lighting as well.
Recessed lighting installed in your bedroom ceiling controlled by dimmers will let you control the brightness of your room. Turn these overhead lights up when you need to dress and turn them down when you want to relax.
The traditional ceiling fan now plays two roles. Along with cooling down your bedroom, you can also have lighting fixtures built into your ceiling fans. You have an array of design kits to choose from. Choose on where the bulbs face the ceiling or one that has a shade for a softer effect. You even get remote controlled kits, so you don't need to move to turn off the lights when it's bedtime.
If your master bedroom has a tray ceiling, pendant lights, chandeliers, spotlights, and even rope lights are great ways to draw attention to the shape and design of the ceiling. Chandeliers come in a variety of lighting designs and sizes as well. Floral chandeliers go well with wooden ceilings, while large beaded chandeliers will make your bedroom larger than it actually is.
If you'd like your room to have a more vintage look, choose a candelabra style chandelier to adorn your master bedroom ceiling.
Choosing the Right Kind of Bulbs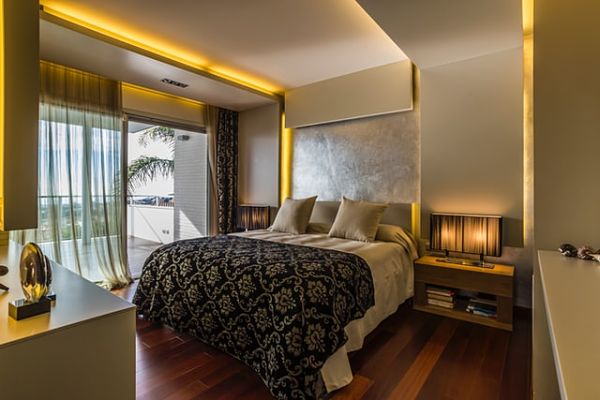 It's not enough to just know what types of lighting fixtures you have available at your disposal. It's equally important to choose the right kind of bulbs when you are buying lights for your bedroom. What are the things you have to look for? Here's the answer.
Pick the Correct Color
While choosing bulbs, remember that different types of bulbs emit different colors, and different colors promote different brain activities.
For example, incandescent or halogen bulbs emit a soft white light, while traditional CFL bulbs diffuse blue light. Both of these colors are particularly good for promoting alertness and activity. So while this makes them ideal task lights, they're not particularly great as bedroom reading or relaxing lights.
Yellow lights, on the other hand, help to relax the mind and encourage the production of melatonin in the brain, making them the ideal shade for bedrooms.
For the adventurous, however, LED bulbs come in every imaginable color.
Keep Brightness in Mind
What a lot of people don't know is that the brightness of a bulb can affect the way your brain functions as much as the color of the light. The advisable brightness for bedrooms is between 2,000 to 4,000 lumens. This rule of thumb, however, does not always please everyone.
It is, therefore, advisable to employ the use of a dimmer and to use lighting in layers for different purposes.
Bedroom Lighting Automation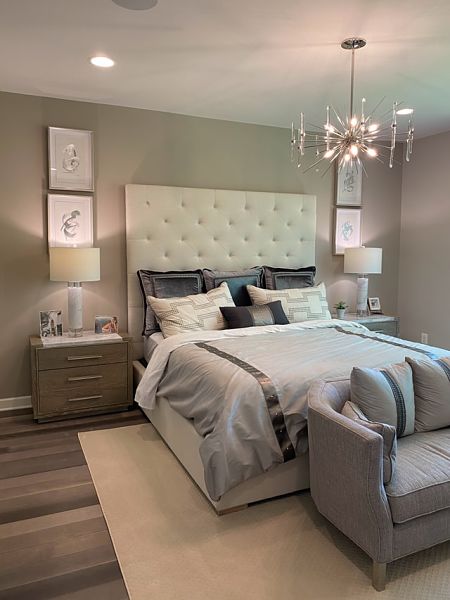 Home automation is now the in-thing amongst homeowners looking at improving the luxury quotient and market value of their homes. Here are some of the awesome features you can look forward to if you automate your master bedroom lighting.
Turn on your bedroom lights before you enter your house.
Adjust the color and brightness of your bedroom to suit your mood even before you enter.
Control your bedroom lights using your voice and by gestures.
Have automatic sensors turn on your night lights when you visit the bathroom in the middle of the night.
Have the lights turn off automatically when you leave your room.
Have the brightness of your bedroom lights adjust automatically based on the amount of natural light in the room.
Install a smart wake up light that brightens your room gradually before your alarm goes off, so your sleep quality improves.
Automatically dim lights in sync with your regular bedtime.
Read more: Install ceiling light without existing wiring
Let There Be Light
Gone are the days when lights were needed just to see in the dark. We have so many hues and palettes at our disposal that tasteful lighting is a skill a lot of homeowners seek when they renovate their homes. We hope the master bedroom lighting ideas we've discussed here help you transform your master bedroom from mundane to spectacular. Because like filmmaker Aaron Rose said, "In the right light, at the right time, everything is extraordinary."
More great tips? Check these wonderful master bedroom ideas for that luxurious feel!
An Easy Guide to Master Bedroom Lighting
was last modified:
June 6th, 2022
by
Recommended