Master the Cool and Edgy Spirit of Industrial Interior Design
The industrial interior design is cooler than the Beckham family. It's laid-back, yet edgy spirit has seduced an ever-increasing number of fans and advocates throughout the world. Every decorating style has a story to tell, and industrial home interior design bares it all to reveal function, structure, and aesthetics in a cohesive whole. So today, let's guide you through some tips for this type of layout which you can try during your next bedroom, living room, or kitchen makeover.
1. Embrace Structure & Function
If you're ready to take your decorative style for a ride on the cool side, you're going to want to start by exposing it all. Exposed architecture and fixtures are one of the most emblematic traits of industrial interior design. Where other styles seek to hide it all behind walls and moldings, industrial interior design embraces the structure and elevates it in such a way that function becomes a true element of beauty. You don't have to renovate your home to make this style your own.
Not all of us are lucky enough to score an old chocolate factory to call home and have weathered bricks to decorate our walls. Happily, with today's modern technology, a simple faux brick wallpaper will do the trick to bring the old factory charm home.
Bringing the structure and engineering magic front and center is a signature feature of the interior industrial design. Highlighting the beauty of simple everyday items, like lightbulbs, and reinventing this product to showcase its simple magic.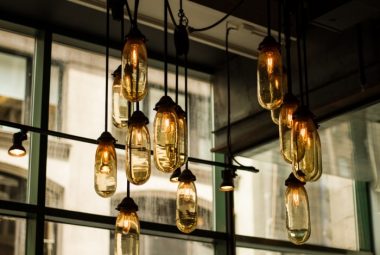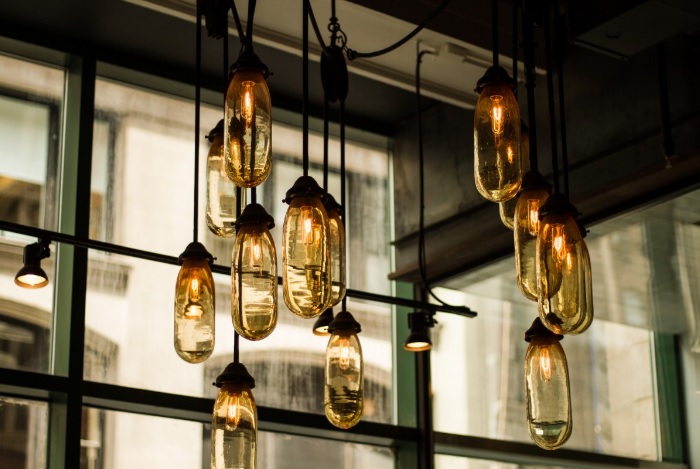 Not only does simplicity in decor pay off, but in these industrial light pendants, flexibility is key. You can arrange them as you wish, making your personal statement by reinterpreting the position of the light bulbs.
2. Gray Is Best
It doesn't have to be gray, but it is definitely a favorite when it comes to urban interiors. The quiet cool it reflects sits well amid the weathered wood, stainless steel and vintage accents that are common in industrial interior design. Usually, open spaces are the norm for interior industrial design, and thus, you would do best picking a large gray modular sofa that isn't lost in the vast space.
You can combine it with large neutral area rugs that encompass the space but doesn't compete with other decorative pieces.
3. Weathered Wood, Stainless Steel And Vintage Pieces
When you successfully combine these three elements, the inevitable result is raw beauty. The mixture of materials and objects that embrace function, as well as aesthetics, is perhaps what has seduced millions into this decorative style. Objects that hold stories and whose unfinished touches are unpretentiously captivating.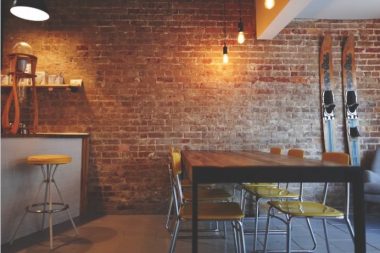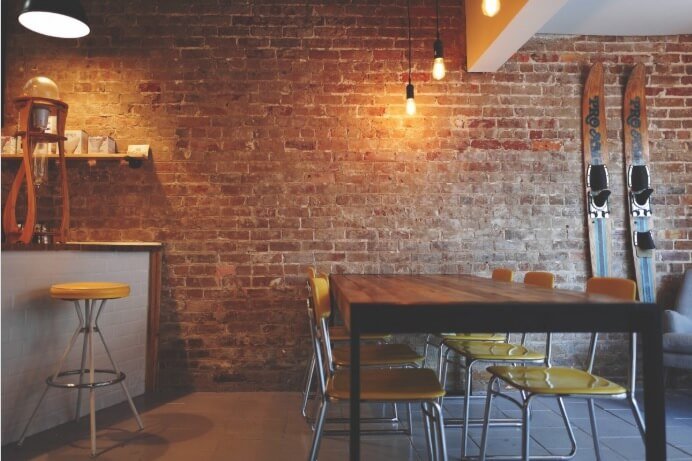 Weathered wood libraries with wheels and iron touches are an industrial classic.
4. Final Touches
Finally, you can finish with blown up wall art and photos or with a few touches of the color of cool accent pieces with a vintage feel.
Share with us your industrial style favorites so we can add more to the tips!
Master the Cool and Edgy Spirit of Industrial Interior Design
was last modified:
April 20th, 2022
by
Recommended