There are so many worktop materials in various colors and textures for installing into any style of B&Q or Homebase kitchen. All you require is a proper interior decoration plan and budget consideration to choose the best worktop material.
Installing a new worktop in a kitchen can make a significant difference – not just in terms of aesthetics but performance as well. However, you must choose the right worktop material to smarten up your B&Q or Homebase kitchen. But deciding which worktop material is the best for you is tricky, as there are many options available in the market.
How Do You Use Your Kitchen?
One way to think about finding the right B&Q or Homebase worktops is by asking yourself – how do you use your kitchen? Different people use their kitchens for different purposes and for a distinct amount of time. Some people like their kitchen to appear beautiful, whereas others want to use it just for cooking and thus, want to focus more on practicality. Depending on your purpose and the time you spend in your kitchen, you can figure out which material would suit your lifestyle, as well as the budget.
Read more: Kitchen island size guidelines
Best Materials for B&Q & Homebase Kitchen Surfaces
Take a look at some of the common materials for your B&Q & Homebase kitchen worktops:
1. Granite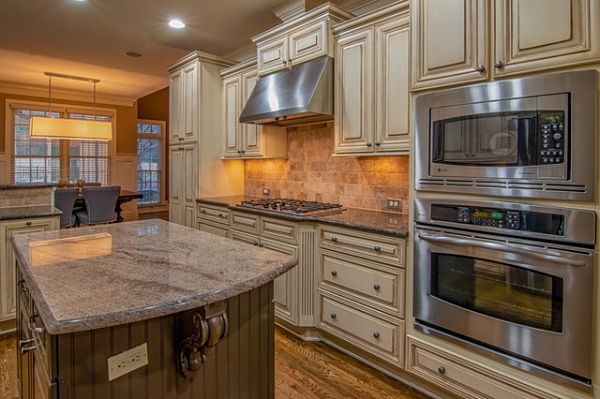 Granite worktops are beautiful and formed by the cooling of natural magma. It is quarried from the earth's crust from different geographical locations. The result is a gorgeous looking worktop material that adds a luxurious touch to homes. There are various natural colors to choose from, and every color is likely to add value to the given space.
Pros
These are scratch-resistant
They dissipate heat efficiently
Easy to clean
Water-resistant and also bears antibacterial properties
Cons
They are heavy and quite cumbersome and hence, need considerable support to handle their weight.
Home Renovation Cost Estimator
Sorry, we currently don't have that project at our disposal.
---
You can take a look at our most popular ones:
Water Heater Installation
Exterior Door Replacement
Install Recessed Lighting
Exterior Door Installation
Interior Door Installation
Interior Door Replacement
2. Quartz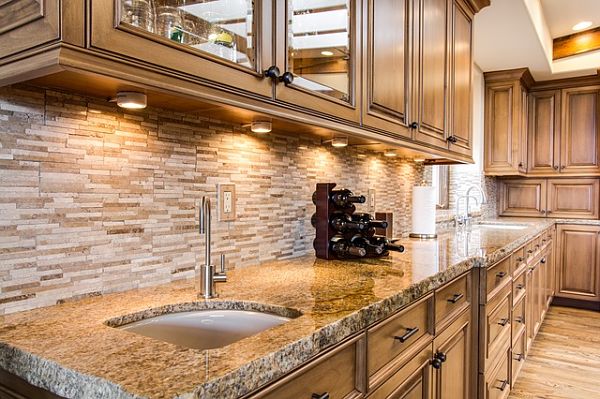 Quartz worktops are a human-made alternative to conventional natural stone worktops. These are mixed with resin and pigments to create various colors and patterns, including marble and granite-like effects.
Pros
Since they don't wear off comfortably, quartz are great B&Q worktops
They are available in a wide range of colors
Highly durable and strong
Resist scratches, etching, cracking and staining
Requires minimal maintenance and upkeep
Antibacterial
Cons
Heavy to transport
May crack under thermal shocks or high pressure
Check these 11 Quartz Countertop Colors That Will Be Huge in 2020!
3. Hardwood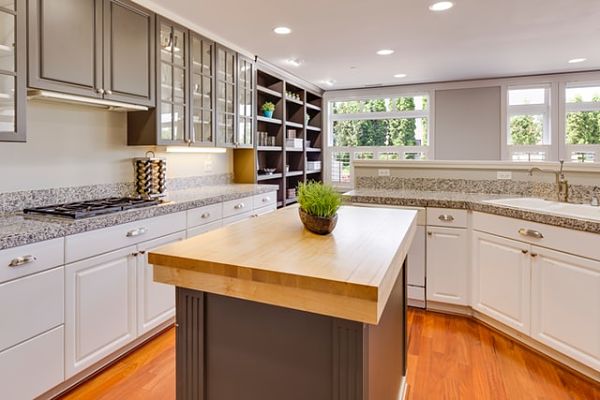 Hardwood also makes an excellent Homebase kitchen worktop, as it adds a charming and warm touch to a kitchen. The lineups of oak, walnut, etc, ensure that you invest in certified and sustainable wood. However, always use teak wood around the kitchen sink, as these are water-resistant due to the presence of high oil content.
Pros
You can find a variety of wood options for B&Q kitchen worktops
Antibacterial in nature
Can be sanded in a variety of finishes
Ages beautifully
Cons
Sealing is needed to maintain its natural properties
Requires high maintenance and upkeep
Can scratch easily
Are Wood Countertops a Good Idea? Let's take a look at this guide.
Laminate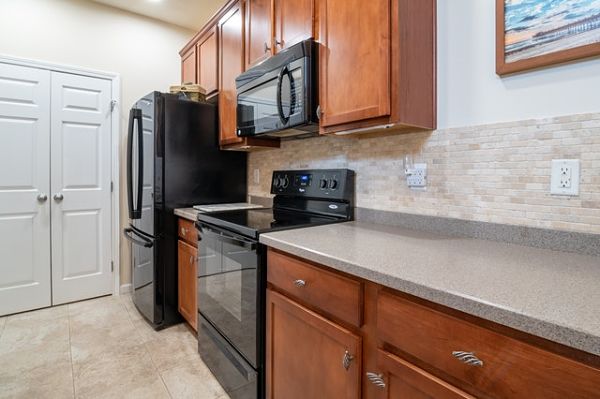 Another fantastic material to add versatility to B&Q kitchens is laminate. This worktop material offers various options to choose from, as it differs in finish and colors. It is also available in different designs and patterns, including marble or granite-effect surfaces.
Pros
Antibacterial
Less expensive
Easy to install, clean and maintain
Scratch-resistant
Cons
It can peel off if not fixed properly
It can burn or melt in contact with hot utensils
Can turn unhygienic
Are Laminate Countertops a Good Idea?
Marble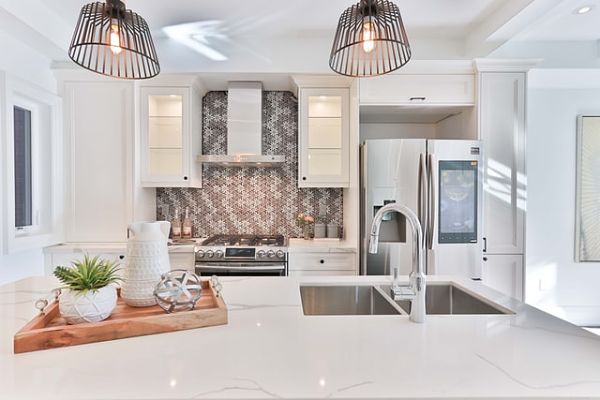 Marble worktops are expensive compared to the other materials mentioned above. But no other material can match the aesthetics and elegance of marble worktops. It can instantly give a luxury makeover to your worktop or kitchen interior.
Many Italian marble brands offer marble in various textures, designs, and patterns for converting any interior into a stunning, stately style. Besides classic black and white marble worktops, today homeowners also prefer grey marble Homebase kitchen worktops for imparting a more vibrant appearance to the cooking space.
Pros
It is heat resistant and UV resistant. It can easily withstand a lot of heat without showing any signs of wearing.
Its natural beauty is its most significant advantage
Cons
It is an expensive worktop material
The surface is porous. So, it would help if you spent a lot of time to maintain and clean it regularly.
It needs professional sealing to avoid any stains or signs of dirt.
This worktop surface is prone to scratching due to sharp tools like knives. So, periodic sealing is needed to maintain the marble worktop for a longer duration.
Read more: Simple and Effective Maintenance Tips for Marble Countertops
Different Materials for Your B&Q or Homebase Kitchen
was last modified:
December 19th, 2021
by
Recommended