Maximalist Decor Trends to Lift up Your Interior Style
Colorful and vibrant – this decor trend is all about abundance. A complete opposite of minimalism, maximalist decor trends relies on the use of bold prints. Other factors are loud patterns, as well as saturated color palettes. Eclectic and wild, maximalist interiors usually encompass a wide range of courageously clashing colors and wallpapers. Often accompanied by objects and furnishings with an unusual design. Untamed, peculiar, and sometimes even leaning towards bizarre, this decor trend is certainly not for the faint of heart.
If you're feeling brave enough to give this major design trend a try, you must first know that there's a fine line between maximalism and kitsch. There generally are no rules on how to rock the style. But basic guidelines are necessary in order to achieve the look. Here's our take on the five maximalist decor trends you can use to spruce up your home and turn it into a maximalist haven.
Start small
As with every trend, maximalism isn't for everyone, but that should not stop you from giving it a try. If you're curious about this design style, but don't want to go over the top, consider trying the trend in small doses. Baby steps – sometimes, it's all it takes to get used to some idea you'd otherwise completely disregard. Start small – a couple of cushions in clashing colors are more than enough for you to add a bit of drama to your living space so you can get used to the presence of bold colors in your living space. If you're feeling a bit more courageous about implementing maximalism into your home, go with a statement wallpaper. Be sure to get a repositionable one, so that you can easily swap things up and freshen up your living space.
Balance it out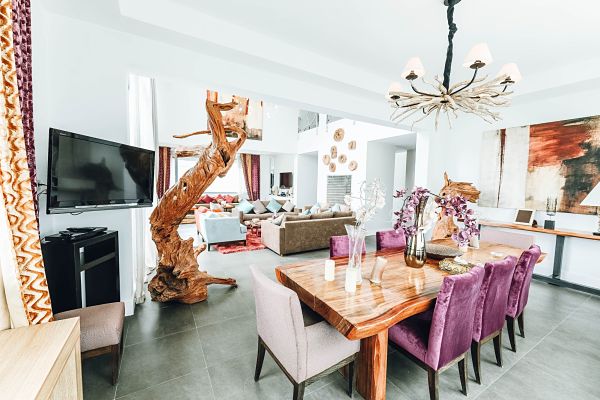 One of the biggest trends this year, the maximalist decor is all about expression in the room. Acting as a refreshment from the cold and austere minimalism, maximalism is a blend of statement pieces. They are fun and exciting, but also hand-picked and well-thought-out. It's the perfect way to celebrate your personality through design without any major constraints or required know-how. Blend of colors, textures, and patterns that characterize this design style works best when linked by a strong design element. The introduction of symmetry is a good way to establish a tiny bit of order in this apparently chaotic bundle of design dots waiting for a connection. Implement a solid, one-color element. Pick the one that already exists in the prints that are present and let it do its magic and balance it all out.
Mix up materials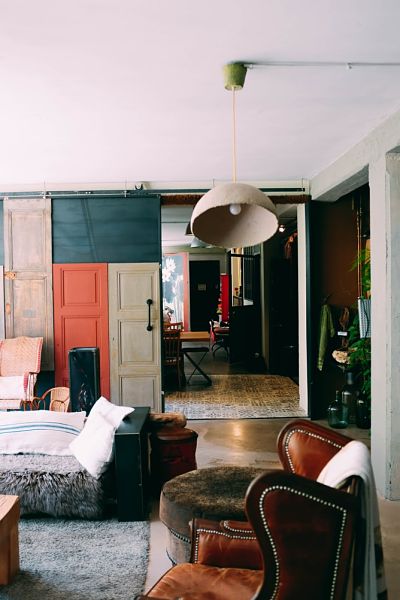 A mash-up of different styles, patterns, and colors, maximalism is also a mix of various materials, bringing in a surprising element that no one expects. Many of us would skip on the decor piece that doesn't seem to blend with our idea of aesthetic. However, different materials can create an interesting visual effect, and instead of perfectly matching the decor elements in your room, give yourself some freedom. When it comes to the maximalist decor trend, there are no rules, so you can really let your imagination go wild.
Read more: Fun design trends coming back in vogue
Make it comfy
Comfort is another characteristic of this fun decor trend. During the past decade, we had minimalist spaces decorated sparingly for the sake of downsizing. However, cutting down on everything until we're left with bare essentials didn't work for everyone. Many homeowners felt the need for comfort and something a little bit extra in their life. In Australia and New Zealand, for example, there is an ongoing demand for customizable, modular indoor furnishing. Like a collection of contemporary furniture offered by King Living. That can make even the most unusual of layouts work. The suitability to every room makes this kind of furniture a popular choice of many homeowners looking for the furnishing that is both high-quality and multifunctional.
Read more: 13 Ways on How to Make a Room Look Bigger
Express yourself
Your home should be a reflection of who you are, and the items you choose to include in your living space should something that truly brings you joy and means something to you. Look at your living space as an extension of your personality – how can you express yourself? What can you include in there that will make it just a little bit more like you? Infuse your space with all the things you love – from colors and prints to artwork and trinkets. Personalize your home to make it truly yours, and whatever you do – don't strive for perfection. Rather, strive to create a home that tells a story – a home that truly looks and feels like you.
The epitome of power and passion, maximalism is all about freedom and expression. One of the hottest interior design trends this season, there is practically no way to mess it up, and as long as you decorate with what you love, you're sure to create a truly unique space that you'll love spending time in.
Read more: 5 Maximalist Design Ideas for Over the Top Exteriors
Maximalist Decor Trends to Lift up Your Interior Style
was last modified:
September 28th, 2022
by
Recommended