5 Maximalist Design and Decor Ideas for Over the Top Exteriors
Goodbye minimalism — while we will miss the clean white and empty shelves, we need to make way for the latest and greatest design trend: maximalism. Defined as "more is more," maximalist design is all about going bigger and bolder with design elements to make a meaningful statement with your home. It's important to remember that maximalism isn't a direct opposite to minimalism; you aren't trying to clutter your home like a hoarder. Rather, you are trying to make it feel cozy, which usually means opting for oversized items and inviting color schemes.
While there are plenty of blogs and articles out there to help you transform your home's interior into a maximalist paradise, there isn't much about taking your exterior to the max. If you are looking to revamp your landscape according to the latest and greatest trend, look no further than these helpful tips:
Start With Your Living Space
Alongside maximalism design, there is another home design trend rapidly growing in popularity: outdoor living. While it has long been common for homes to have some outdoor entertaining space, like a patio or a deck, these days the chicest homes have fully outfitted outdoor rooms. It isn't enough to buy some matching lawn furniture and call it a day; you need to upgrade your outdoor spaces to ensure comfort and style.
This might begin with expanding your outdoor living space, adding hookups for electricity and plumbing as well as creating a covering to shield visitors from harsh heat or rain. Then, you should install elements that make the space functional and comfortable. It's smart to include an outdoor kitchen, which might merely be a grill, a sink, a mini fridge and some countertops. At the very least, you should have an outdoor living room, replete with large, cozy couches and chairs.
To ensure your living space adheres to the maximalist design trend, you should try to go wild with color and patterns. White and gray are for outdated minimalism; if you aren't bold enough to buy colorful furniture, you should layer them with bright, patterned, textured pillows and blankets. Then, give your surfaces some decoration with colorful table runners and one or two tchotchkes — but nothing that will make your furniture unusable. Maximalist design doesn't impede functionality, it just looks over the top.
Avoid Being Too Matchy
You shouldn't be aiming for cohesive in any aspect of your exterior design. In fact, trying to be matchy-matchy will tank your maximalist design efforts. This trend is about mixing other trends, styles and aesthetics. You might use a simple, blocky coffee table popular in minimalism, set it next to a forest-green, wicker loveseat a la tropical chic in front of a wall decorated with a hodgepodge of wall hangings like eclecticism. If you are mixing a handful of styles, no one or two will dominate, and you'll achieve true maximalism.
Take a look at these Exterior Trim Styles That Are Evergreen.
You should also avoid being too matchy in your landscaping. This means eschewing the idea of balance or symmetry and opting instead for controlled chaos. Instead of a perfect line of topiaries, you should have layers of different types of plants, to include bright, colorful flowers as well as textured greenery and more — but more on that later.
Overindulge in Garden Containers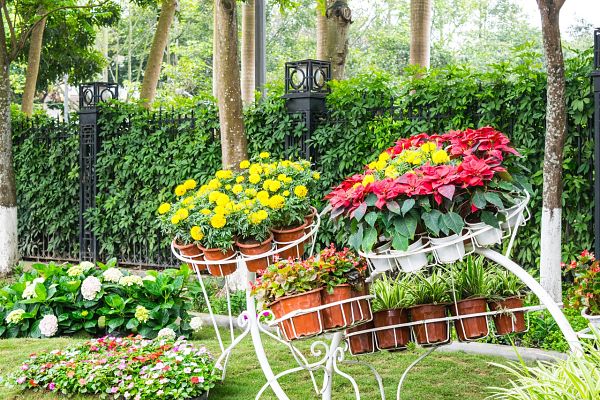 Once your living space is set, you can begin decorating your outdoor room as well as other open spaces in your yard. While there are a number of accessories you might use to add coziness and a bit of chaos, one element mandatory for maximalist gardens is containers. Container gardening is growing plants in containers instead of putting them in the ground; almost anything can serve as a garden container, from a typical terra cotta pot to a coffee mug, old running shoes and even a bathtub. Additionally, a large variety of plants thrive in containers, from annual blooms like cosmos and marigolds to perennial shrubs like boxwoods and wild grasses.
You can place containers all around your yard, but you should pay attention to your flora's needs. Among them sunshine and water, to ensure your containers aren't soon filled with unpleasantly dead plants. In fact, using similar — but not matching — containers inside and outside your home will draw the style together creating a near-seamless space where you can live and entertain. You can do this with other elements of your décor, too, such as palette and accessories. Because plant containers bring so much life and energy, they are excellent additions to any design scheme.
Decorate Your Lawn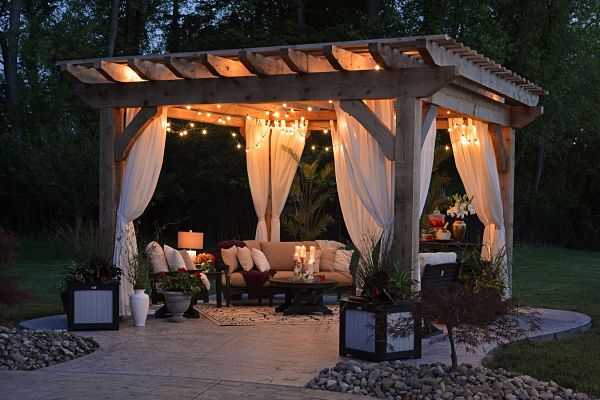 Well-manicured lawns are a staple in any landscape because they provide a focal point in the yard. They can also be functional spaces for recreation. Conversely, a poorly maintained lawn is always an eyesore. Before you start decorating your lawn to match your new maximalist design aesthetic, you should prioritize your lawn's health. Lawn care can be tricky — grass requires specific types of care to thrive — so you should take advantage of lawn care tips found online or hire a professional lawn care service to help you see your lawn grow thick and lush.
Once your lawn is in good shape, you should start decorating. In adhering to the "more is more" mantra, you should pack your lawn with ornaments. All from flowers in containers to garden statues to yard games. If you have trees providing shade over your lawn, you might also decorate them with string lights. Also hanging decorations like bird feeders, birdhouses, lanterns and more. There should be enough space to walk around your lawn — again, maximalism should never inhibit functionality. But your goal is to make your lawn look like it is overflowing with decorations.
Read more: Maximalist Decor Trends to Lift up Your Interior Style
Deluge Your Yard in Greenery
If you have a smaller outdoor space, it's likely that you'll succeed in establishing the maximalist style with the above three steps alone. But if your yard is large, you'll need to do a bit more to lend the sense of crowded coziness. Specifically, you'll need to install more plant life in the ground around your property. As you did when you designed your outdoor living space, you shouldn't try to match your plants to a common theme; in fact, the greater diversity of plant life, the better.
You can layer your plants in terms of height: tall, columnar trees like palms or spruce; mid-sized shade trees like hawthorns and dogwoods; larger shrubs like oleanders and crape myrtles; small shrubs like aloes and purple hearts; and ground covers like lamb's ear or chamomile. When you are planting in the ground, you should choose plants that are native to your region's climate or else tolerant of the sunlight. Other factors are temperature and water conditions of the area. Then, you can enjoy your overabundant garden without worrying overmuch about maintenance.
Maximalism is coming in fast, and you don't want your yard to appear empty and bleak. By investing in a larger, more welcoming outdoor living space and filling your landscape with life and décor, you will not only adhere to the upcoming trend — you will also create an attractive landscape you can love.
Read more: 13 Backyard Patio Designs and Ideas That Will Charm You
5 Maximalist Design and Decor Ideas for Over the Top Exteriors
was last modified:
September 28th, 2022
by
Recommended