Metal transition strips may be a small part of your flooring project but it's an important part. These transition strips help create seamless and smart flooring throughout your home. Because of the strips, planning your floor transitions from room to room and from one flooring material to another becomes easier.
Transition strips are available in different materials. These could be PVC strips, aluminum strips, stainless steel, or bronze strips. Your choice of a transition strip depends on the look you want, the foot traffic the room experiences, or if you expect any heavy equipment rolling over the area. That said, metal transition strips are commonly used when joining vinyl-flooring materials.
What is a metal transition strip?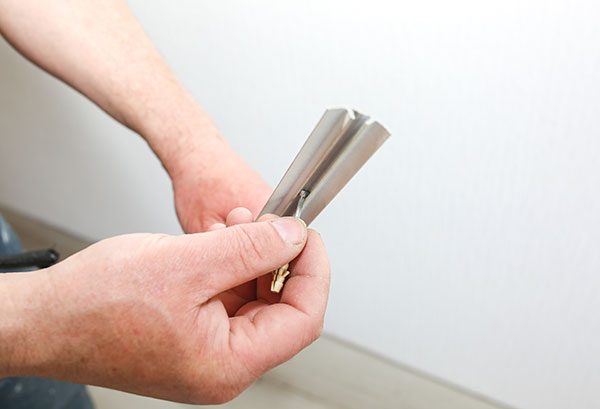 Basically, transition strips help join together two different living areas of a building. For instance, a home office and a hallway. Or, a living room where flooring types change. These transition strips serve to make the transition between two sections pleasing in appearance. Most importantly, they provide safety as they help prevent people from tripping over an exposed edge.
You can choose from a range of metals, including pewter, aluminum, or brass. Each one would provide your floor with a different finish — accentuating your flooring differently. The best part about a metal transition strip is that it can be used with any flooring type.
Are transition strips necessary?
A transition strip can be used in any location in the house or building that connects two separate sections. The purpose of transition strips is to make switching from one thickness of the floor covering to another easy. For example, your home might have an area that has a thick carpet transitioning to a concrete floor or a wood floor. A strip will help join them together seamlessly — preventing the flooring from becoming damaged at the edges. And, you from tripping! After all, different levels of flooring in your house can be a major trip hazard.
The transition strips also help in managing noise levels when the door is closed. That's why most offices make use of V Strip or tension seals at the doorways between offices and halls. The durable plastic or metal strip (folded into a 'V' shape) is installed along the top and sides of the doors. It springs open to bridge all the gaps.
Pros and cons of metal transition strips
Metal transitions are available in many sizes, styles, and varying thicknesses. You can choose the one according to the finish and style you want. We'll explore the advantages and disadvantages of some popular types of metal transition strips.
Aluminum transition strips
These are hugely popular in commercial settings. They are the cheapest metal transition strips. These strong, durable strips are versatile enough to work for any specification. You can customize aluminum into anodized (coated) versions to mimic the look of bronze, brass, chrome, or any other high-end finish.
Additionally, you can find a variety of aluminum profiles to fit your budget and aesthetic value. For example, you can create a contrast of aluminum with a PVC insert that's slip-resistant too. The only downside is that if your anodized coating is damaged or scratched, you'll be able to see the aluminum underneath.
Brass and bronze transition strips
These high-end strips are generally used for upscale projects such as luxury hotels, theaters, and restaurants. They have a premium look, and are sturdy metals.
But since they are not as durable as aluminum, they can't withstand too much foot traffic, especially heavy wheeled traffic of rolling carts or wheelchairs.
The downside is the higher cost and the fact that metal-plated transition strips may chip or scratch over time. It's best to opt for solid metal strips than the cheaper plated options.
Metal transition strip cost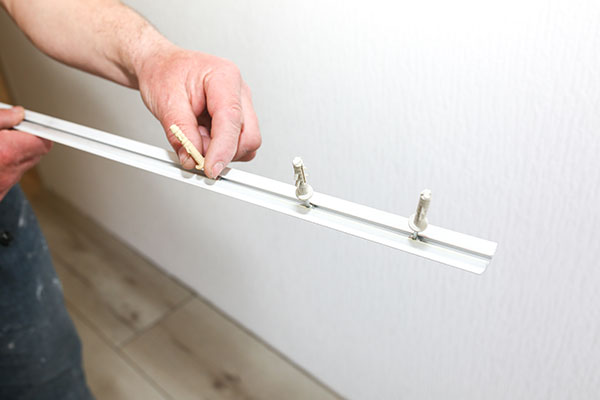 The cost of transition strips can range between $1 per foot to over $25 per foot. The material you use affects the total cost of transition strips to a huge extent. For example, plastic transition strips are the cheapest and are commonly found in home improvement stores.
Also, the price range depends on the size and the type of building the transition strips will be used in. That's to say, whether it's a residential building, a factory, or an office.
Installation
Metal transitions are often screwed to a substrate. Although they can also be glued in place directly to the floor surface. This kind of installation helps form a clean and safe transition between any two flooring surfaces — especially when you're using different types of flooring materials — joining at doorways. Keep in mind that most metal transition strips need to be cut to length during the installation.
Although installing a metal transition can be a DIY project, it's best to hire a professional flooring contractor for a flawless result.
Last thoughts
Metal transition strips provide a smooth transition between different flooring types (whether hardwood, vinyl, concrete, or laminate floor) and areas of varying thicknesses.
A transition strip, though a small part of a flooring renovation, has a significant role to play. The most common types of metal transition strips are composed of a base secured to a floor and a top section that's tapped into the base.
A comprehensive guide to understand metal transition strips
was last modified:
December 5th, 2022
by
Recommended