Looking to upgrade your bathroom? Changing your bathroom vanity can be an excellent step forward in this regard. However, choosing the right vanity is extremely important to be able to fully enhance the look and feel of your bathroom.
You will find a wide variety of vanity designs in the market to choose from. A contemporary or modern bathroom vanity is one of the most popular styles. This clean-lined simple design adds immediate elegance to a bathroom. This article will tell you the factors to consider while choosing the right modern bathroom vanity.
Discover the many different types of bathroom vanities.
Types of bathroom vanities to consider
There are various types of bathroom vanities available in the market. You will need to analyze and understand your requirements and preferences to be able to pick the right one.
Read more: How to Convert Your Bathroom Into an Eco-Friendly Bathroom
Pick the right size
While the height of most bathroom vanities will be between 32" and 36", the width may vary a lot. The most popular vanity widths are 24", 30", 36", 48", 60" and 72". If you are happy with a single sink vanity, you can choose any between 30" and 48". However, for double sink vanities, the width will range between 60" and 72". You need to analyze your storage space and requirements to be able to pick the size that suits you best.
Planning a renovation for your bathroom? Try our free remodel cost estimator; it's easy and convenient to use!
Read more: Cost to install bathroom vanity
Single or double basin?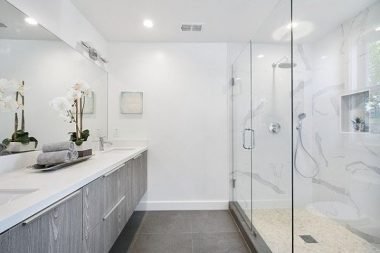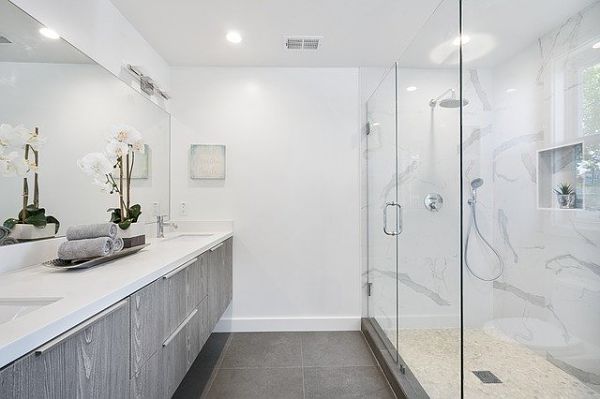 If you have a small bathroom, it is best to go for a single basin vanity. However, for shared or family bathrooms, a double basin vanity can do wonders.
Be sure to check out these 10 clever and stylish jack and jill bathroom designs with double sinks.
Choosing the right material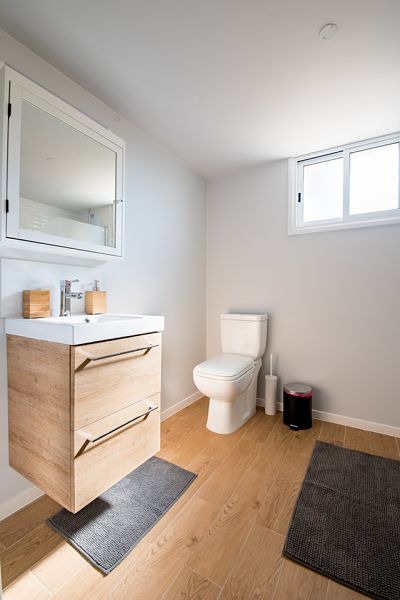 Photo by Filios Sazeides on Unsplash CC0
You will normally find two different materials for the top and the base of a vanity unit. The unit top mostly comes in stone, ceramic, wood and glass. The most popular base materials are wood, glass, and metal. The basins are mostly made of ceramic, stone or glass. You will find all possible combinations in the market and it is for you to pick the one that suits your personality the best.
If you want to know more about bathroom countertops, check out these 8 top materials to consider.
Which color should you go for?
The most popular colors for a bathroom vanity are white, gray and ebony. If you have a space crunch, it is best to go with white. This will give your bathroom a larger feel. If you choose to go with gray or ebony, try having a white countertop for a sharp contrast.
Get inspired by these soothing bathroom color ideas that will calm your mind.
Get the right mounting option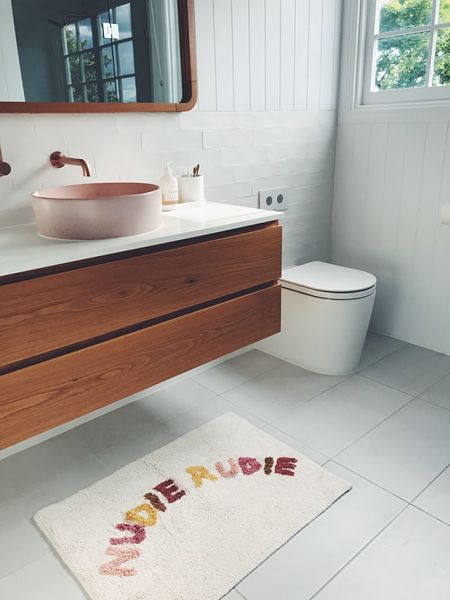 Photo by Cameron Smith on Unsplash CC0
There are three options to choose from in this regard – freestanding, wall hung and corner mounted.
Freestanding –

This is the most common type and offers maximum storage space. The shape of this vanity is more like a chest.

Wall hung – These units hang on the wall and offer a lot of floor space. This is a great fit for smaller bathrooms.

Corner-mounted – As the name suggests, these units have a 90-degree angular back and fits nicely into a corner. If your bathroom has a free corner, you may want to go with this type.
Can Adding a Bathroom to a House Increase Its Value? Let's find out!
Does the vanity come with hardware?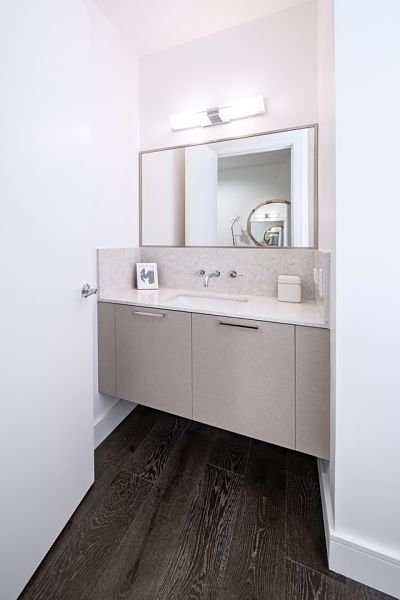 Photo by Random Sky on Unsplash CC0
In most cases, you are expected to buy and install the hardware separately. However, you may want to check with the seller if s/he is offering a set that comes with the hardware. The most popular types of taps are single hole, wall-mounted, widespread and center set.
So, what are you waiting for? Get your brand new modern bathroom vanity today and give your bathroom a new feel.
Read more: How to Decorate a Modern Master Bathroom?
Factors to Consider for the Right Modern Bathroom Vanity
was last modified:
December 20th, 2022
by
Recommended