Living in Chicago – Best Neighborhoods for You to Move
Chicago – the name itself is enough to make you shiver against a cold gust of wind. Chicago might not be the coldest city in the USA, but the weather pattern here is downright notorious- with a minus 27-degree brutal winter and 33-degree sunny summer, you wouldn't have any difficulties deciphering the seasonal variation. If you are thinking about moving to Chicago from someplace sunny like California or Florida, you are in for a shock, prepare to find at least 1-3 inches of snow on your doorstep in winter.
However, if you want to brave the cold and move to a city that can offer you all the urban facilities, ample job, and entertainment opportunities, minus the pollution, stress, and ridiculously high living cost of the megacities, you should consider Chicago. Read on to know more about moving to Chicago and what neighborhood would be the best fit for you.
Read more: How to buy a home in Florida: Step-by-step buyer's guide
Why should you consider moving to Chicago?
Chicago ranks 1st on the livability chart in Illinois and 23rd in the USA. Chicago has all the attributes you need to appreciate a city- great architecture, streets and public transport, public amenities, diverse culture, and demography. Walkability and public transport were the heart of Chicago's urban design. However, just because Chicago has some of the world's famous skyscrapers, you can't call it a jungle of concrete.
With Lake Michigan spreading across the east and more than 500 parks you will find plenty of opportunities to appreciate nature in Chicago. Although it is the third-largest city in the USA, you will find life here much more relaxing than in New York or Los Angeles.
How much does it cost to move to Chicago?
Considering Chicago is the third populous city in the USA, the living cost here is higher than any small town living cost. With an average monthly living cost of $2495, Chicago ranks 15th among the most expensive cities in the USA. The moving cost in Chicago can depend on several factors, like moving type- cross country move or local move, moving season, and the number of moveable items. If you want to move to a standard two-bedroom home in Chicago, you might have to spend around $500-$1000 for 6-8 hours of professional service.
Best Chicago neighborhoods for you to consider moving in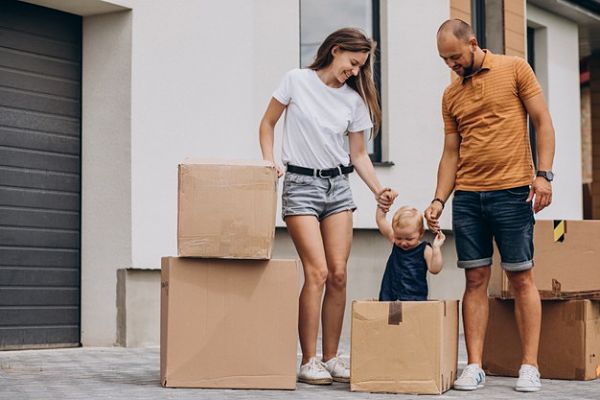 Chicago might be a massive city with 606.1 square km of area, but it is pretty easy to navigate. With the skyscrapers concentrating in the city center, nearly 77 residential neighborhoods are stretched across the north, south, and west of Chicago; each one has its quirks and attractions. Here we have listed some of the great neighborhoods in Chicago that you can consider for moving in.
Why is the Kukun iHomeReport the best CarFax for homes? Let's find out!
Bridgeport, South Chicago
Whether you are a renter or a buyer, Bridgeport has some of the most affordable and historic houses to offer you. With a median property value of $400k and the location closer to the Chicago Loop, Bridgeport can be a viable option for you. This south Chicago neighborhood has diverse demography; people from all races and backgrounds live in this neighborhood with shared harmony. Most of the residents are living here for generations, sharing the same experience and frequenting the same bars; upholding the true sense of neighborhood.
Humboldt Park, West Chicago
Humboldt Park is the core of the Puerto Rican community in Chicago. With stunning Spanish-style architectures and statues and murals adorning the neighborhood, you will get a good opportunity to appreciate arts and culture. With an average home price of $347k, the real estate scenario of Humboldt park is very much affordable. Besides, with 606 trail, the namesake Humboldt park, and discovering new restaurants buried within the neighborhood, you will never run out of entertainment in Humboldt Park.
Albany Park, Northwest Chicago
Albany Park is said to have street signs with four or five languages on them, the diversity of this neighborhood is great. You can find traces of many cultures in different streets of this neighborhood. This ethnic melting pot is one of the most appealing neighborhoods in Chicago. The regular features of the homes here are great.
Wicker Park, North Chicago
Also known as Bucktown, Wicker Park is the uber-cool neighborhood of Chicago. With trendy bars, restaurants, music, and vintage shops. Wicker Park is an artsy neighborhood where some type of fun is always going on. Although Wicker Park might sound like the perfect tourist gateway, it also has some affordable luxury housing area that you can go for.
Beverly, Southwest Chicago
Beverly is the classic all American neighborhood with two-storied townhouses lined beside picturesque neighborhood streets. The houses portray sophisticated architecture styles- gothic, Italianate, and prairie- all with a touch of history. With a median listing price of $339k, you can easily own any of those stunning pieces of architecture, along with a spacious backyard.
Read more: A renter's guide to the best neighborhoods in Chicago
On a final note
As a city, Chicago can be fast-paced but with a dash of laid back feeling. Such dichotomy of its nature is made possible by the easy and fast transport system and the ethnic diversity. Where in most megacities, the commute is a nightmare; you can find it pretty easy to get around in Chicago. Besides, living in Chicago, you won't have to deal with all the stresses and probing intensity that comes along with a megacity lifestyle. Now that you have all these details about Chicago, are you ready to be part of the diverse Chicagoan demography?
Read more: How to move to NYC: Finding the right apartment
Living in Chicago – Best Neighborhoods for You to Move
was last modified:
February 6th, 2023
by
Recommended