Using Stone for Your Minimalist Home – Things to Consider
One of the most significant design aesthetics of our recent times is the minimalist look.
A design movement that started in the 20th century, minimalism focuses on reducing elements used in a space—taking away lavish and ostentatious details, keeping things simple and functional.
Nowadays, many homeowners choose a minimalist approach to showcase only key features in a room. Clean and simple lines, honest detailing, and essential furnishings make for beautiful open spaces.
But even with a simplistic approach, minimalism is by no means boring. It exudes warmth and calmness to any space.
Natural Stones in Minimalist Approach
Minimalist design places emphasis on natural materials and neutral palettes. Textures should be natural and easy to maintain. And one material that meets all of these aesthetics is stone.
Stone is a décor element that combines luxury with functionality. It's tough and long-lasting. It also adds loads of texture and personality to your space.
A premium material, stone prominently shows on both walls and floors in Scandinavian and other minimalist designs.
There are a few considerations when using stone for your minimalist home. These include:
Natural stone comes in a myriad of beautiful colors, ranging from hues of black and gray to earthy tones and white. These colors are known to give an air of calmness, perfect for minimalist interior designs. Try to keep a light, monochromatic palette in your space if you want to achieve a Scandinavian feel. Or go for darker stone colors if you want the material to be a focal point in your space.
One of the primary philosophies in minimalism is simplicity. Hence, materials should allow for easy cleaning and maintenance without the need for add-ons like rugs and wallpaper.
As stone features subtle textures, homeowners can simply place the stone and leave it unadorned. It truly speaks for itself.
And in the practical sense, stone's durability makes it ideal for areas like the kitchen and bathroom.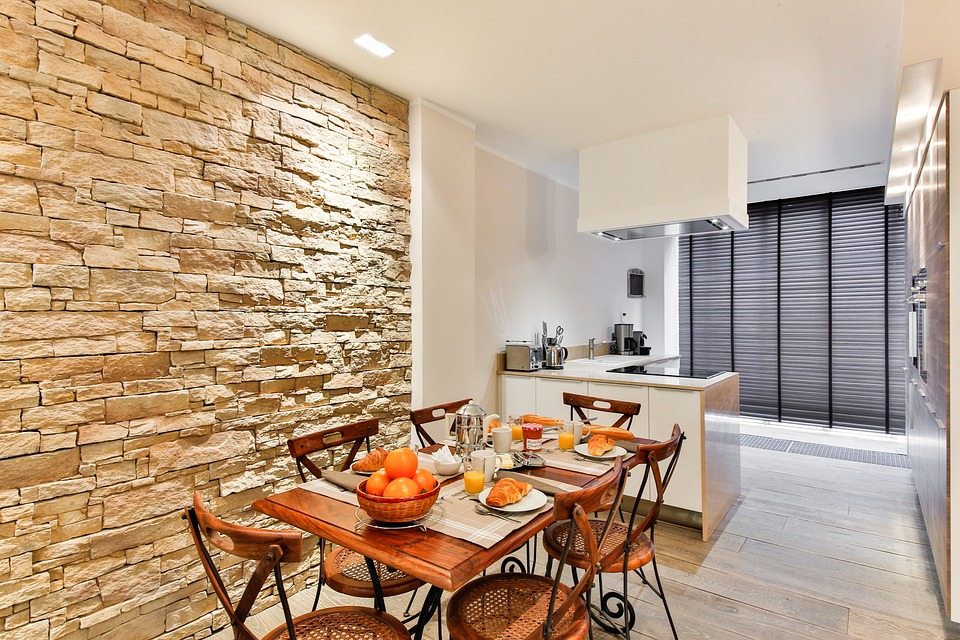 Pixabay
With natural stone, each slab features distinct patterns that can only be seen on that material. You have an entirely unique pattern to play with. So aside from textures, stone gives you intricate lines and combinations that can fill your space nicely.
How Stone Can Achieve a Minimalist Look
Here are some of the ways stone can bring life to your minimalist approach:

In minimalism, it's important to add an element that is emphasized strongly in a room. Whether it's a decorative piece, artwork, furniture, or a feature wall, it should be something that automatically draws the eye upon entering the space.
Stone is a perfect material for designing a feature wall. Its distinct textures and colors juxtaposed with neutral palettes across the room can create an eye-catching feature. You could opt for a uniform stone pattern, or play with textures using different slabs in neutral shades.
Wondering where to put that feature wall? You can place one in your living room or entertainment area, or spruce up the blank space beside your staircase.
Minimalism involves curating your elements to show only essential and high-quality design assets. It makes sense because when you only have a few materials within your space, you would want each and every one of them to add a unique aesthetic only that thing can provide.
And stone is one of the best materials to use in this style approach due to its inherent quality and integrity.
Use stone for your kitchen countertop, or add some interesting textures to your stone backsplash.
Read more: Pros and Cons of Different Kitchen Countertop Materials
Not only will this serve as a fantastic design feature in your kitchen, but you'll also have a durable material to work on for those busy get-togethers and hectic morning routines.
The minimalist approach is simply breathtaking, but it can also verge on feeling too stark and cold. The key is to infuse earthy tones and textural details to add warmth in the space.
Using stone in your bathroom, for instance, could add an organic beauty and calmness to the space. Try to showcase stones with layers of complementary earthy colors, and create a focal wall by your sink or next to your bathtub. Or you could use stoneware on the entire bathroom to make an ultra-modern space.
Contrary to what many may assume, stone does not make a space look cold. When you choose the right palette, texture, and pattern, you can create a warm atmosphere in a bare-looking room.
Consider using darker tones for a feature wall in your bedroom or add creamy marble to go with your all-white design. Make sure to also add strategic lighting to bring out the textures.    
Natural stone is built to last. Hence, it's a great material to use on floors. You can cover your whole ground floor with stone or marble tiles to add that light, calming feel. At the same time, you can be confident that the floor remains strong even from all the wear and tear.
Read more: Everything To Consider While Installing Stone Flooring
Final Thoughts
The minimalist approach is very popular right now, as more people are appreciating its straightforward and sensible style.
If you are planning to adopt this aesthetic, add natural stone in one or two of your spaces. It's a considerable investment to be sure, but getting premium quality materials for your purposeful design will make all the difference in your home.
Read more: Practical Tips For A Worthy Home Makeover
Using Stone for Your Minimalist Home – Things to Consider
was last modified:
May 18th, 2022
by
Recommended