You Should Never be Hiring a Contractor From a Directory
We at Kukun know that most of us, especially the price conscious, don't even bother to use professional directory listings, even those on Houzz and Angie's List. The fact of the matter is that people prefer hiring a contractor through their network of friends or word-of-mouth. Kukun confirmed this when we conducted a survey with folks who have remodeled or who are thinking about remodeling — the overwhelming majority said that they hire through their network. We think that's great!
Kukun is always looking for ways to expand the reach of potential candidates, and we have created a new Find a Pro feature that allows you, with just a few clicks, to know who your neighbors have worked with so that you can see the pro's background and then go knock on your neighbors' door to ask about their experience with the contractor. You never know, you may make a new friend of your neighbor. We should admit that we also have an ulterior motive — we want you to talk to your neighbors. It fosters better relations and allows you to make new friends. If you're like many people, you've never talked to over 90% of your neighbors. It's time to change that.
So, how does it work?
Just launch our Find a Pro form and enter your home address.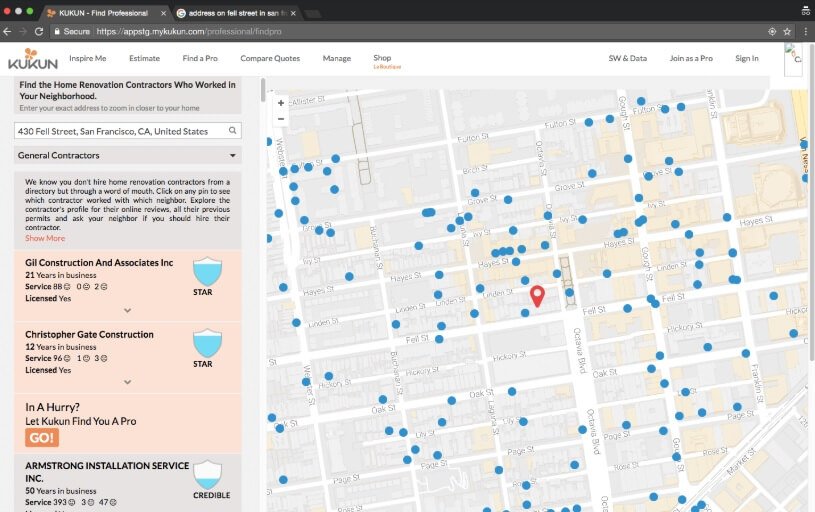 You will see pins on the map around your house. Pick any pin to see which contractor worked on your neighbor's house — and what he or she did for them.  
Read more: Where to start when hiring a kitchen renovation contractor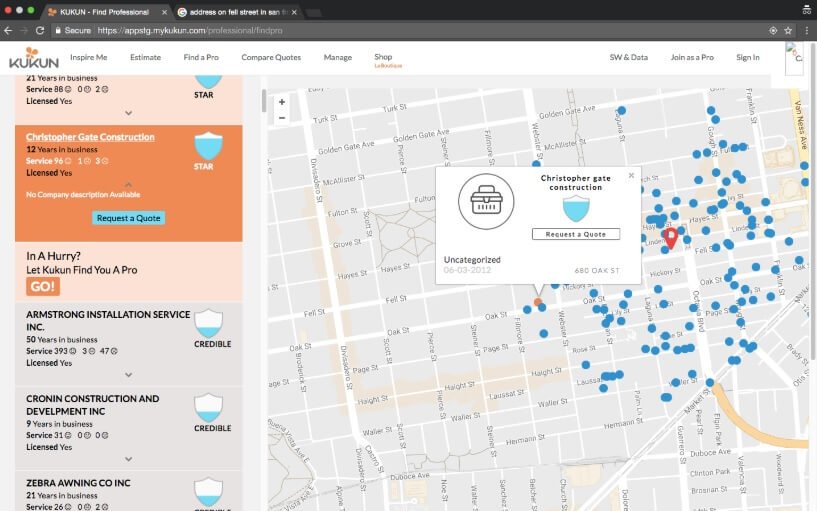 You can then proceed to click on the contractor's name to see his or her profile. You can read about the pro's online reputation and what people have to say about him or her, as well as the types of projects and budgets worked with, and up-to-date contact info. You can also click on the Permits section to view all the permits he or she has pulled and the corresponding addresses. Now you can knock on all those doors to ask about their experiences before hiring a contractor.
At Kukun, we are on a mission to change the way home renovation works. Think of us as the Expedia for home remodeling. You will get the tools and the resources you need — from the construction industry, from the loan industry, from the retail industry and almost always from the real estate industry.
Read more: How to deal with a difficult contractor
You Should Never be Hiring a Contractor From a Directory
was last modified:
February 17th, 2022
by
Recommended