Cool office desk decoration ideas for greater productivity
Today, owing to the widespread work-from-home culture post the COVID-19 pandemic, most people are working remotely from their home offices. If you too are one of them and are looking for ways to upgrade your office space, this article has the most amazing office desk decoration ideas for you.
These inspiring work desk decor ideas will make your work life productive, organized, and fun. You'll agree with us when we say that there's nothing sadder than working at a boring, unexciting desk day after day. So, let's embrace the work-from-home life with open arms and some great professional office desk decoration ideas.
These office desk decoration ideas will help spread some cheerful, creative vibes while you work for a brighter future. Trust us, your work will not feel like as much of a chore when you're happy and excited to start work every morning.
Brighten up the space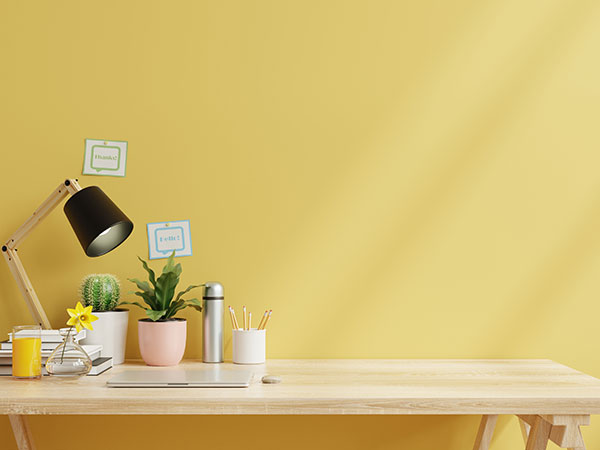 One of the most important office desk decorating ideas is to light up your workspace. No one likes to work at a dreary, dingy desk. Add good lighting through beautiful table lamps, floor lamps, or wall lamps to make the office space brighter and more cheerful. You could even add a string of fairy lights for a more whimsical vibe.
Consider desktop shelving to maximize your storage space
It's important to create good storage space in your home office. You could use wall shelves, baskets, and containers to create an organized and aesthetically-pleasing display of office accessories. It's a clever way to keep your pens and pencils, books, files, paperclips, staplers, scissors, and other stationery organized. And, your office space gets to be clutter-free. And while you're organizing your office space, don't forget the desktop file or magazine holders for important documents.
Add pops of color
More often than not, neutral colors all around can make your work life boring. Don't hesitate to add pops of colors here and there – perhaps through an accent wall, decorative accessories, or colorful office supplies. According to color psychology, some hues are believed to enhance productivity and efficiency.
Add low-maintenance indoor plants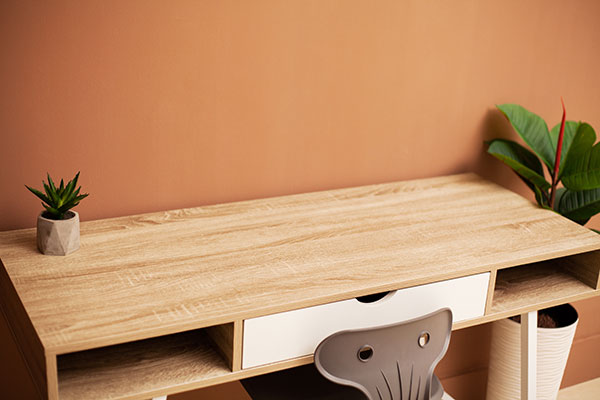 Outdoor as well as indoor plants are believed to boost your mood and happiness quotient. And, reduce anxiety. A lush green plant on your desk will not just bring a sense of calm but also happiness to your day.
Even if you do not possess a green thumb, you could bring in low-maintenance plants such as cacti, pothos, succulents, snake plants, or aloe for some great desktop greenery and also improve indoor air quality.
Get a funky mouse pad
Who says, you have to use a boring, black mouse pad? We don't. Make your desk decor stand out with a bright and stylish mouse pad. Red, blue, golden, with cartoon characters or floral designs, leather or cork – you can customize your mouse pad the way you want.
Print out inspirational quotes
A desk job can become a tad demotivating for the best of us. Even when you love your job, it does take a toll on you. Inspiring meaningful quotes on the wall will help you keep away the frustration of routine work life. They will keep you motivated and positive.
Display fresh flowers
Fresh flowers, without a doubt, enliven a space apart from filling it with a lovely fragrance.
Display fresh-cut flowers in a pretty vase or a mason jar on your desk and see how your mood becomes better. Plus, your home office will look absolutely divine.
Add comfort with a chair cushion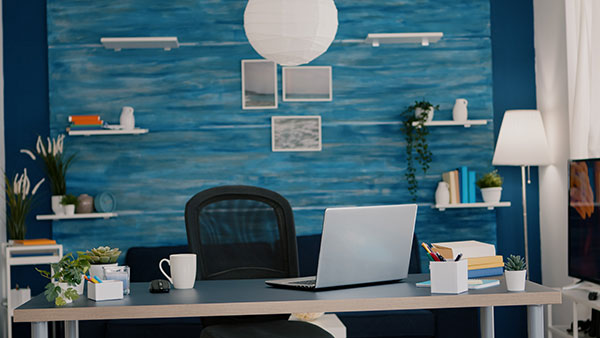 It's difficult sitting on a stiff chair for hours on end. You're bound to get aches and pains. It's a good idea to use a pillow to make your chair more comfortable and improve your posture. What's more, you may consider adding a throw blanket to cover your legs on chilly days.
Create a color scheme
You need to have an interesting color scheme – mixing basic colors such as gray, brown, black, and white with accent colors such as hot pink, royal blue, moss green, or yellow to create a high-energy vibe. Also, don't forget to add metallic accents. A rose gold pen holder or a steel table lamp will add elegance to the area.
Organize your schedule with a desk calendar
A calendar will help you keep a tab on important meetings, events, and deadlines. It also helps to keep a track of all your anniversaries and birthdays. You can choose a design that complements the rest of your office desk decorating ideas.
Include framed prints
Decorate your desk space with framed pictures and wall art to create the vibe you want. Your framed print can be serious, fun, modern, or abstract. You can search through a variety of prints to decide what fits your personality and the work-office vibe the best. You may even frame a poster to give your modern desk a fancy look.
Embrace your wanderlust through pictures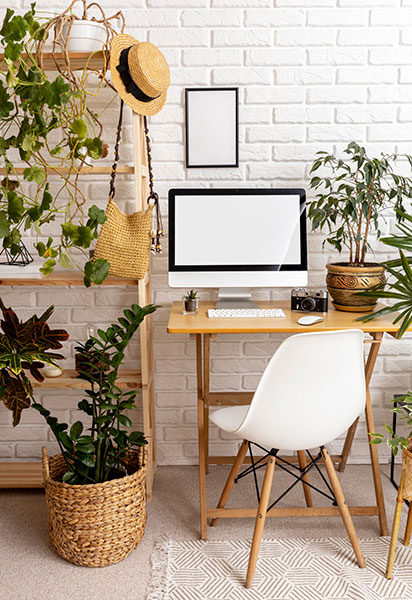 Who says, you cannot think of your favorite beach or holiday while stuck at work? In fact, pictures of your past travels, your favorite architectural sites, or the cities you dream of visiting one day will motivate you and make you happier. Hang the memorabilia on the wall in front of your work desk. This type of personalized office decor idea is especially helpful if you have a hectic work schedule.
Use a peg board to hang office supplies
The best part about having a peg board is that you can change its look or theme any time you like. You can hang wall-mounted storage trays to hold your office supplies such as colorful scissors, notepads, or pens and pencils. Or, wall-mounted desk accessories such as headphones, an alarm clock, or a coffee mug. Or even small plants, candles, a tissue box, and caps.
Personalize your space with family photos
Pictures of your loved ones in your workspace will bring you immense joy and contentment. Hang framed photos of your family members, best friends, and pets. Every time you feel overwhelmed by back-to-back meetings, these pictures will remind you to be happy.
Decorate to spread holiday cheer
As incredible as it seems, home office desk decoration ideas can involve embracing holiday cheer and seasonal changes. For example, dressing up your workspace with candles, fake spiders, and Jack-o'-lantern can be the perfect Halloween decoration. You could hang a miniature Christmas tree, stockings, and fairy lights for Christmas.
Read more: Creative Christmas decoration ideas
Jazz up the corner with wallpaper or stickers
You can beautify your office space with peel-off wall decor ideas such as bright wallpapers, fun stickers, washi tape, or contact paper. Create a pattern to make your office desk decor as interesting as can be.
Use wall mirrors to visually open up the space
Mirrors, when strategically placed, can make a space look bigger, brighter, and fancier. You could hang a large wall mirror or a cluster of small mirrors. What's more, you could even use one as a desktop.
Hide all the power cords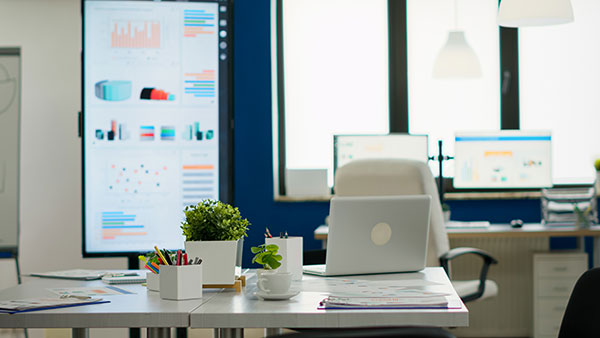 Electricity cords can be an ugly sight and get in the way of your work. For example, you may accidentally unplug your computer or the audio system with your foot during an important meeting. Or, trip over a wire. It's best to use a box or a shelf to keep your wires and cables hidden. Your space will not just look cleaner, it will be safer too.
Make your office desk smell divine
Let your work area smell amazing by using scented candles and diffusers. A good scent will calm your senses and may even mentally transport you to a place you love – whether it's in a forest, on a mountain, or on the beach.
Add texture with an area rug
You can add some brilliant texture through a beautiful rug under your feet. It will also set the vibe of the area. You could try a geometric design for a modern office, a colorful rug for a bohemian office setup, or a Persian carpet for a more traditional work environment.
Last thoughts
Why shouldn't you get creative with your office desk decoration ideas?
Decorating your desk will help you break through the monotony of working from home. Moreover, it will add a personal touch to your office desk.
We hope these office desk decoration ideas will help you make your year the most productive and efficient one yet. You can choose the desk decor inspiration you like and create a space that resonates with you, is well-organized, and is aesthetically pleasing.
Cool office desk decoration ideas for greater productivity
was last modified:
November 19th, 2022
by
Recommended